Share your artwork details in multiple languages
Share documents, offers, PrivateViews, and website pages, in multiple languages. 
---
Please note:
before using this feature, you will need to add your translated content to your database, using
this guide
.
You will need to add in the translations for your artworks before you are able to export anything in your second or third languages. 
Using content translations in your documents
Go to Artworks
Flag and find the list of artworks you would like to include in your document
Choose 'Create' > 'Documents/reports', and choose one of the documents listed above
In the document pop-up, find the 'Document settings' > Languages, and choose the language you would like your artwork details to display in
Generate the document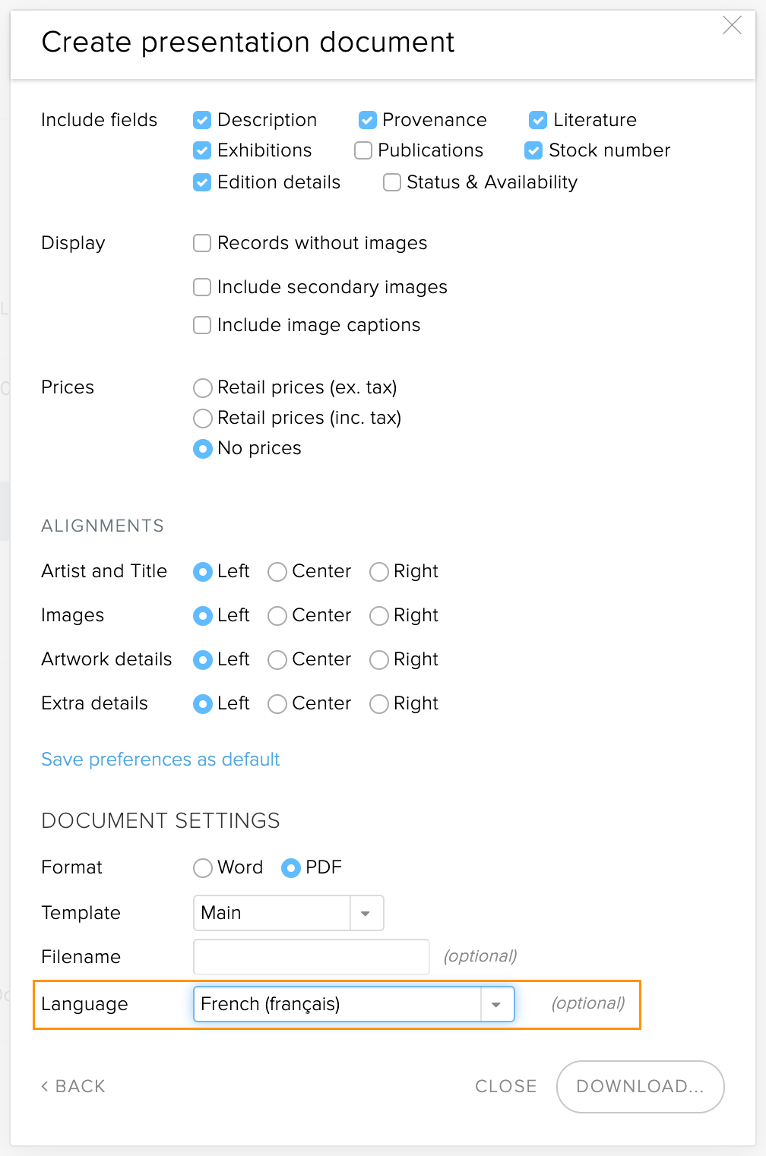 The following document types can be downloaded with the artwork details in different languages. Please note that the headings within the documents will not currently be translated. 
Presentation
Presentation document
Multi-page factsheet (Beta only)
Works available list
Large image sheets
Consignment/loan
Consignment note (out)
Consignment note (in)
Consignment returned
Loan form
Shipping
FedEx documentation
Shipping invoice
Shipping list
Reports
Location report
Status/Availability/Owner report
Artworks received report
Other
Certificate of authenticity
Acquisition image reproduction form
Photographic reproduction permission form
Please note: it is not currently possible to generate documents with artwork content showing in more than one language at once. 
---
Translations for PrivateViews links
The translations functionality allows you to set up two types of Private View:
Single-language - you can choose which language your Private View artwork content appears in
Multi-language - you can choose to have multiple language options available for your recipient to switch between. This displays a language menu to visitors at the top of the presentation
On the Private View edit page, you will find a 'Language settings' panel. To set up a single-language Private View, simply select the language from the Language select box. To set up a multi-language Private View, select 'Show language menu'.  
---
Using Advanced Search for translated fields
Click into the search bar, and select Advanced Search. From there, you can search 'translations' to see all of the relevant Advanced Search options. 


For example, you can choose the option 'title' under the grey 'Translations' header. From there you will be able to select Advanced Search options such as searching all artwork records which have titles with translations: