This guide outlines the Multi-Gallery feature and how some of its functionality is designed to use.
Remember:
The Multi-Gallery feature is not a hard and fast border between your organisations/locations. It will still be possible for users to see individual items across areas of the database in lists and in PrivateViews too etc. Do keep this in mind when considering this feature. Read more
here
.
---
Overview
The Multi-Gallery feature can allow Artlogic Pro users to segment their inventory and invoices to specific locations. Below, we have listed how to edit various sections of your database when Multi-Gallery is setup.
Artworks
Artworks can be assigned to specific galleries and will only be visible to the individual gallery, artworks that are not assigned to either gallery will be visible to both.
In order to select a specific gallery for an artwork, click the 'pencil edit' icon on the artwork record and under Location > Gallery > choose a gallery.
If you decide not to choose any, this artwork will be visible to all galleries.
If you wish to do a bulk update (Update Multiple) you can do so by click Update multiple > search 'gallery':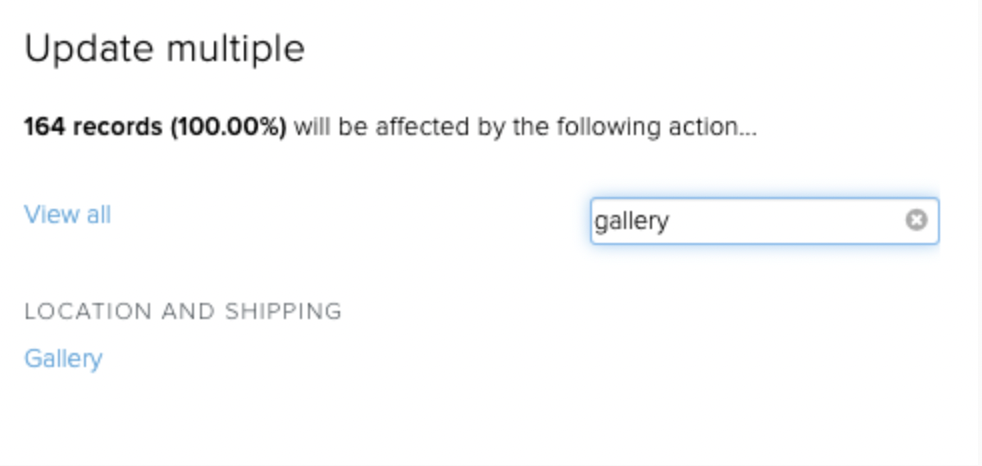 Invoices
Invoicing information only applies to clients who opted to have their invoices split by gallery when this functionality was implemented.
You will need to work out how you would like your invoice numbering to work. For example, each location may have a different prefix for the invoice number followed by the appropriate consecutive number. It will not be possible to split historical invoices, though you could make these visible to both locations once they are set up if required. If separate invoicing is enabled you will need to set up new headers and footers for the different locations. These can also be set up for general documents as well.
Your invoices will be split into the multiple galleries, for example:

In order to see the past invoices go to https://app.artlogic.net/galleryID/records/invoices/0 and tell us how you would like to split them at support@artlogic.net.
Users and permissions
Warning: Please note that multi-gallery functionality cannot completely silo groups of information. The Artlogic database is so powerful because it is built on links and connections, but this also means that most information cannot be completely hidden from individual users. For example, all artworks will still be visible to users in private views, artwork lists, etc.
Your log-ins will be the same as they currently are (unless you need to add any additional users) and administrators will be able to manage individual user permissions.
In the user's record that you wish to modify, you will find the option to select the user's gallery under User Settings. Then, go to the Access Control section and tick the option below and then tick the gallery. The admin user will have access to both galleries, therefore, to limit users' permission to single/specific galleries please select all the preferences under Roles that you want (instead of selecting Admin). Make sure to check these settings thoroughly before saving.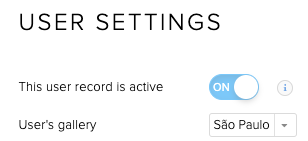 When editing the user's record, select the gallery on the Access control page: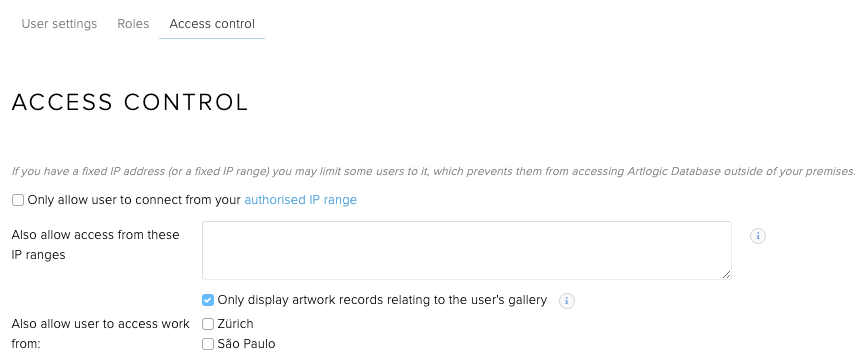 Contacts
Contacts will remain shared between all locations.