Start adding your artwork details in multiple languages
You can now add multiple language translations to your database content. This will enable you to share documents, offers, PrivateViews, and website pages, in multiple languages, using this guide. This guide will help you set up your languages and enter translated content into your artwork records. 
---
Please note: with this feature, you can include translations for your artwork content only, not for field names or labels. This beta feature is only available for Artlogic Pro or Gallery Management Expert database subscriptions, on request. The feature does not currently support sharing translations to your Artlogic website. 
Turning on the multi-language feature
Reach out to the team at support@artlogic.net to request access to this beta feature.

Once the feature is live on your account, your languages list can be found in Other > Admin > Languages. An admin user will need to choose one 'Primary language' which is your default language, along with multiple other 'Translation languages' that you'll be able to use in documents, webpages and more. 
Steps
Log in to your Database
From the top navigation, go to Other > Admin > Languages
Begin to type the name of your primary language, then select from the drop-down options
Select 'New' to enter a secondary language
Repeat this for all relevant languages
Tick 'Primary' besides the language you wish to see first
Tick 'Secondary' for all others
Save.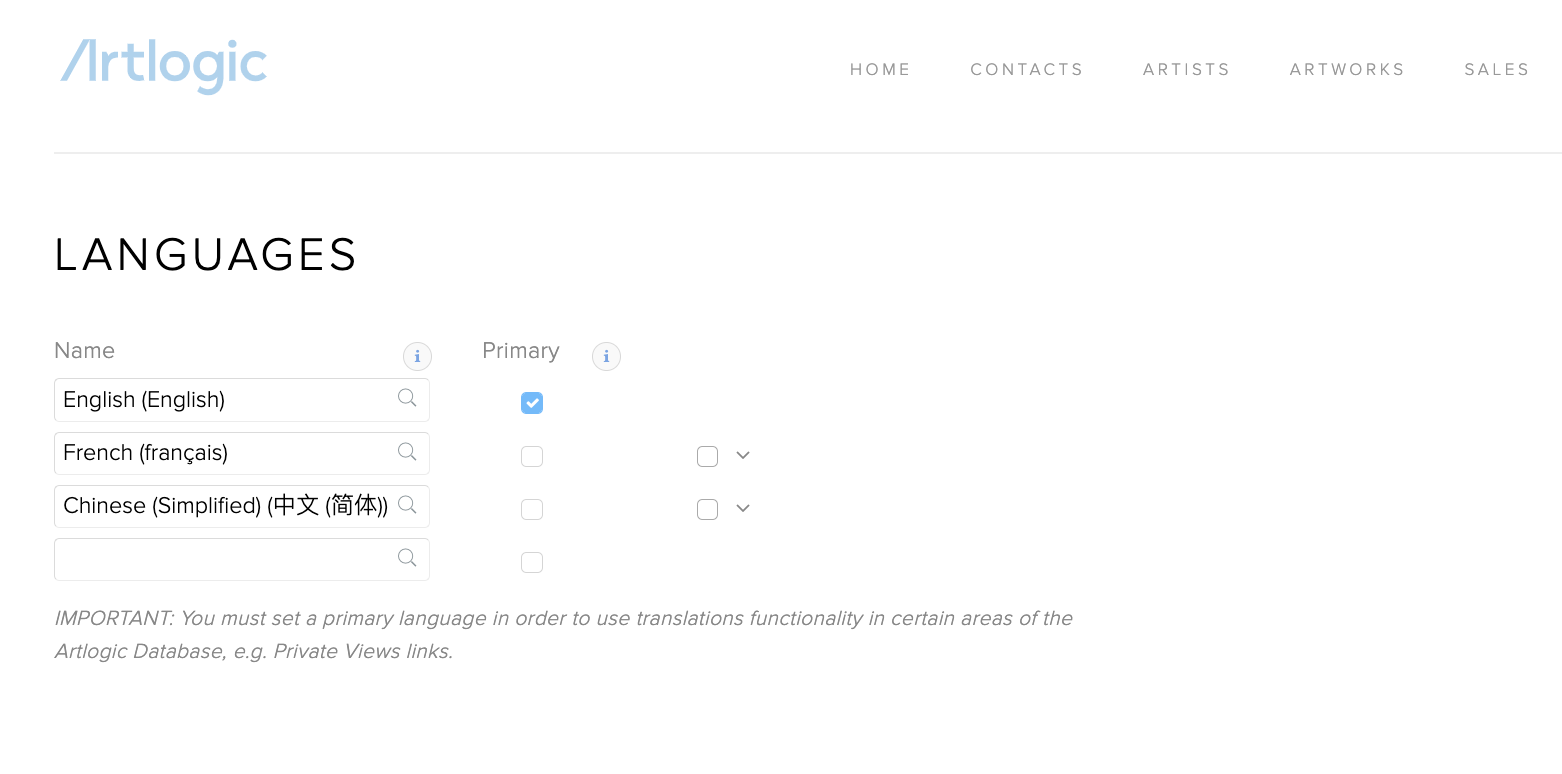 Which fields can I translate?
You will need to add in the translations for your artworks before you are able to export anything in your second or third languages. The artwork fields which can be translated are:
Artwork title

Year

Medium

Dimensions

Signed and dated

Series

Edition details

Courtesy or Credit line

Copyright line

Photography Credits

Description or Commentary

Provenance

Exhibitions

Literature

Publications

Collections



If you have fields or artworks that don't have any translations entered, your primary language content will be used in its place. This means if you generate a document and choose your secondary language, any artworks where the secondary language fields have been left blank will revert to the primary language, rather than showing no content.
Where can I use my translated content? 
Documents generated from your database (Create > Documents and reports)

Your PrivateViews app 

PrivateViews links

Offer emails

Invoices

Integrated Artlogic template websites
How to add translations to your artwork records
Edit an existing artwork, or create a new artwork record
Beside each translatable field you will see a globe icon. These will be grey when there are no translations, and blue when translations have already been entered
Click the globe icon to view, create or edit the translation. When you're ready, press 'save and close'. 
If you have more than one additional language, you can also click once into the field to see which translation has already been entered. For example, only the French translation has been added in the below example record: 
Navigate through the other artwork tabs, and look for the globe icons, where you'll be able to continue adding in your translations
Press save
Please note: when importing artworks into your database using our Artworks Import Tool, you cannot currently import your translations at the same time. Please be in touch with us if you would like to register your interest in this.