Enable Sales Pipeline, add licences and give your users access.
When enabling Sales Pipeline, you'll be asked how many sales user licences you require. These licenses can then be assigned to the users in your database. This guide walks through the steps and provides some tips on where to begin once your Sales Pipeline is ready to use, such as a Getting started video tutorial.
Who can use this feature?
To find out if this feature is included in your plan please visit this page or get in touch with our team on hello@artlogic.net to request further information.
If you signed up to Artlogic before July 2023 you can visit this page to view our previous plans. Should you have further questions please contact our Support team on support@artlogic.net.
---
How to begin
If we at Artlogic have enabled Sales Pipeline for you during the onboarding process, skip to the next part: Assign licences to your users.
Warning: The following steps must be followed by an admin user.
Enable Sales Pipeline and acquire licenses
Log into your Artlogic database (app.artlogic.net/AccountID).
Go to Other > Admin > Preferences > Core preferences > Sales Pipeline > click 'Get started'.

In the pop up window, follow the setup instructions:

If you haven't already, optimise the deliverability of your sales emails. View this guide for more information.
Input your chosen amount of Sales Pipeline licences.
Read and confirm the terms and conditions and click 'Enable Sales Pipeline for X users' when you're ready to begin.

Your Core preferences will now be updated to reflect the amount of Sales Pipeline users you are paying for. This is where you'll be able to update your numbers of licences if you wish to add or remove licences, or to disable Sales Pipeline entirely.

Info: Our finance department will automatically be notified of any changes made to your licences and will update your billing accordingly.
Assign Sales Pipeline licences to your users
Info: The following steps are for Artlogic Pro users only. This will be set up automatically for the single users on the Artlogic One plan.
Go to Other > Admin > Users.
Open the user record you wish to have access to Sales Pipeline and go to the Sales Pipeline tab.
Here, there are 2 options:
- Sales users: Enable the 'Has Sales Pipeline licence' option.

- Finance users: If you would like your user to only have access to the Finance views in Sales Pipeline enable the 'Has access to Sales Pipeline finance views only

' toggle.

This permission setting will allow them to see only the Finance view, not the Sales view (any open, qualified, and reserved offers will be hidden). Only Accepted awaiting invoice and Invoiced offers will be visible.


These option will only be clickable if you have a licence available. To add more licences, click 'Update number of licenses'.
If you wish to extend the sales user's Sales Pipeline access choose from these additional options:

Save the user record and repeat the process for all users you wish to assign a licence to.
Customise your Core Preferences
The following are optional settings that can help you to tailor Sales Pipeline to your business's workflow.
Go to Other > Admin > Preferences > Core Preferences > Sales Pipeline to select:
Default follow up and reserve durations.
To disable confirmation emails

when sending offer emails.

To

hide insights

for '

Artwork type

' / '

Period

'.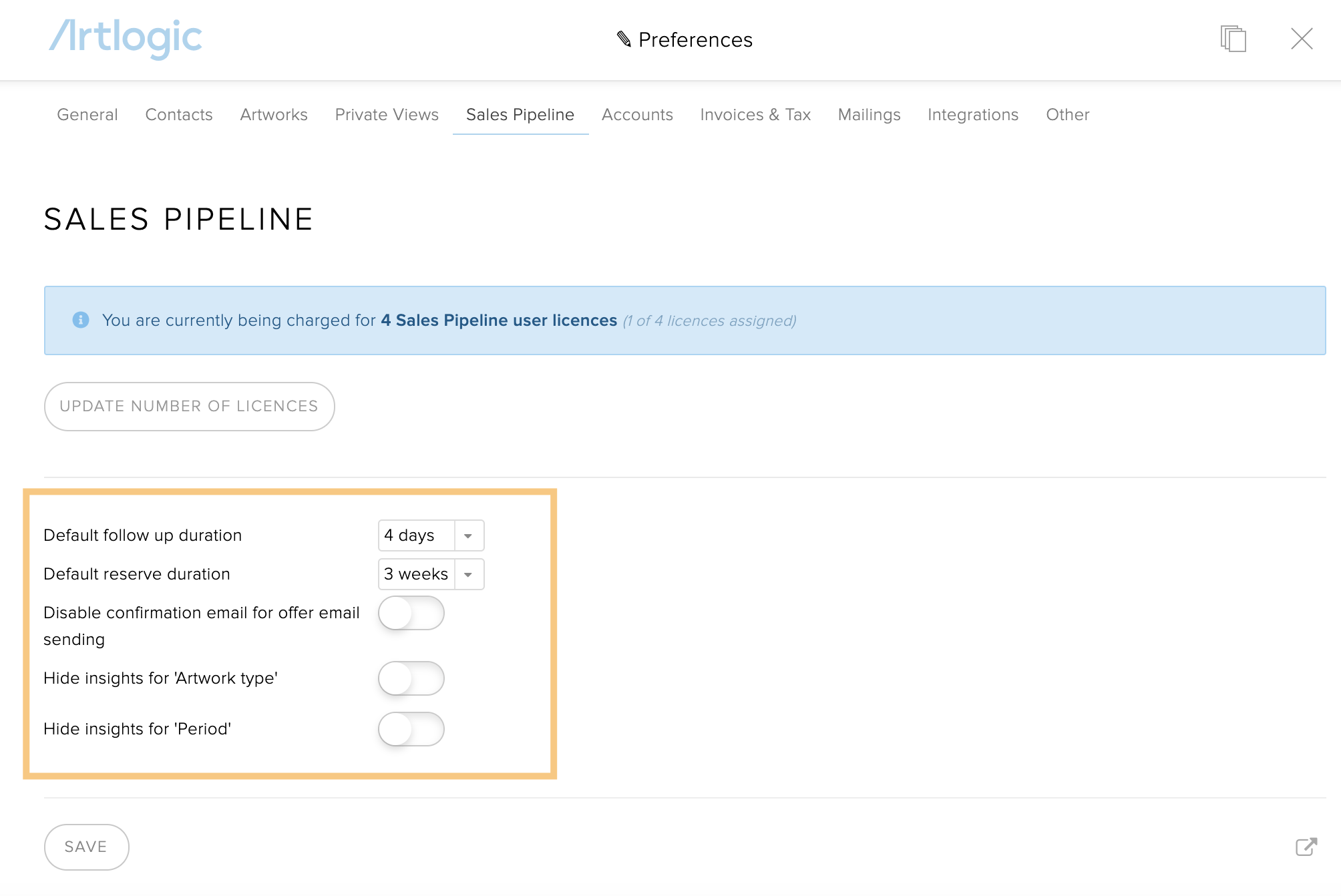 PrivateViews core preferences
If you wish to record any offers made in the PrivateViews app in Sales Pipeline, you'll need to go to Core Preferences > Private Views to update these settings.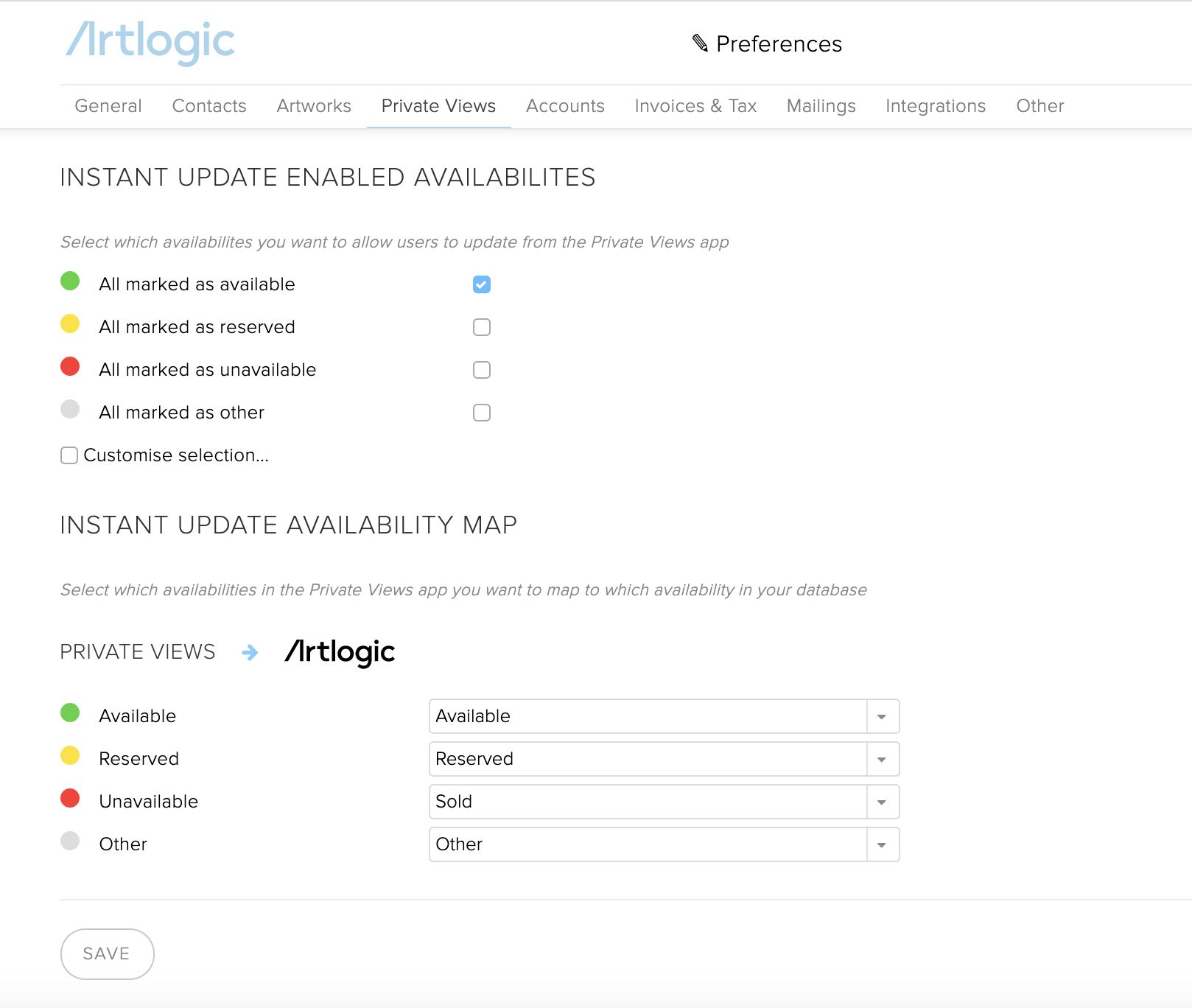 Begin using Sales Pipeline
You're now ready to record any offers made to your clients in Sales Pipeline through your database or in the PrivateViews app.
Getting started video tutorial
Create a test/ dummy offer
Now that you have completed setting up your user's permissions and updated your Core Preferences, you'll be able to start offering and selling artworks through Sales Pipeline. However, it can be useful to add a new "test/dummy" artwork record to your database as a way for you and your colleagues to explore Sales Pipeline's features and to follow along with the guides.
Once you have created a test artwork record, make sure its information and financials closely match an existing record to get the most realistic experience.
Then, follow our guide how to create new offers to send a test offer to yourself or a colleague.
Once you have a test offer record you'll be able to familiarise yourself with Sales Pipeline's layout, how to edit offers once they've been made, and how to move them along the sales funnel until eventually the offer is 'Accepted" and you're able to create a test invoice.
For further guidance, refer to our guides related to Sales Pipeline listed at the bottom of this guide.
---
All Sales Pipeline guides
From creating your first offer to analysing your sales, these guides will walk you through the process.