This article explains how to embed videos, create Video records, and add high definition videos to your homepage.
Please note:
Your Artlogic account
does not directly host
your videos. You will need to get a
Vimeo
or
Youtube
account from which you will then be able to copy a video's embed code, so that your video can be displayed on your website.
---
Embed a video
You are able to copy and paste your video embed code from either YouTube or Vimeo using the designated 'Video embed code' fields that exist throughout the Records in your CMS.
These include Records such as: Artists, Blog, Events, Exhibitions, and Video.

No 'Video embed code' field?
You can embed videos in your pages via text fields like 'Main Page Content' or 'Overview', or within a Feature Panel.
Click here to learn how to embed your video into a text field: Add video or audio to a body of text in your website.
---
Create video records
Tip: Enable your Video page in 'Pages' to display automatically populated Video records. You may still display Video records manually within other sections of the website.
Add video records by going: Records > Video > New record > Complete the fields, including entering your YouTube/Vimeo video embed code.​​
If you have a Videos page on your site, your video records could look like this: https://aspect2.artlogic.net/video/.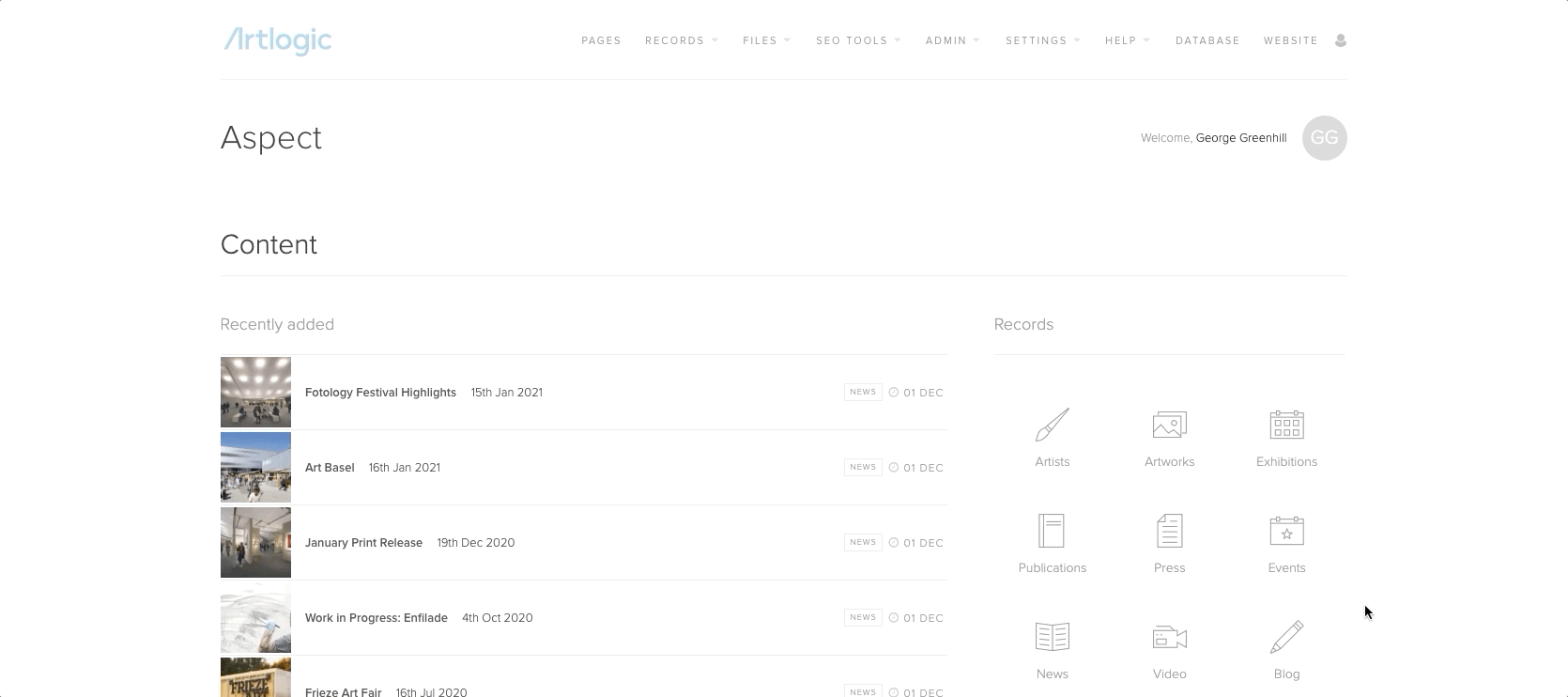 Modify how your Video records appear
Go to 'Other records'
You are able to edit the overall appearance and layout of these records by going to your CMS > Settings > Settings > Sections > Other Records and scroll to Video.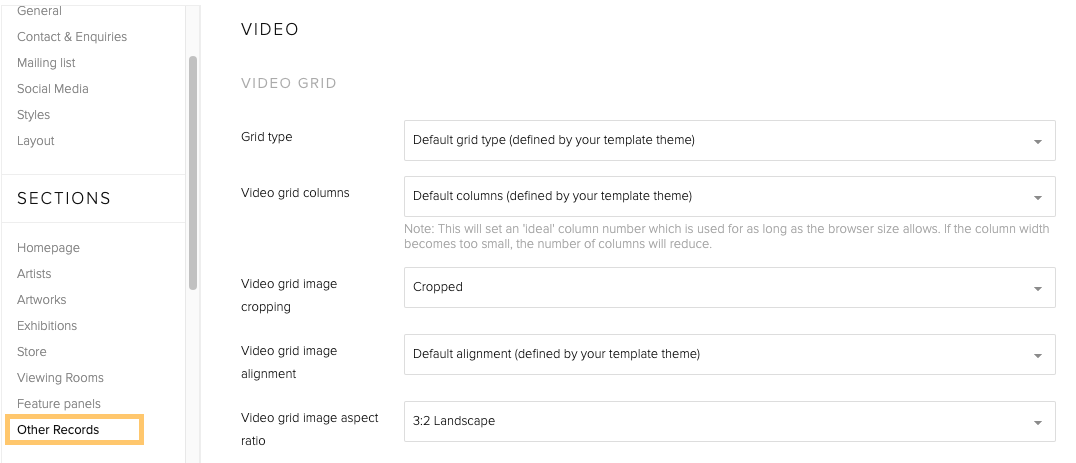 ---
Videos on the homepage
If you want to have a video on your homepage, you'll need to consider getting a Vimeo Pro account where you can host your video and copy the filepath to play on the website homepage. This provides a higher resolution that suits the dimensions required and allows the video to loop automatically.
Steps
Upload your video to your Vimeo Pro account and wait for it to be processed.
Open the 'Settings' page for the video, click the 'Distribution' tab followed by 'Video file links' on the left-hand side.
Scroll down to the bottom of the options to find the option 'High def (mp4, 960x540)' or similar, press the 'Copy link' button.
Go to you Artlogic CMS > Settings > Homepage > Slideshow type > Fullscreen video
Paste the link into Settings > Homepage > Homepage video > paste video filepath (not embed code) from Vimeo Pro.​​
e.g: https://monochrome2.artlogic.net/
Recommended homepage video specs
Maximum run time of 10 seconds
Maximum quality of 720p
Homepage videos on mobile devices
Mobile devices do not support video streaming on website homepages. Browsers make this purposefully difficult as it tends to use up mobile data.
Homepage videos and audio
Many browsers will block autoplay of videos that contain audio. For a seamless experience, we recommend uploading videos that do not have an audio component.
Video Fallback Images
As videos on your homepage are not supported on mobile and in order to ensure the quality of content on your homepage, we advise that when you add a video to your homepage you also add a fallback image.
Fallback images are used in the event that your video fails to load or is slow to load on a visitors website [this could be caused by poor internet speed for example]. The fallback image will display in place of the video giving it the chance to load, and ensuring your homepage still has visible content.
Fallback images can be easily added in your website settings by going to Settings > Homepage > then scrolling to the section called Homepage Video.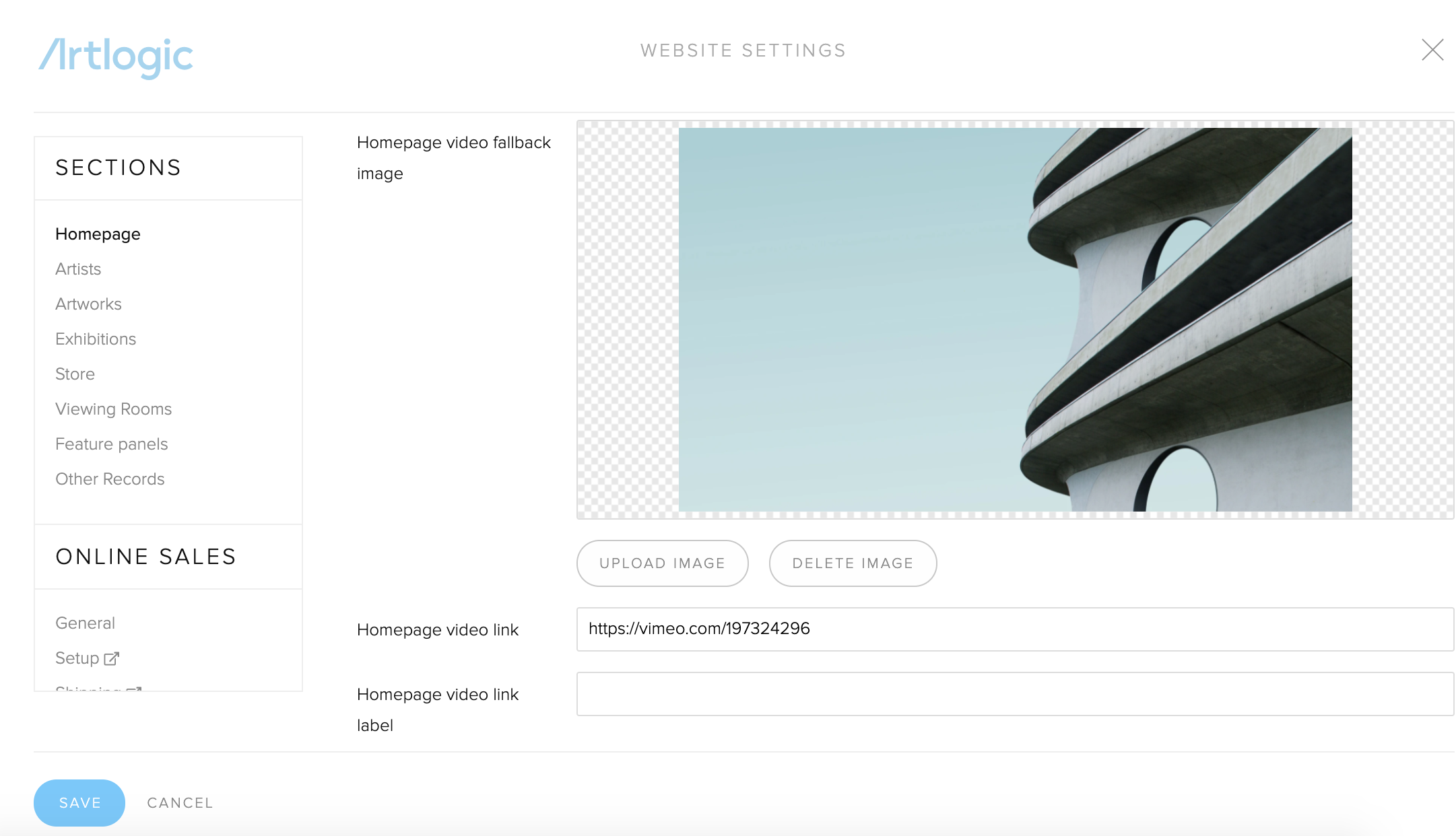 Tip: Setting your fallback image to be the first frame of the video will ensure a more seamlessly fade from the image to the video.
The fallback image will also be used in place of the video when viewed on mobile. You can find out more about this in the section Homepage images on mobile devices.