How to set up a Privacy and Cookie features
You can easily set up and enable privacy policy, cookie notification banner and anonymise IP addresses in your CMS. Read more to learn how and why this is an essential consideration.
---
Why is this important?
These features are important tools to help ensure your website complies with GDPR legislation, in addition to your own responsibilities. It is also important to note that it is still your responsibility to check that your website is compliant with GDPR and any other privacy laws. We highly recommend that you seek further advice from a legal professional.
Your responsibilities
Please note that Artlogic is not responsible for ensuring you are in compliance with GDPR and is not liable for any failure to do so. It is up to you to check that you have had your legal team audit the website and any associated assets that fall under data protection laws, to ensure everything is up to the standard you require in the territories that you operate within. We highly recommend that you seek further advice from a legal professional.
Where to find these settings
Go to Settings > Setup > Privacy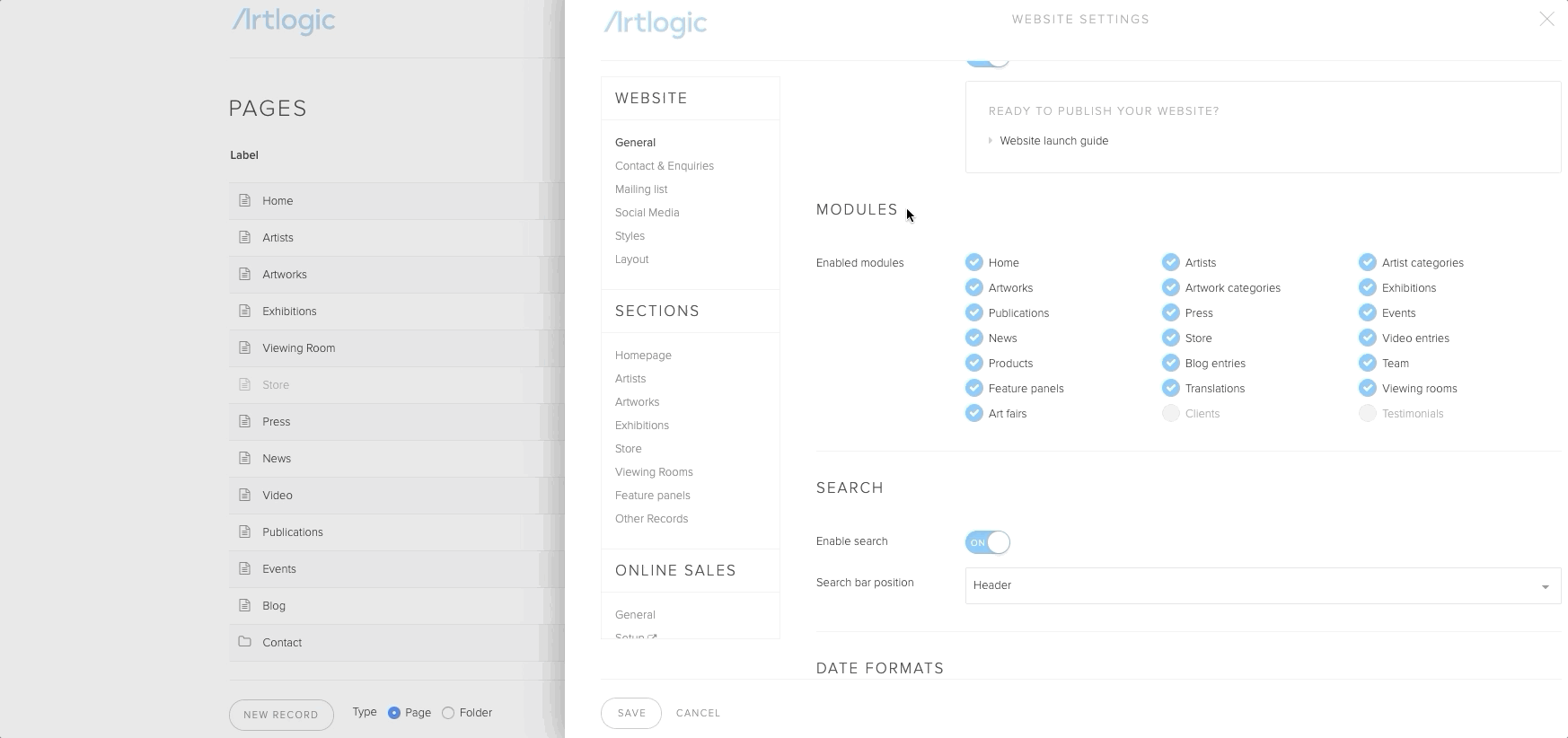 ---
Privacy policy
GDPR guidelines require you to include a Privacy Policy on your website. This outlines your policy on data handling and the purpose of the cookies that you use on your website. You may need to check the wording of this with your legal team or whoever oversees legal matters in your organisation. We are unable to advise on the content of your privacy policy.
Available settings
Enable privacy policy
Displays a 'Privacy policy' link in the footer and shows the additional privacy policy settings below.

Display privacy policy notification on all forms
All forms show a message under the submit button stating that the content will be handled according to the privacy policy. The default message will automatically update to display a link if there's content in the privacy policy field.

Privacy policy link label
Changes the link text for the privacy policy which displays in the footer and at the bottom of all forms (if the 'Display privacy policy notification on all forms' setting is active).

Privacy policy link path
Changes the path that the default privacy policy link leads to.

Privacy policy form notification (optional)
Override the default message displayed under all forms when the 'Display privacy policy notification on all forms' setting is active. Please note that you will need to manually insert a link to the privacy policy page when using this field.
---
Cookie notification banner
Important notes on cookies on your website
Our built-in cookie banner only affects cookies that are used by features directly built into the website. It does not work for any third-party scripts or plugins that you or any appointed developer has installed within the code of your website using the CMS or Google Tag Manager, therefore the cookies might be added to visitors' browsers regardless of their choices on the banner and may lead you to think that they are being blocked, which leaves you open to legal action. Such additional cookies may include but are not limited to tracking scripts such as a Facebook pixel or HubSpot integration.
Available settings
Enable cookie notification
When active this setting displays a Cookie notification banner at the bottom of the site which presents users with the option to consent to the storage of non-essential cookies on their device. They will also be able to choose which types of cookies are used. (Enabling this field will also display additional fields allowing further customisation of the banner.)

Cookie notification policy
The content for the cookie policy page (/cookie-policy/). A link will automatically be inserted into the cookie policy banner. If no content is provided the cookie policy page will default to 'Please contact the gallery to find out more about our Cookie Policy'.

Cookie notification link label
Changes the link text for the cookie policy which displays in the cookie notification banner.

Cookie notification link path
Changes the path that the cookie notification link leads to. This can be useful if your cookie policy is displayed as a section on your privacy policy page, for example.

Cookie notification banner content (optional)
Override the default banner text with this field. Please note that you will need to manually insert a link to the cookie policy page when using this field.

Cookie notification accept button label
Modify the text for the button used to close the banner.
---
IP anonymization settings
Anonymize IP addresses for Google Analytics
Adds a setting to Google Analytics which tells Google to anonymise the user's IP address.

Do not log IPs on forms
Some forms on the website will send a notification email to the website admin when they're submitted. By default the notification email will display the IP address for the user who submitted the form, turning this setting on will prevent the IP address from being sent as part of the notification message.