Getting Started
This guide will introduce you to the fundamental concepts involved in setting up your new Artlogic website, as well as showing you around the content management system (CMS).
---
Video tutorial
---
First steps
These steps help to ensure the security of your website as well as your own ease of use.
1. Bookmark your CMS
We recommend you bookmark your new CMS login page for quick and easy access.
Find out how to create bookmarks
2. Reset your password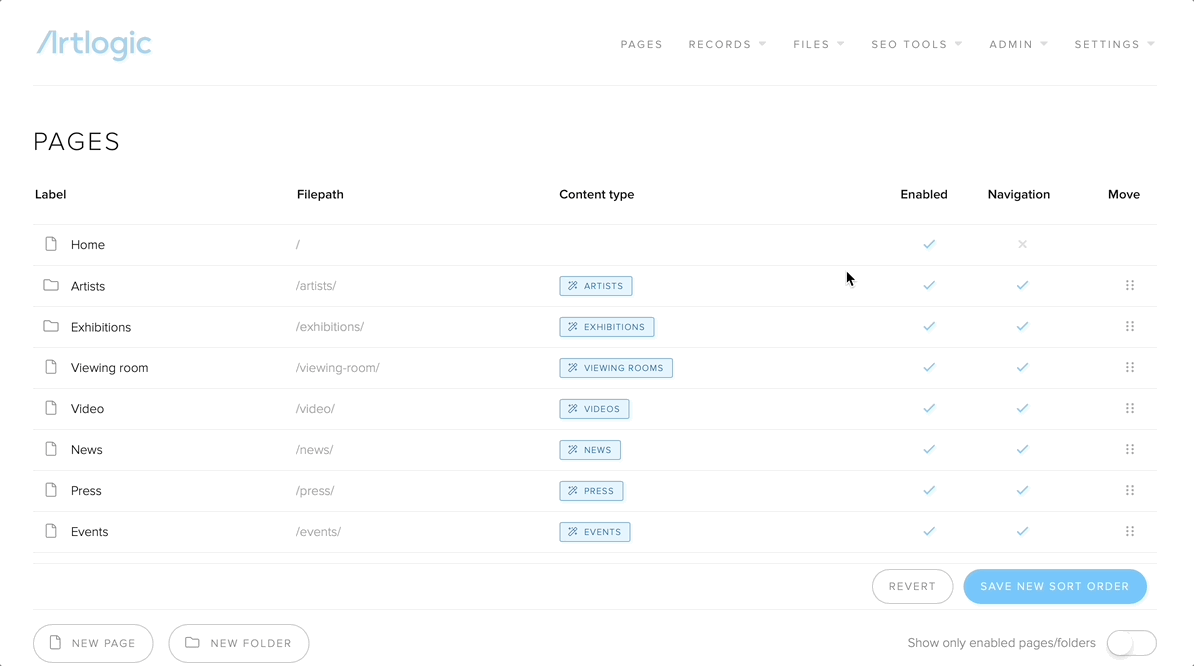 Go to Admin > Users and hover your cursor over your name so the pencil 'edit' button displays.
Click the pencil to open your User record.
Scroll down to the Password section.
Enter a secure new password and click Save & close to activate the change.
Find out how to create a secure password
3. Add more users
Warning: Secure passwords help prevent unauthorized access to accounts and devices. The more complex your password is, the more security it provides.
Go to Admin > Users and click New Record at the bottom left of the screen.
Enter the username and a secure password.
Choose the user's permissions.
'Administrators' can control all content and settings.
Click Save & close.
4. Complete your Data Controller details
If you do not have an integrated Artlogic Database, please go to Settings > Setup > Data Protection and complete the contact details for the Data Controller in your organisation.
Find out more about data controllers
---
Adding Artworks, etc
There are two main content types on the website:
Records and Pages.
---
Records (Artists, Artworks, Exhibitions)
Use records to create entries for your artists, artworks, exhibitions, press, news, events, etc.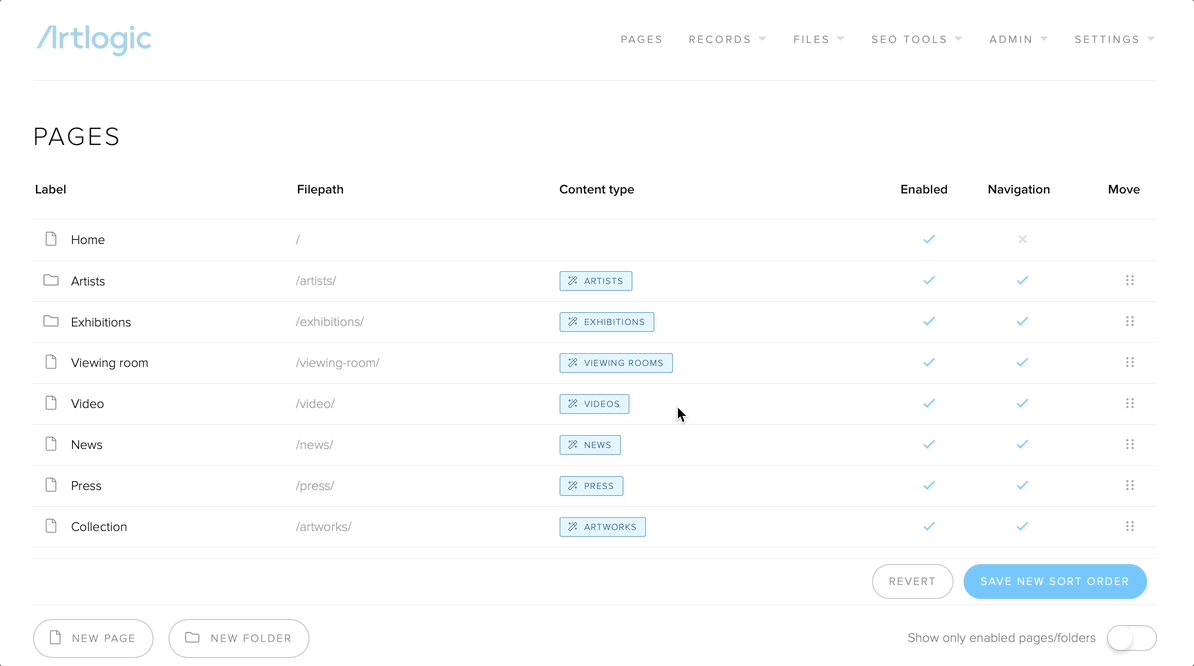 Enabling your Record modules
You can manage which records you see in your drop-down menu by de/activating them in Settings > General > Modules
Warning: If you don't see all the modules from the screenshot below in your own CMS, it might be because your package has limited features.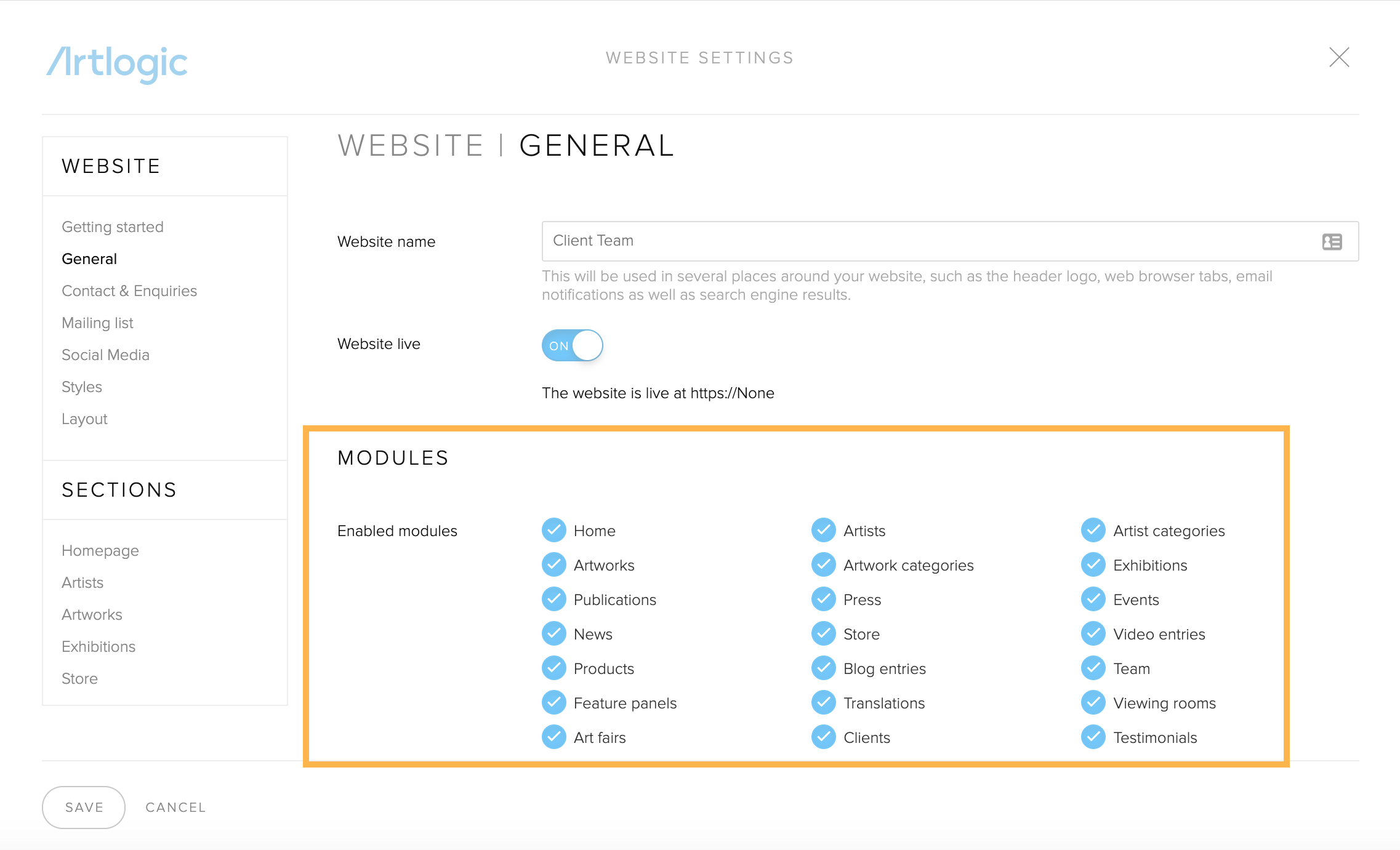 Pages
You'll want to edit these pages first:
Your Contact page, which could describe what you do, how to get in touch, and where you're located.
Your Home page, which can link to your forthcoming and current exhibitions, list recent news and events information, and describe what you do.
Other pages:
Info:
In subsequent help guides, we'll show you how to add images and videos to your pages, as well as how to use
Feature Panels
to customise your pages.
It's unlikely that you will need to enter information into many of the pages which have been preloaded to your CMS because they are dynamic.
You will not need to add information into other pages, but you can do so if you prefer to give further context to your visitor.