The terms we'll use to describe your website
Use this page to learn a few terms we'll refer to in our guides, and to understand a bit more about your back end navigation.
---
Useful terms
These terms are used to identify areas and features in your CMS and we'll use these terms when we reply to your support queries.
Account ID
Your account ID is used in your website CMS: https://www.website-accountid.artlogic.net.(and your Artlogic Database URL: https://www.app.artlogic.net/accountid).
Sometime also referred to as the Client ID or shortname, we might ask for this information when we help you with support queries or billing requests.
Admin
This dropdown in the menu of your CMS is available to Administrator users only. This is the person/s who is responsible for managing your website and will be noted and can be changed under Users.
Artist categories
This feature allows you to organise, filter and display artists on your website in specific categories. For example, Gallery Artists and Exhibited Artists.
Artist series
Allows you to group artwork records and display them together on an Artist detail page.
Artist sort
An artist's sort will define how your system organises the artist alphabetically.
Back end
The back end is the more administrative side of your site that can only be accessed with your login details. Sometimes used interchangeably with the term CMS.
Bespoke
In addition to our template pricing options, we also provide a bespoke website design service.
Beta feature
Beta features are newer pieces of functionality that are in the process of being rolled out to our clients more widely. During this phase, we will offer some clients the chance to become 'beta testers' if it is appropriate. While we warmly welcome feedback on beta features, they will still be in active development, so improvements and fixes may need to be considered more carefully before they can be actioned.
CMS (content management system)
The CMS is the structure that you use to edit and update your website. To log in to your CMS you will need your username, password and the URL of your CMS, which will look like this: https://www.website-accountid.artlogic.net.
Custom page
A Custom page is one which you have created yourself in the Pages section of your CMS. It will be entirely empty and you'll be able to control exactly what appears on this page using tools like Feature Panels.
Database
The world's leading online art database software with inventory management, CRM and built-in marketing tools that help improve simplify and streamline your systems, allowing you to focus on the things that matter most.
Your database URL link will look something like this: https://app.artlogic.net/YourAccountID/
If you have an Artlogic Database integrated with your website, you can access it through this link.
Data controller
It is a legal requirement for Artlogic Media to hold the contact details for the senior (or people) responsible for data protection in your organisation.
Detail page
The page which is dedicated to displaying the information of a single record is its 'detail page'. You can see an example by clicking here.
Device licence
A device-specific licence which allows you to access your Private Views app account.
Dynamic pages
These pages are automatically populated by records. You do not need to edit the pages themselves or add any information to them. For example, a list of Exhibitions records will appear automatically on the Exhibitions page without you making any changes to the Exhibitions page itself.
Feature Panel
A Feature Panel is a way to create more content on your page, whether that is a grid of images, a carousel, etc. This content can also be linked to different pages on your website.
File path
A file path can be used to hyperlink a word or phrase to a document or an image.
Files
Upload additional images and documents and use their file paths to share them with your visitors.
Folder
A page can be turned into a folder, and then have the capacity to contain several other pages as part of a sub-navigation.
For example: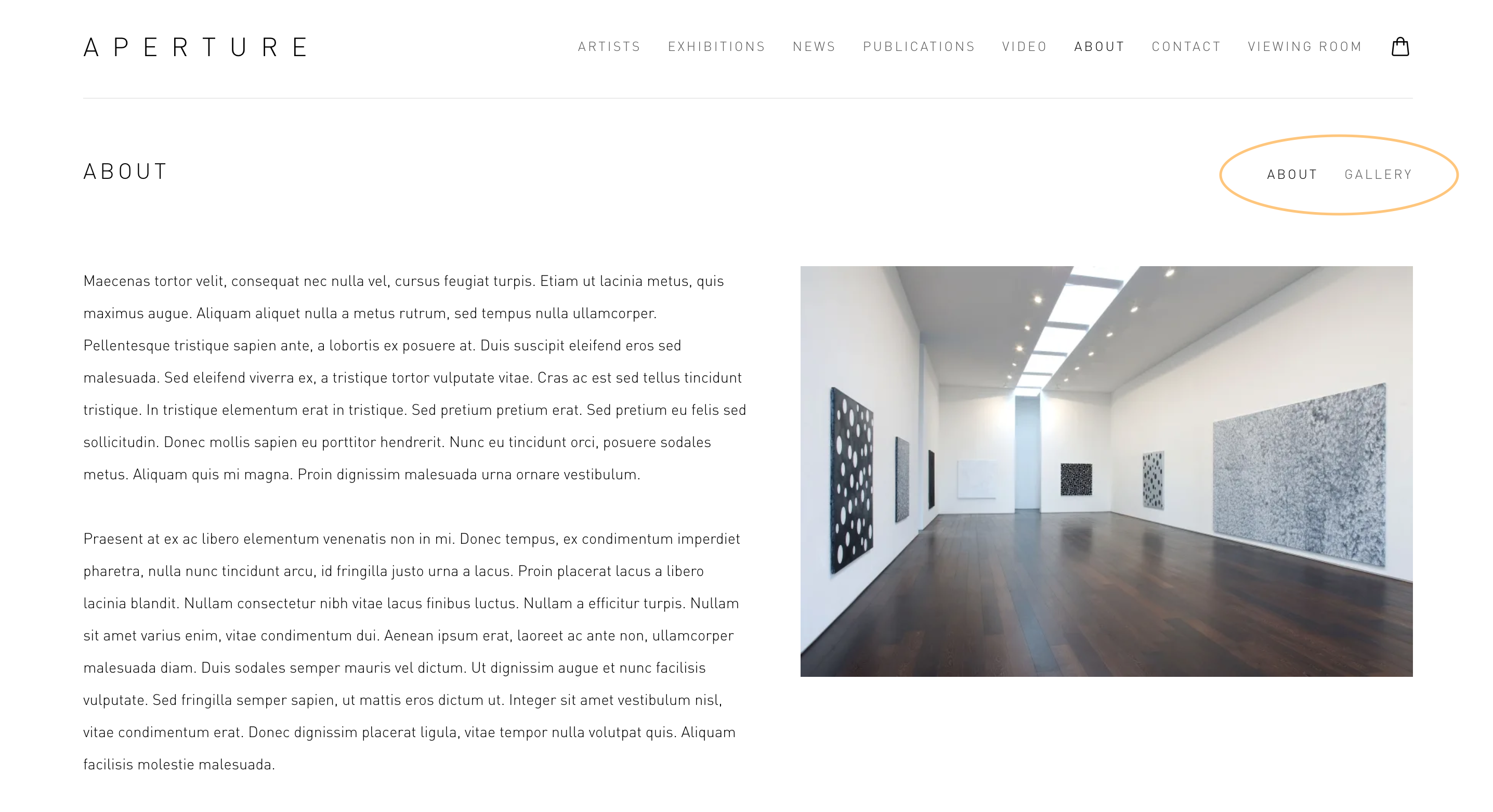 Forms
Whenever a visitor submits information to you through your website, they'll do this through a form. This applied to mailing list sign-ups, enquiries, and store orders.
Front end
The front end of your website is the side of your site that your visitors will view (as opposed to the back end, which is the admin side that you must have a login to enter).
Hard quitting
Hard quitting your browser or apps is a way to resolve issues. It involves restarting or quitting a program rather than merely minimising it. See this Apple support page for more: https://support.apple.com/en-gb/HT201330
Header & footer
The top (header) and bottom (footer) of your website page.
Integrated
We use this term to describe clients who have an Artlogic Database connected to their Artlogic website.
Interest
Interests are a great way to tag, locate and group your contact records. They are often used for marketing purposes, as they show a contact's engagement with a particular artist, genre, or wider group (i.e Picasso, Still Life, Secondary market).
Our websites provide visitors with the option to enter an interest when signing up for a mailing list, which will be added to their Contact record in the database (for integrated systems).
ISPs and IP address
An Internet Service Provider (ISP) is the industry term for the company that is able to provide you with access to the Internet, typically from a computer.
An Internet Protocol address (IP address) is a number assigned to each device connected to the internet that uses the Internet Protocol for communication.
List view
Front end pages that list all your enabled records. The Artists, Artworks and Exhibitions pages are all 'list' pages.
Local
If you are having trouble with software, the issue could be local to you - meaning the issue is happening either on your computer or network. If an issue is local it may mean that people on other systems are unable to recreate what you are experiencing.
Main navigation
This refers to the menu at the top of your window, on both the front end and the back end.

Meta Keywords
A meta keyword is a list of the most important themes in your page, included in the meta data for that page.
Module
Modules appear in CMS > Settings > Settings > Website > General > Modules.
These can be turned on/off depending on your preference.
Pages
Pages of your website can display different content like artists, artworks, exhibitions, press, news, contact etc. Go to CMS > Pages to edit your pages.
Populate
This term describes adding information or content to your website.
PrivateViews app
The Artlogic sales and presentation app. This is only available as part of our database package. It can be downloaded here.
Reboot
A reboot is a way to restart a working computer using hardware (e.g., a power button) instead of software (like hard quitting).
Records
The Records in your CMS can include Artists, Artworks (for standalone), Exhibitions, Press, News, Events and more. These reflect the modules that exist in your CMS > Settings.
SEO tools (optional)
If our Support team has activated these Search Engine Optimisation tools for you, use this guide to help understand what we offer.
Settings
Your CMS Settings allow you to customise the layout and appearance of the content on your website as well as your online sales settings, mailing and enquries, social media and general display settings.
Server (and dedicated server)
All our websites exist on servers. These are a centralised and secure network of resources or services. They can provide various functionalities, often called "services", such as sharing data or resources among multiple clients, or performing computation for a client. If you have a dedicate server, it will because you site demands more capacity to handle large influxes of online traffic.
If you are preparing to launch a "print drop", where you expect a high spike of people visiting your site, let us know, so we're able to prep the server.
Sidebar images
Refers to the images in the vertical area next to the main content of a website. These are any uploaded standalone images that show in the sidebar for each page. Whether they appear cropped or uncropped can be edited by going to CMS > Settings > Settings > Layout.
Sitemap
This is a list of all the pages on your website, and therefore all the URLs your website contains.
Standalone
We use this term to describe clients who do not have an Artlogic Database connected to their Artlogic website.
Subnavigation
This term describes the additional navigation within a page, for example, the modules in an Artist's detail page, or the pages which are contained inside a folder.
Template
Artlogic offers a variety of template website pricing options. Along with your pricing plan, you can also choose a theme for your website.
Text Editor Toolbar
This is the toolbar of options that appears above text fields that your are able to make further edits to. It allows you to adjust the text style, paragraph styles, add images, embed links and, if you'd like, edit the HTML too.

Theme
Artlogic offers the following pre-set template website themes:

All your default settings match those of the theme you chose.
When you purchased your website subscription, you would have selected to use one of these themes.
User
A person in your company who has their own user account in order to access your Artlogic website (or Artlogic database or PrivateViews app).
URL
The address of a World Wide Web page, like https://artlogic.net/.
Visitor
A website visitor is someone who accesses to or views your website.
Web browser
A web browser is a software application that you use to access information on the World Wide Web, for example Google Chrome, Mozilla Firefox, and Safari (Apple).
We do not support Internet Explorer with our products. Here's why.
Website
Your online presence, with a URL like https://artlogic.net/.
Wizard
Our Setup Wizards are a multi-page help tool that guides you through a function. They usually allow you to go back and forward one page at a time.
Workaround
A workaround is a method for overcoming a problem or limitation in a program or system. We tend to recommend workarounds when our systems aren't able to fully accommodate your request directly.