Adding content to your pages
This feature is an effective means of adding and managing content on Custom pages and in Viewing Rooms.
---
What are 'Feature Panels'?
Feature panels are an easy way to add content. Using this feature you can stack a series of panels in your page's edit screen, and then drag and drop them into different orders as you like.
Warning
: Not all pages allow for Feature Panels. Generally,
Dynamic
pages will not support this feature. Find out more information on Custom pages in our
dedicated help guide
.
You can also save Feature Panel records so you can use them in other areas of your website without having to remember how you created them. You can set this up in Records > Feature panels.
In the below image we've specified which panels we've used to create the Viewing Room layout on our Monochrome Light theme website.

---
How do I create Feature panels?
Feature panels using existing records
Feature panels for your existing records can easily be added in a few clicks: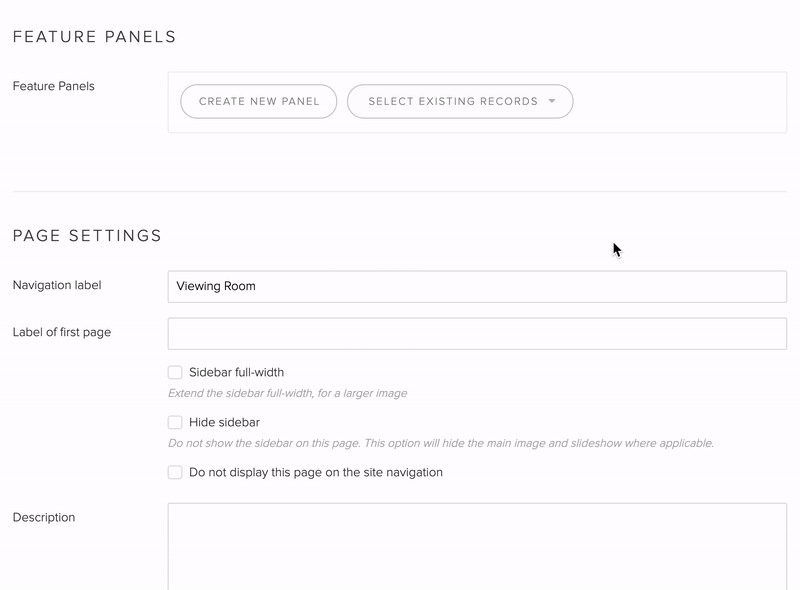 Feature panels using custom content
If you wanted to create something more customised, select 'Create new panel' and select the panel type you want to work with:

Warning: Panel types can be switched at a later stage but you may risk losing some data.
Upload your image/s.
Enter your preferred text.
Make sure to hyperlink your panel to the relevant page where more information can be found.
Select Save and then make sure to select Save again for the page itself.