Manually created Private Views can be added to your website
Who can use this feature?
To find out if this feature is included in your plan please visit this page or get in touch with our team on hello@artlogic.net to request further information.
If you signed up to Artlogic before July 2023 you can visit this page to view our previous plans.
Please note: this feature is currently in beta. To register your interest and request access to this feature write to us at support@artlogic.net.
If you have an integrated Artlogic plan (a database connected to your website CMS), you'll be able to quickly populate pages on your website using existing Private Views from your database.
---
Create a Private View
To be able to share a Private View to your website, first you'll need to create one in your database (app.artlogic.net/accountID).
See this guide for more: Create a Private View.
---
Enable your Private View to be embedded
Find your Private View in Artworks > Private Views > All.
In your Private View settings, click 'Website Sharing' and enable 'Enable this Private View to be embedded in pages on your website'.

Turning on 'Respect Private View display options

' will automatically override any website settings on the page it is embedded, instead respecting the artwork and page display settings you have defined in the Private View settings.

Click 'Save'. It can take up to 30 minutes for this to sync to your website CMS.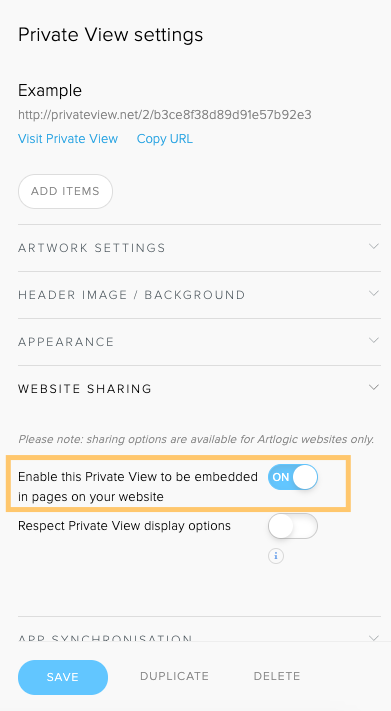 Tip:
You can see all the Private Views shared to your website here: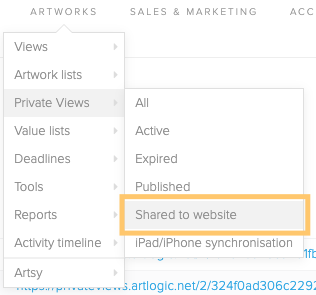 ---
Log in to your website CMS
Next, log in to your website CMS (website-accountID.artlogic.net/admin).
Go to the page you wish to embed your Private View (such as a Viewing room).
Scroll to 'Page layout type' or 'Artworks grid', depending on your page, and select 'Embed a Private View'. If you do not see this option, the page does not accept Private Views (such as the Homepage).

A drop-down menu will then appear below, where you'll be able to select your chosen Private View. Do remember that it can take up to 30 minutes for Private Views to sync to your CMS after being shared and saved.

Click 'Save' to complete the process. The Private View will now appear below any Title/Subtitle text, but above all other feature panels.