Step 5
---
How does this work?
You can leave all shipping to be arranged in person, or set up checkout options based on location and weight.
The Shipping country and the weight of the items will determine the options available to your customer.
---
Create new shipping options
What are zones, methods, and rates?

A zone is a group of countries which have the same shipping options.

A method is a service you offer to ship your products via.

A rate allows you to define one or more price brackets to each shipping method. Each rate has its own weight range.
1. Go to Online Sales > Shipping settings
This is where you will be able to create and manage your shipping options.
2. Add a new Zone
Allocate applicable countries, choose whether tax will apply or not.
3. Add a new Method
An example would be 'Courier' or 'Post' for publications.
Decide whether this method is limited by a product 'type'.
4. Add a new Rate
This will link to the actual/volumetric weight of the items.
Danger: If you do not set up shipping Zones, Methods, and Rates your clients will not be able to complete their purchase.
---
Arrange shipping post-sale
Create a shipping Method inside any/all of your existing zones called, for example, 'Arrange shipping after purchase'.
Add a new rate with commonly used weight bands i.e., 10000 - 50000 (g)
(if you want this available to all orders leave the weight fields empty).
Leave the Price field empty.
The customer should then be able to select 'Arrange shipping after purchase' on checkout.
---
Artwork weights
Standalone websites
Add the item weight into Records > Artwork records:
For artworks available in a single format, use Shipping weights and dimensions: for example, a photograph available in only one size and in one edition.
For artworks with multiple formats, use Available formats for store: for example, a photograph available in different dimensions in separate editions.
Volumetric weight is an industry-standard calculation that takes into account the dimensions of a package when calculating shipping charges:
(length x width x height) / 5000

The shipping calculation will use whichever is the larger between the actual and volumetric weights.
Integrated websites
Add the item weight into your Artlogic Database > Artworks > Artwork record > Location/Shipping > Packing > Packed weight (kg).
For artworks with multiple Data Edition records (for example, a photograph available in different dimensions in separate editions) please contact Support.
All records added to your store require a set weight.

If none have been entered, the system will give the record a default weight of 200g.
---
Publication & Product weights
These are set up in the CMS for both standalone and integrated websites. To create these, go to:
Records > Store > Publications
Records > Store > Products
Publications allow you to list catalogues or books that you'd like to sell.
Products are more miscellaneous, like tickets to a talk or event, tote bags, etc.
---
Examples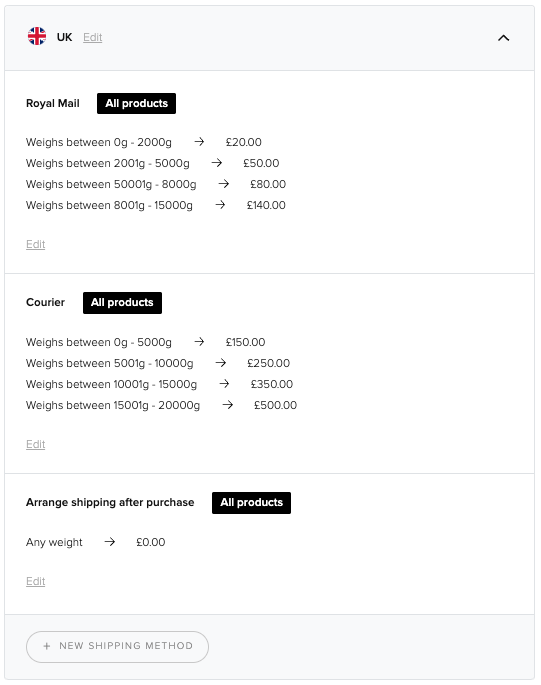 ---
Next step