Step 2
---
What will Artlogic charge me?
This will depend on your website plan.
Artist 200, Artist/Gallery 500 and 1000
Why does Artlogic charge me for online transactions?

We need to charge some small fees in order to cover the development and maintenance of this service.

If you don't make any sales, you won't be charged.
Per transaction
3% fee on the first £5,000.
1.5% fee on the amount above £5,000.

Example:
Transaction 1
£7,000 (INV189)
£180 — Artlogic fee  = £150 (3% on £5,000) + £30 (1.5% on £2,000)

Transaction 2
£3,000 (INV190)
£90 — Artlogic fee (3% on £3,000)

£270 = Total Artlogic fees for March
Artist/Gallery Unlimited
1% fee on all online sales.
I have a bespoke website
If you would like to 
start a conversation
about adding this feature to your site just let us know and we will get back to you with your best options and a quotation if required.
---
What will Stripe charge me?
Stripe will charge a transaction fee for each payment.
Please see www.stripe.com for the exact fee structure.
Stripe is very easy to set up and manage:
You can set up a Stripe account in minutes and authorise your CMS to make charges through the store on your behalf.
Stripe accepts all major cards including AMEX, Visa, and Mastercard.
You can log into your Stripe account and see all your transactions and refund transactions directly.
Receive your money one week after the sale, directly into your bank account.
---
What is Stripe?
Artlogic websites allow you to sell artworks, publications, and other miscellaneous products.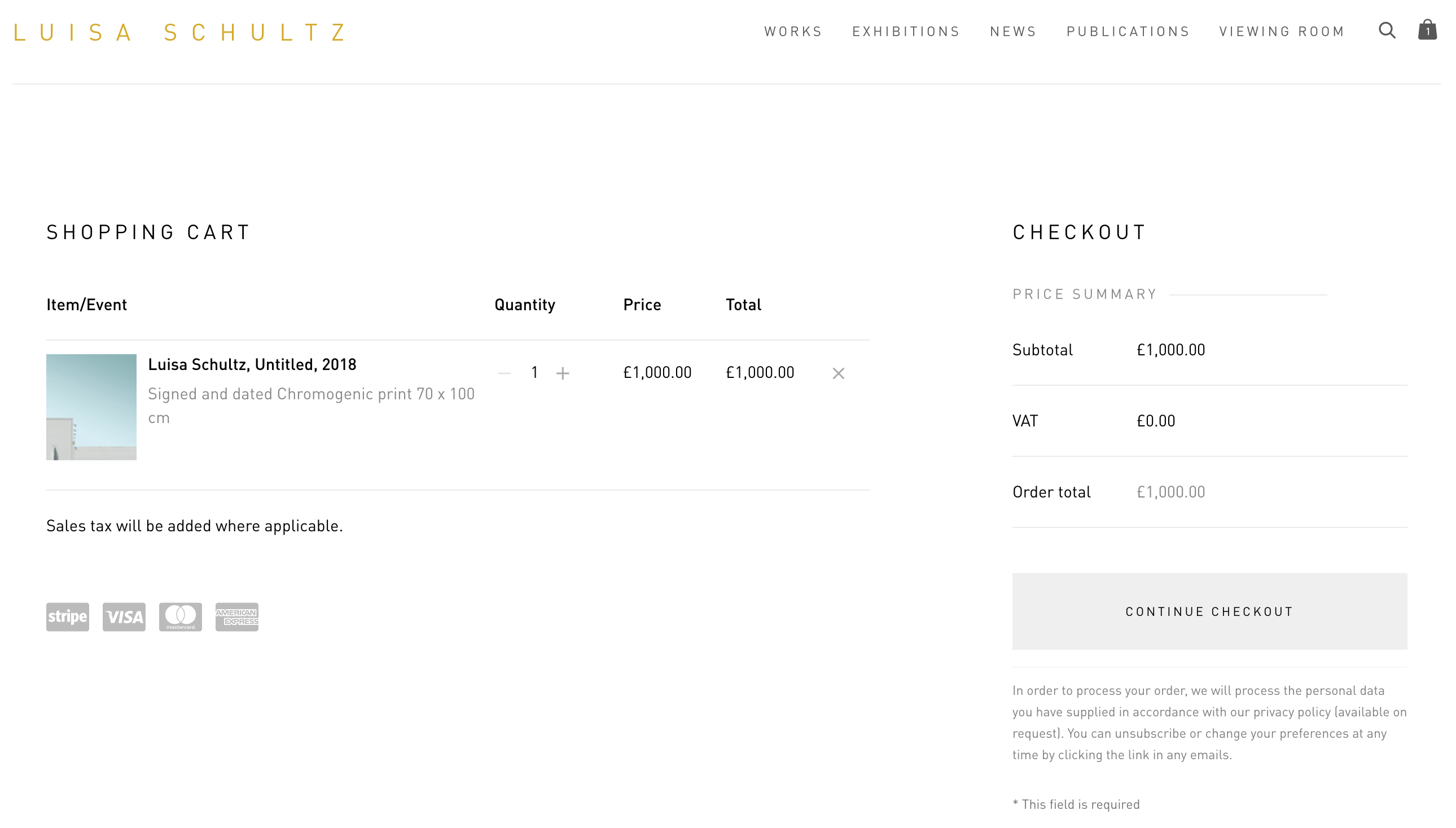 Adding a 'checkout cart' to your website through Stripe will add fees:
---
Next step