This article guides you through the various ways to create and generate invoices and other frequently asked questions about the feature.
---
Video tutorial
---
How to sell an item
See this guide for how to sell an item in your database.
---
Editing your invoice
Once you have chosen which artwork/s to sell, you will then be able to make edits to your invoice.
Completing your invoice:
Add a contact to whom the invoice will be addressed.

Add artworks and reorder your selection.

Once your artwork/s has been selected, if you see a warning sign, the system is notifying you of a discrepancy. You are able to follow the advice provided or dismiss this warning.

Choose the invoice type between standard, margin scheme or three way split in Settings.

Choose your currency. You are able to also show 2 currencies side by side. Add an exchange rate in Settings to see enable this.

Customise your currencies by going to Database > Accounts > Value lists > Currencies.

Add VAT, discounts - this can be done for overall invoice or per artwork (monetary or percentage), and artist resale rights.

Customise you VAT rates by going to Database > Accounts > Value lists > Tax statuses.

Edit the display settings, like enabling headers and footers.
Add sundry items.
Add your invoice terms.
---
Generate your sales invoice
When you have finished editing your invoice, complete your invoice by firstly clicking Save > Action.
Here, you'll be able to choose from options to:
Preview proforma invoice.
Generate proforma invoice.
Preview sales invoice.
Generate sales invoice

.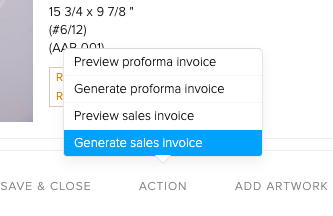 Your invoice must be saved, have a selected contact and artwork to be actionable.
Generating your invoice will sell the artwork/s, which will automatically update your artwork records and associated contacts.
It will also allow you to download your chosen invoice as a Word doc (so that you can make further manual edits) or PDF. You can then save this on your system as a pdf, for example, and send it to your clients.
---
Editing already generated invoices
You are able to make edits to the content of your invoice, including to the artworks, after they have been generated.
Regenerate an invoice
In order to show any edits made to invoices that were previously generated you will need to click Action > Regenerate invoice to update relevant records. This option allows you to update payments, to see payment history and to create credit notes.
---
View your invoice history
Go to your Database > Accounts > Invoices
Or, Database > Accounts > Accounts records. Here, you will be able to see your individually sold artworks.
---
Find and download your account reports
Go to:
Accounts > Accounts reports and exports
Then, add specific details of the invoices you wish to create a report of.
Download report.
Choose from the list of 11 different report types, such as 'custom export', which will reveal all associated data.
By clicking Export all data from the spreadsheet created, you will generate your excel file, which you can then import into your relevant accounting software (i.e. Sage, Xero, QuickBooks etc). Though we are aware of the demand for Artlogic to integrate with third party accounting software, this is not yet available.
---
Further information