Credit invoices raised in your Artlogic Database
This guide will help you to create credit notes for an entire invoice.
---
Steps
1. Raise credit note
To create a credit note for an invoice:
Go to Accounts > Invoices.
Locate the invoice you would like to generate a credit note for.
Click Options.
Select Raise credit note.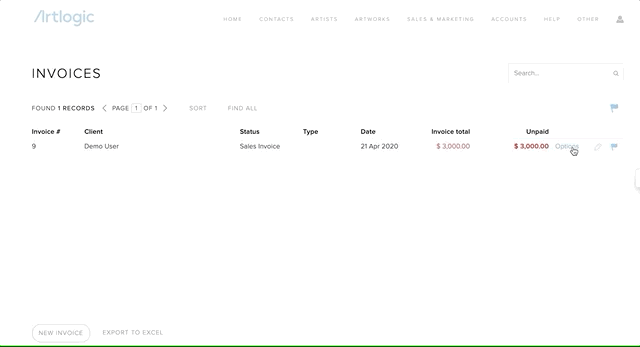 2. Generate your credit note
When you're happy with your credit note settings:
Save the credit note.
Select Action > Generate credit note.
A pop-up window will appear:

Mark invoice and credit note as fully paid:
In cases where no payments have been applied: This preference will update both the invoice and the credit note to be 'fully paid' in cases where no payment has been applied to the invoice.

In cases where payment has been applied: If a payment has already been applied to the invoice this payment will remain in place, and the credit note will remain 'unpaid'.

Also revert artworks to the values shown below: This should always be selected unless you are sure that you do not want to revert these details. This checkbox will remove/revert all the sale details in the Contact record and the Artwork record/s including the artwork Status and Availability.
Click on Generate credit note.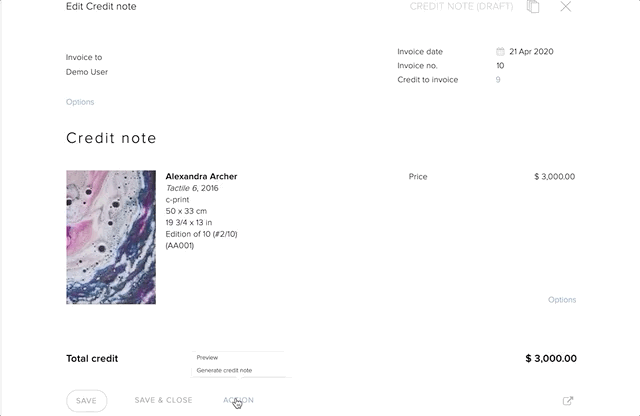 ---
Partially paid invoices
If you are crediting an invoice where a portion of the invoice has been paid for, you would either need to:
Apply the partial payment to the credit note or
Apply payment in full to both the invoice and the credit note.
As long as the two result in a zero balance, and you use the notes fields available to specify the movement of funds, this should be fine.