This guide shows you how to create a three-way split invoice for On consignment/Consigned out artworks in your database.
---
When three-way split invoices are applicable
When you receive works on consignment from an artist and then consign these works out to another gallery, you may agree for them to sell the works at an agreed price.
When these works are sold, you will invoice the consignee gallery for your share and the artist's share.
Artlogic supports this type of transaction with a three-way invoice which correctly calculates the share for each party taking into account any production costs.
Warning: It is not possible to make a three-way split invoice if any items added to the invoice have the wrong status/availability. Items in three-way split invoices must be 'On consignment - Consigned out'. The system will notify you of any discrepancies.
Warning: it is not possible to include sundry items on three-way split invoices and they will need to be invoiced separately.
---
Steps
1. In order to do a financial three-way split, you'll first need to make sure your artworks have the correct financial settings.
Three-way split invoices are only possible for artworks that have been consigned to you (On consignment), usually by the artist, and then consigned by you to an external third-party (Consigned out); therefore, the only applicable status and availability setting is 'On consignment-Consigned out'.
Tip:
To safely see these fields in your artwork record without changing the status and availability of the artwork you may switch between these views using the '
View all financial fields
' toggle at the top of the financial fields, as no changes are made to the database.
2. Next, scroll down and add the information for the three-way split to the 'On consignment/ Consignor details' and the 'Consigned out' fields. If the artwork does not have the correct 'On consignment / Consignor details' or the 'Consigned out' information, the invoice will flag this as a warning.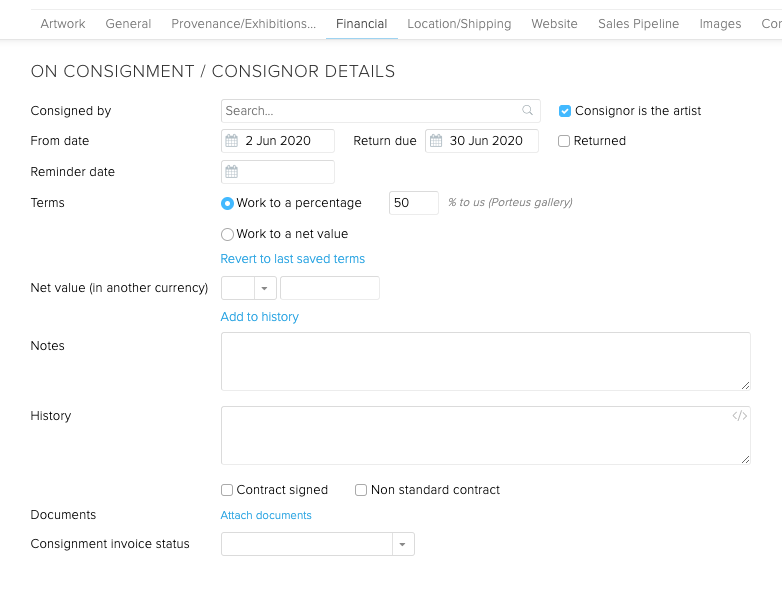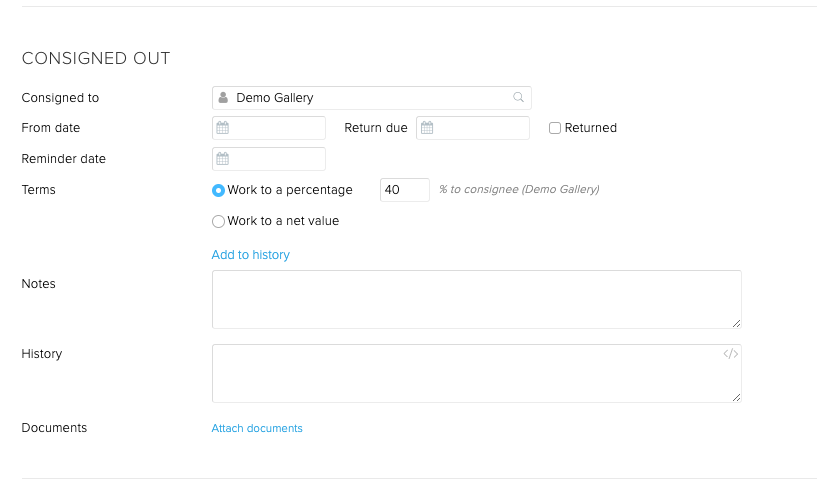 3. Then, sell your artwork/s to create your invoice.
4. On the right-hand side of the invoice editing screen, you will need to select 'Three way split' as the invoice type, and then add the percentage for each share. ​​
5. Add the 'Price achieved / sold at' value, any production costs attributed to the sale and your chosen tax status. The invoice will automatically update the 'Total due' value.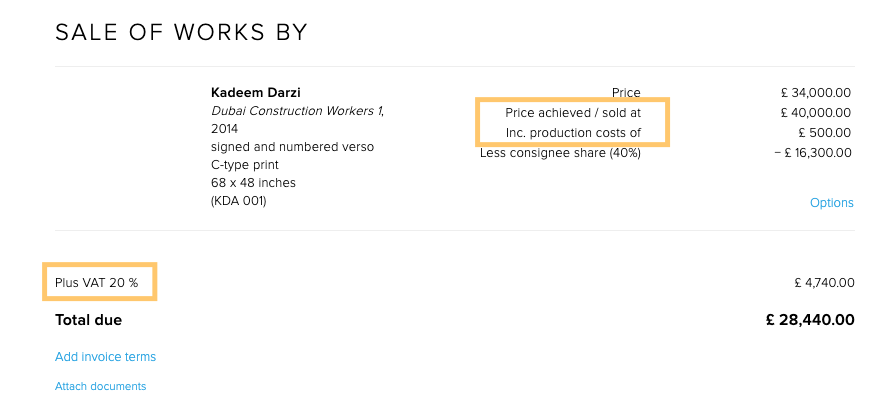 6. When you have completed customising your invoice, press Save.
7. When you are ready to finalise the invoice, click Action > Generate, which will update all associated records and add this to your Accounts records.