Documents can be added and then shared via Private Views
In the Artlogic Database, documents can be uploaded to almost all records using the 'Attach documents' buttons (e.g. under 'Provenance, Exhibitions & Literature' in the Artwork edit screen).
---
Upload documents
This example will focus on documents in an artist record, but the principle is the same for Installation Views and Private Views. You can also upload documents to individual artwork records, see below.
Documents to artist records
Log in to your Artlogic database and go to Artists.
Find your chosen artist record from the list.
Open the edit screen by clicking the 'pencil edit' icon button.
Scroll to the bottom of the edit screen, to 'Documents'.
Click Upload and select your document/s from your files.

Once selected, click 'Save'. If your files were not uploaded successfully, ensure your files are docx files or PDFs and that their filename/s do not contain any symbols or unusual characters.

Warning:
Documents uploaded to artist records can
only
be shared to the PrivateViews app, not to Private Views links. However, documents uploaded to an
Installation Views
record can be shared to PrivateViews app and in Private Views links.
Documents to artwork records
Log in to your Artlogic database and go to Artworks.
Find your chosen artwork record.
Open the edit screen by clicking the 'pencil edit' icon button.
Go to a field that allows you to upload a document, for example, the 'Provenance' field, and select Attach Documents. You'll be able to attach more documents or to manage the existing ones from this field too.

Select your file/s and press 'Save'.
Share your document/s to the PrivateViews app
Share your documents to the PrivateViews

app,

For a document in an artist record:


Select the

Export checkbox next to your document and press 'Save'.

For a document in an Artwork record:
Go to the PrivateViews tab of your artwork record, scroll to 'Document sharing options' and tick 'Share to Private Views'. Ticking 'Visible when locked' will allow the document to be viewed even when the lock function has been enabled in the app. Then, 'Save' your record.


Next, open the PrivateViews app on your device. Wait until the Updates have run, and then select the artist in the app (make sure the artist has been selected to have automatic Private Views created in the Artworks > PrivateViews > iPad/iPhone synchronisation settings).
Select the Documents tab to access your document/s.
These documents can be emailed to your clients via the Private Views app.
---
Customise your document
In PrivateViews, Artist and Installation Views records you have the option to customise how your document will appear by clicking 'Manage documents'.

Rename your document
You're able to rename the documents using the Filename for serving column. This new label will display in place of the document filename.
Add a cover image
Select Actions to add a cover image to your document to replace the default file icon.
---
PDF and Word documents will display differently
Documents sent to your Private Views app will look different depending on whether they are Word or PDF files.
PDFs will display as follows, with a new page selector at the bottom of your screen showing thumbnail previews of each page:
Word documents will display as a single-scroll document.
Please note: If you upload the same document twice (even if the filename is different) and try to add two different cover images to each instance, you'll find that the most recent cover image uploaded will be used for both instances. The same applies to 'Filename for serving'.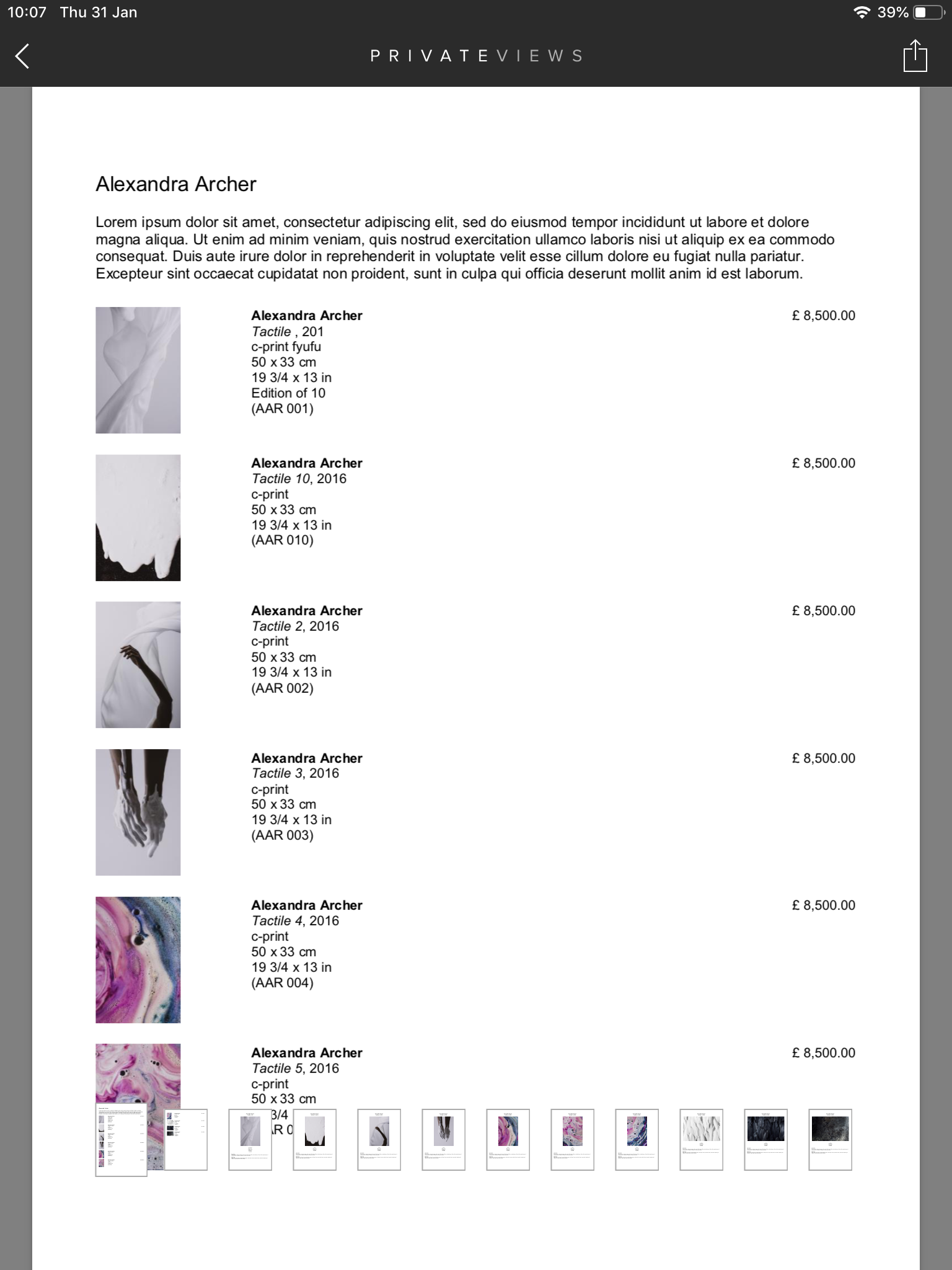 ---
Why are documents not displaying in my Private View
Please refer to the following help guide to learn how to fix this.