Exclusive events and exhibitions
This guide will show you how to create a new record and how to add items to your new Viewing Room.
---
Create a new record
Steps
Go to Settings > General > Modules and make sure Viewing Rooms is activated.
Go to Pages > New record and create a new page with the filename
viewing-room if you don't already have one.
Go to Records > Viewing Rooms.
Select New record at the bottom of the screen.
Add your title and dates to the record.
Select Save.
Turn on Enabled on website button in 'Visibility'.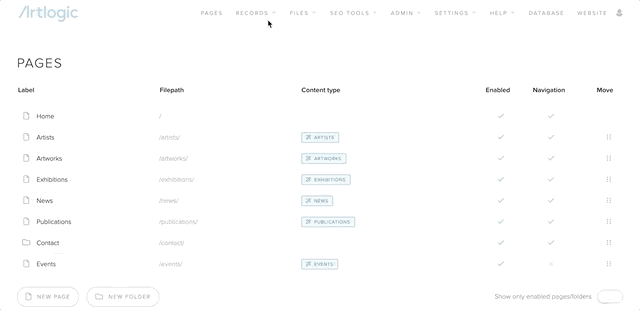 ---
Add artworks
You can choose between three different ways to add artworks.
---
Add an Artworks Grid
Open your Viewing Room record.
In Artworks grid click on Selected artwork grid.
Choose Upload images for detail views, installation views, etc.
Select artworks will show you a list of Artwork records.
Select Save.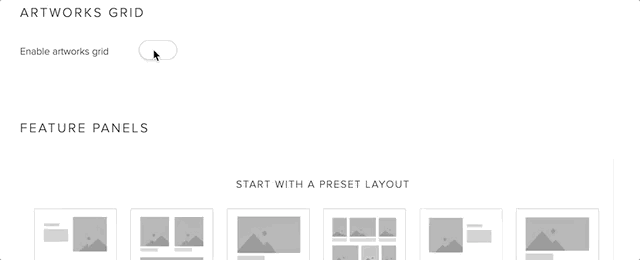 Embed a Private View
Warning:
This is only available to our
integrated
clients and is in Beta at the moment.
If you have an Artlogic Database and this option
isn't
available to you please contact
Support
.
Log in to your Artlogic database.
Go to Artworks > Private Views > All to find your Private view.
Click the 'pencil edit' icon to edit your Private View.
In the settings, under Website Sharing > select Enable this private view to be embedded in pages on your website.
Next, log in to your website CMS.
Go to Records > Viewing Rooms.
Select your chosen Viewing Room or create a New record.
Under Artworks grid, select Enable artworks grid and choose Embed a private view.
Choose the Private View which you want to embed from the drop-down menu.
Select Save.

Add Feature Panels
Feature Panels can be used to add descriptive text, as well as a range of different records, such as artworks, artists, publications, news, events, and exhibitions.
---
More information