This guide explains how to add a Viewing Room link to an artist's profile on your website.
Adding a link to a Viewing Room on an Artist's Page on your site can be a great way to let visitors access time-sensitive online exhibitions and allow you to collect invaluable data and potential sales leads. It's also a great way to encourage visitors to stay on your website for longer while also keeping the artist's page simple and effective.
Note: These steps require you to have the Viewing Room records option in your Website CMS.
---
Overview
After you create a Viewing room record you wish to associate with your artist, there are a couple of ways to display this on your Artist detail page on your website. This can be achieved in the form of a hyperlink or a button.
For either of these to appear, you must first enable the Overview artist module (in Settings > Artists > Artist Detail) and add text to the Overview (short bio) section.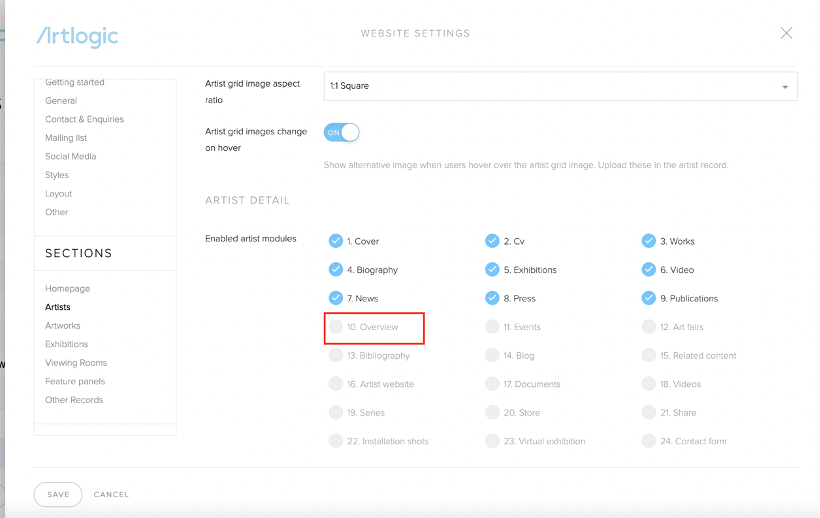 ---
There are 2 ways to add a Viewing Room to your Artist page
Using a hyperlink
Head to your chosen Viewing Room record in your website CMS (Records

>

Viewing Room

>

All Viewing Rooms

> choose the Viewing Room you would like to add to your Artist page).

Copy the Viewing room URL on the CMS by clicking

Edit

>

View Page > Copy its URL.

View page:


URL:

Then, head to the Artist record in your CMS (Records

>

Artists).
Choose the artist you would like to add the Viewing Room to by clicking Edit and scroll down until you see Overview (short bio).
Type in relevant text (such as Artist's Viewing Room)> highlight the text > choose the hyperlink option.



Paste in your hyperlink to your Viewing Room and click Save. Once saved, you'll see your new link appear on your Artist's page.
Example: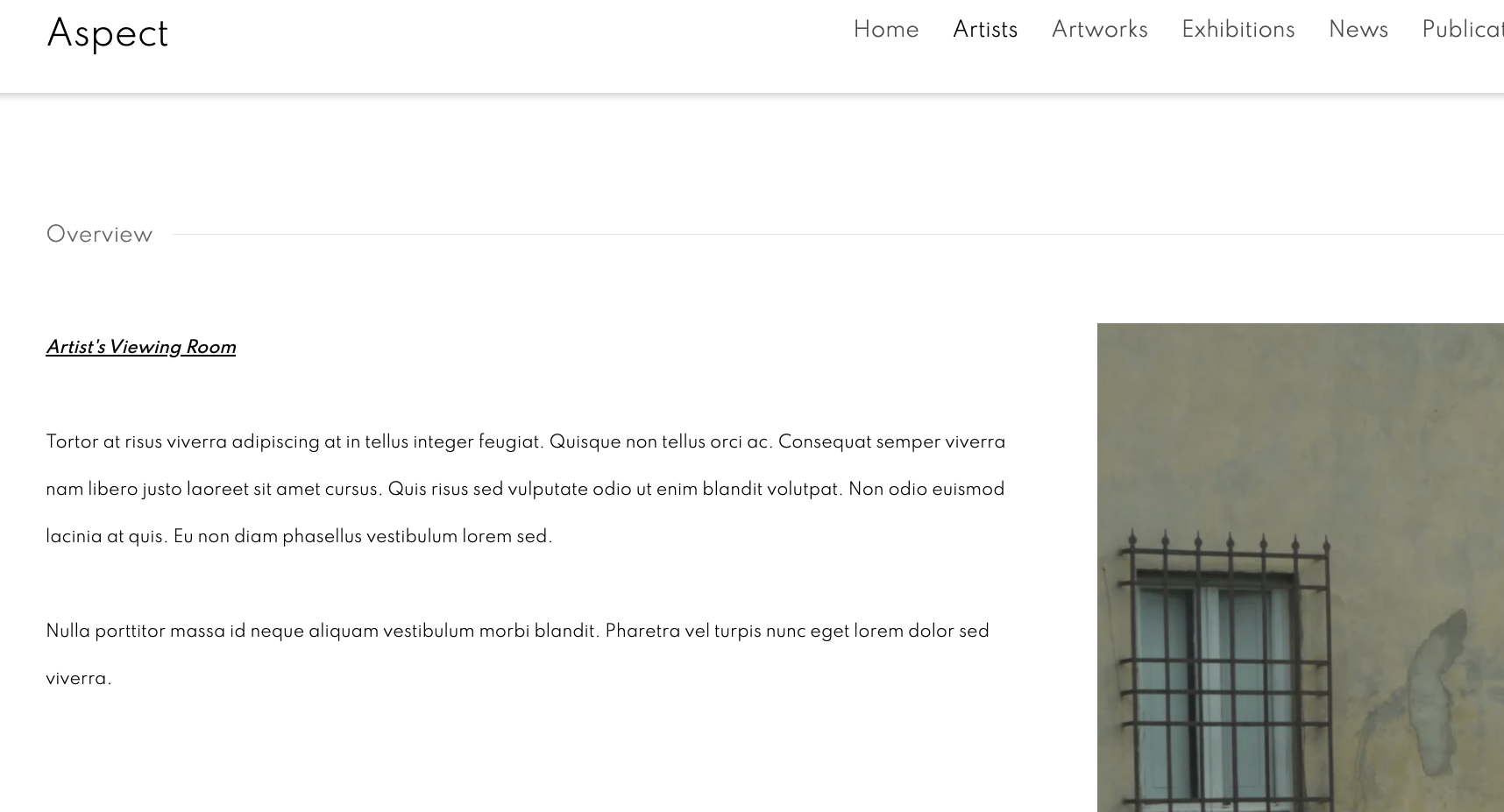 Alternatively, add a button
Head to your chosen Viewing Room record in your website CMS (Records

>

Viewing Room

>

All Viewing Rooms

> choose the Viewing Room you would like to add to your Artist page).

Copy the Viewing room URL on the CMS by clicking

Edit

>

View Page > Copy its URL.

View page:


URL:

Then, head to the Artist record in your CMS (Records

>

Artists).
Choose the artist you would like to add the Viewing Room to by clicking Edit and scroll down until you see Overview (short bio).
Add content to the Overview (short bio) section. This field must have content in for your button to appear.
Scroll down the Artist's edit page and add your link to Documents & Links:

add the label you would like to appear on your website and the path to the Viewing room. For example:


Capture the end of your URL:

Then, use this as the 'Path'.

Click Save.
Example: