First, create your email.
The Artlogic Mailing campaigns tool lets you send beautiful HTML emails to a customised list of contacts. This guide is intended to give you a basic understanding of how to use it.
---
Getting started
Build your campaign
Go to Sales & Marketing (or Marketing)> Email marketing campaigns > Mailing campaigns. Before continuing to step 2, turn on the 'Display help notes' in Email source for more information.

Click 'New record' button at the bottom of the page. The new campaign will open in an edit screen.
Choose an Email source
When you start building a new campaign, you'll be asked to choose an Email source to set the content of your mailing campaign.
Here, select the email you previously created and click the 'Set email content' button. This will display a preview of your email so you know that you've selected the right one.
Note: Your mailing of choice will need to be 'Live' to be selectable here. And, if you have edited your mailing since setting the content for your mailing campaign, click 'Refresh content' to pull through any changes made.
---
Adding settings
Add in an Email subject and a campaign Label (to help identify your campaign internally).
Specify your Email from address (the address the email will be sent from).
Optionally, you can specify a Reply to address if you wish to receive replies (and auto-responses) to a different address.
Warning: look out for this sign, and do please contact us if you don't understand the help page referred to in the notification:

---
Choosing your recipients
Choose the recipients for your email campaign by either selecting 'Your entire mailing list' or a specific group of contacts via their inclusion or exclusion in 'Categories' and/or 'Interests' groups, and/or 'Marketing and Events' lists.
For a contact to be included in the recipient list and to receive your email campaign they also need to:
Have an email address.
Be selected as on your emailing list, and not have 'Unsubscribed'.
Not be marked as 'deceased'.
Please note: it is also possible to find contacts in the Contacts list view and send your campaign to them using the 'Send an email campaign' button - however, to do this you will need to have already created and saved a mailing campaign record.
---
Saving your campaign and editing your email
You can save your campaign at any time and revisit it as and when you need to update it.
If you've edited your email since you set it as your 'Email source', please make sure to click the Refresh content button in the Email source tab to update the content of your campaign.
---
Test your email
The Mailing campaigns tool will prompt you to complete certain steps before you send out your campaign. For example, you cannot send your campaign to your contacts without first sending a test email.
If you're using merge tags in your email, please use the Send to a test mailing list option in the Send a test message tab. This will then use the information entered into each field in the place of the merge tags, so you'll receive the email as if you were one of your emailing list contacts.

---
Sending your campaign
You're now ready to send out your campaign!
When you are completely satisfied with your campaign and have completed all the required sections, click on the Send this mailing out to all selected recipients button, and your message will start sending. It may take some time to be sent to all of your selected recipients, especially if the list is very large, but you can close the mailing window and continue working while it is being sent.
Info: Filling in a Notification email will give you an email notifying you of the progress of your mailing campaign.
---
Mailing analytics
See these guides to better understand your mailing analytics:
---
Frequently asked questions
Our created email is not displaying in 'Email source'?
Please open the email you want to send out (under Sales & Marketing > Email Marketing Campaigns > Compose/edit emails), and make sure that your email is set as Is live and that you've deactivated the Hide in email campaigns toggle.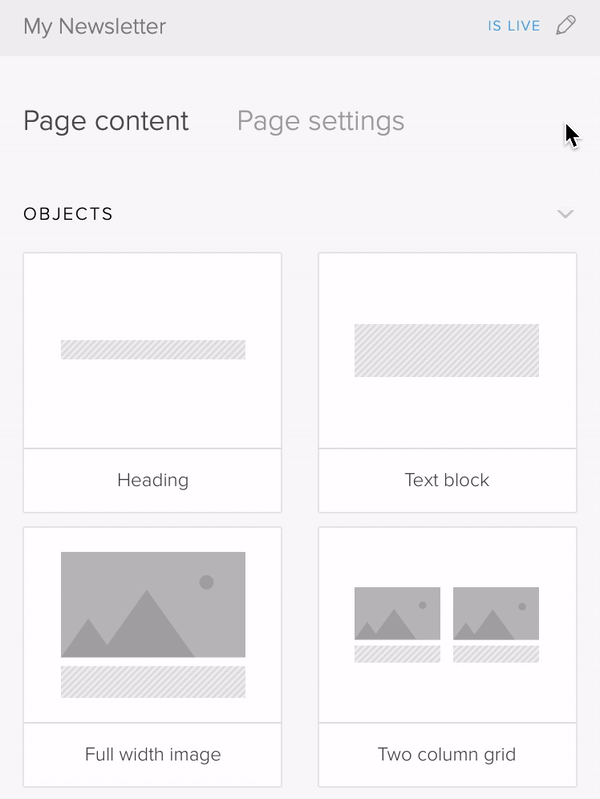 Who's in our mailing list?
When a contact is set to receive mailing campaigns from you, this tag will display for their Contact record in both their Preview pane as well as the 'Contact' edit screen:
These contacts will automatically display in the view Contacts > Views > Emailing list.

Where are my website subscribers?
To find out who has subscribed to your mailing list via your Artlogic website, navigate to Contacts > Views > All and perform the following Advanced search (see screenshot below). These contacts will also appear in your Hidden contacts (Contacts > Views > Hidden contacts).

What happens to unsubscribed contacts?
When a contact chooses to unsubscribe from your emails, this will be registered in their Contact record and they will be removed from the 'Emailing list' view if they unsubscribed from mass mailings.
To see the details of the unsubscribe action, open the Contact record and make sure you're in the 'Contact' tab. Then, scroll down to 'Mailing settings' to view the unsubscribe details:

To see all contacts that have unsubscribed, you'll need to do an advanced search for 'User has requested not to be emailed' is 'True'.
Can we re-add a contact to the mailing list?
For GDPR reasons, you cannot edit email preferences from a contact's edit page as the user has chosen to unsubscribe from some or all emails. If you have their permission you can edit their email preferences by clicking the 'this page' link under the 'NOTE: This user opted out of all emails on ...' notification in the contact's Contact tab. This link will take you to a page that allows you to customise the contact's preferences.
You are not able to do this as a multiple update.
Can we schedule a campaign?
This isn't a current feature, but may be possible in the future. See how we handle feature requests here: How we handle feature requests.
Can I send a mailing list to one person?
Yes, you are able to do this by creating a new category or interest list, in which you include your one contact. Assuming the contact record has the necessary settings, you will be able to select this list (and thereby one contact) when sending your mailing campaign.
Will my contacts be mailed multiple times if they are included in more than one of the mailing groups selected in my campaigns?
No, the contact/s will only receive the one mailing, even if they appear in more than one of your category / interest groups selected for the campaign.
---
Helpful guides and tips