This help note will walk you through the different options for managing newsletter signups received through your Artlogic website.
---
Understanding your Mailing List Settings
This help note will go over your different mailing list settings in your CMS, which can
be found in
Settings > Settings > Mailing List
. Read more to further learn about each of the settings in further detail.
Select a form type
This will allow you to choose which type of mailings form you would like to display on your site.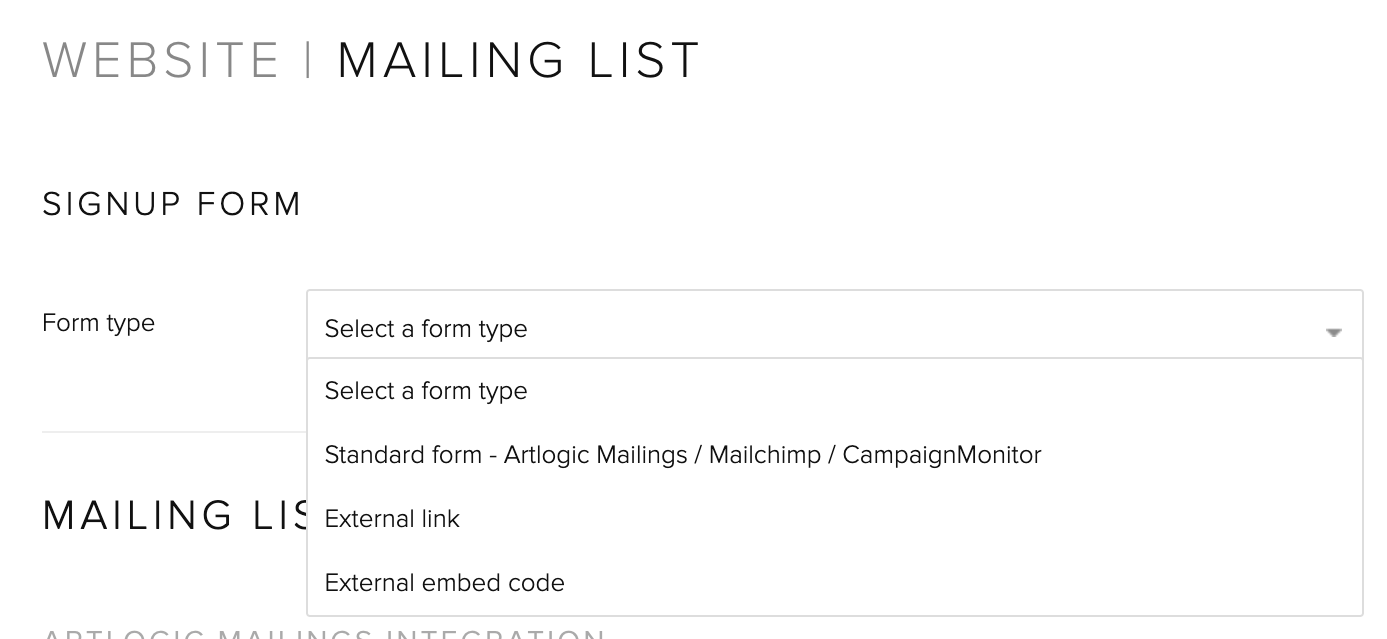 Standard form - If you have an integrated system, you can use set up this form so that contacts that sign up for your mailing list feed into your Artlogic database. You can also set this up to integrate with either your Mailchimp or CampaignMonitor accounts. Read more about how to connect your Mailchimp account here.
External link - For our standalone clients that do not have Mailchimp or CampaignMonitor accounts, you can include a link to a third-party mailing list signup form.
External embed code - This option is for if you choose to embed your third-party mailing list form rather than provide a link.
If you enable both Artlogic Mailings and your Mailchimp or CampaignMonitor account, this means that your contacts will feed into both your Artlogic database and your Mailchimp/CampaignMonitor accounts.
Signup format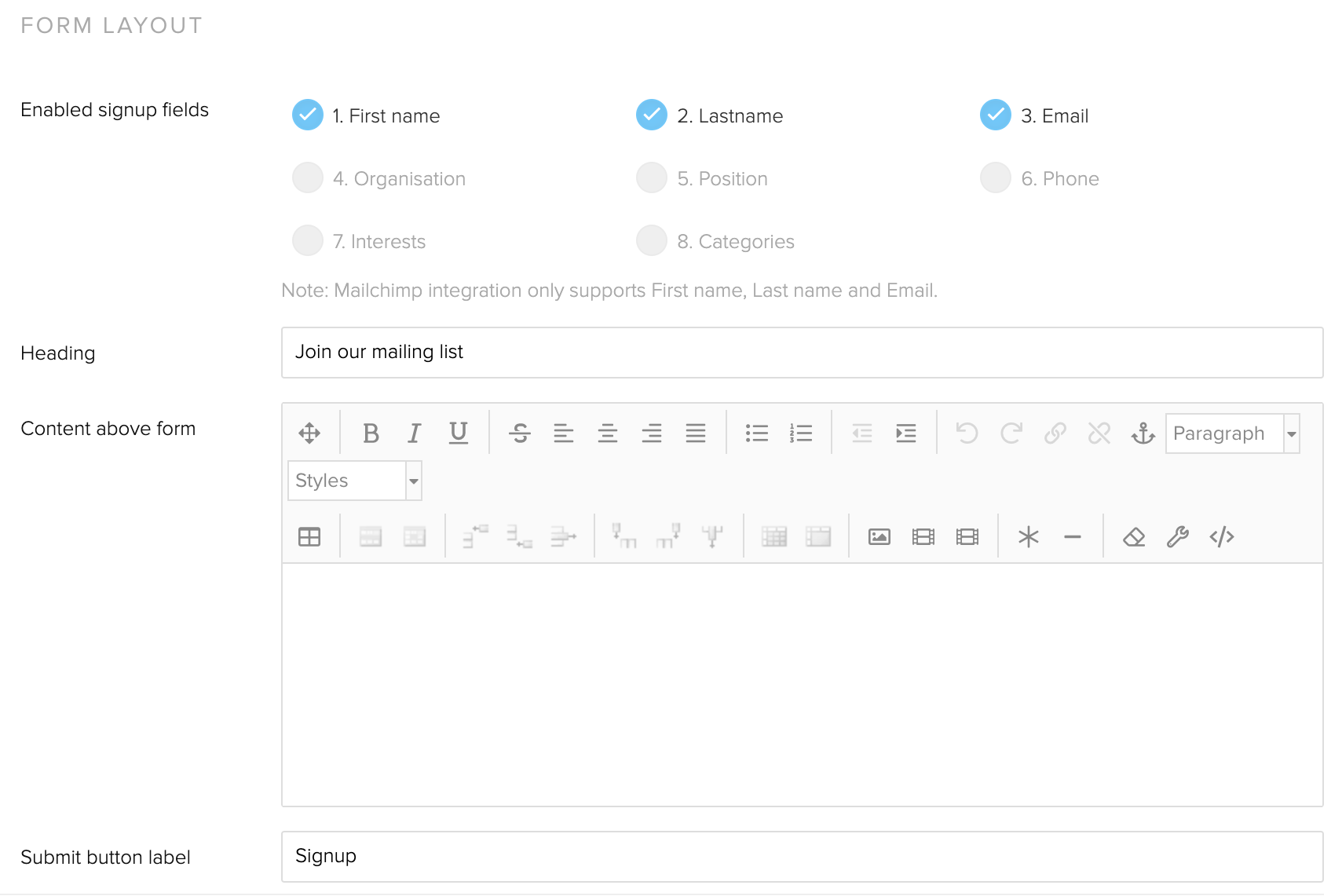 This setting will determine how you'd like the signup form to display.
Here, you can also customise the signup format by choosing which fields display and by customising the content that displays on the form.

Open in a separate page

Open in a popup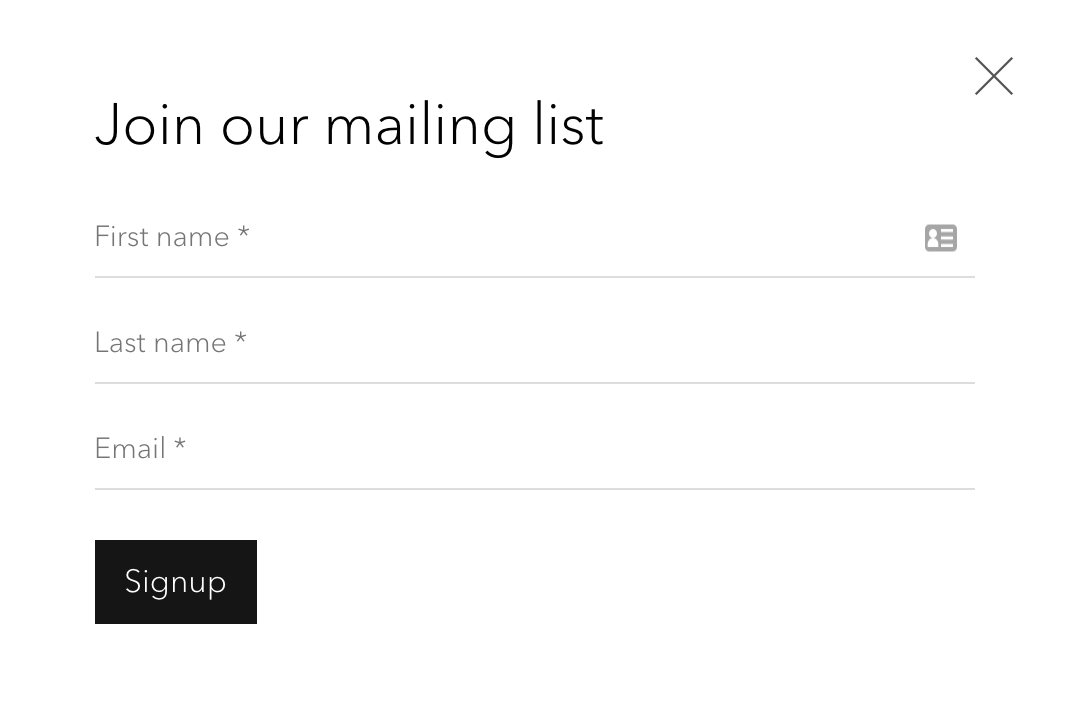 Display on footer - (Beta)
This sign-up format is currently in beta. To register your interest and request access to this feature write to us at support@artlogic.net.

Automatic Popup
Enabling automatic popups will mean that the mailing list pops up either upon visiting or exiting the site, prompting clients to sign up to your mailing list.

The pop up will look like this: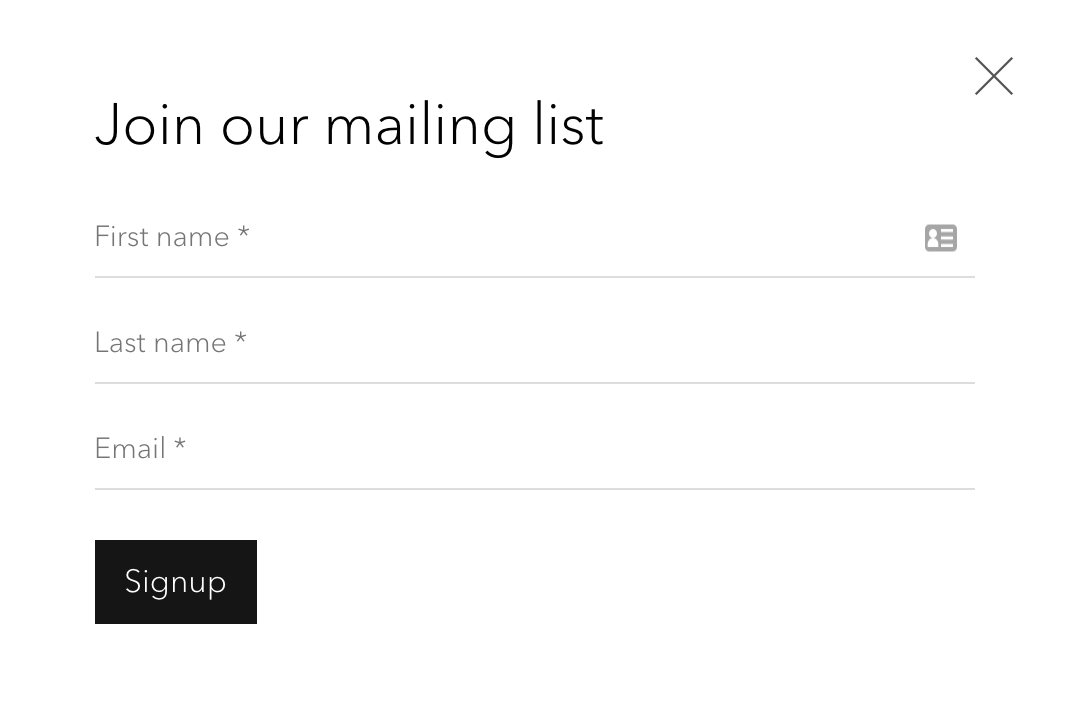 Signup Confirmation Email

Turn this setting on and enter the best email address if you'd like to be notified when someone signs up for the mailing list. You can find this in Settings > Settings > Mailing List > Signup confirmation email.
Data capture Mailing List Signup
If you'd like for people who sign up using data capture to be signed up for your mailing list as well, turn on the "Enable mailing list signup on data capture" setting. In the "Signup type" dropdown, you can either select for users to automatically sign up or to ask permission.
With the automatic sign-up option, you can also customise the signup message to inform visitors that they will be added to your mailing list.