Create Event records and Categories
Events records could list talks and panel discussions, walkabouts, screenings, performances or anything that you'd like to draw attention to either related to an Exhibition or Artist record or not. If you'd like to distinguish these from each other more formally, you can create Event Categories.
---
The Events record function allows you to create your events, adding their details, description, location, dates and other details.
Log in to your CMS > Records > Events > Events records. If you can't see 'Events' under Records, make sure this module has been enabled in Settings > Settings > General.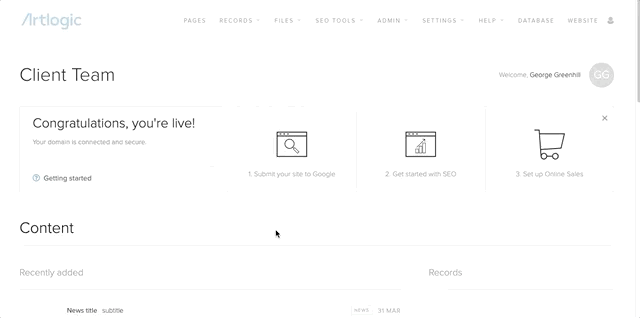 ---
How to set up Tickets
Tickets can be set up and edited within Events records and can be further in Settings.
In Events records, scroll to Enable tickets for event > click enable > complete the fields for your ticketed event.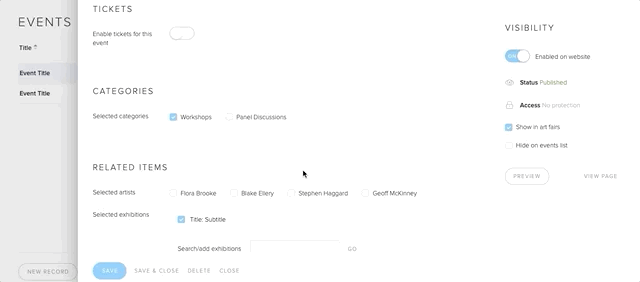 How will this appear on my website?
Depending on your theme and the settings you have chosen for your events page and records, it could look a little like this: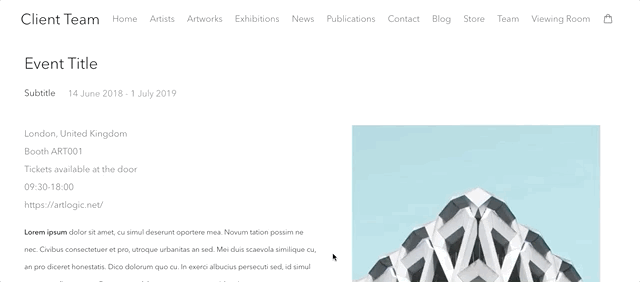 View Purchased tickets
This option is available in the Events record, under your Tickets and will direct you to the bottom of this page.
---
Event Categories
Event Categories can be applied to each event within the Event record itself and, if set to live, will appear as a a separate tab on your Events page.

How to create Events Categories
Log in to your CMS > Records > Events > Events Categories

---
Turn your event into an Art Fair
Tick the checkbox under Visibility, labeled 'Show in art fairs'. This checkbox allows you to turn that event into an Art Fair record. This ensures the event then appears on the Art Fairs page.
If you don't already, you may need to create an 'Art Fairs' page in your CMS, with the URL filename 'art-fairs', to have a dedicated page on your main navigation.

---
Modify how your Events records appear
Go to 'Other records'
Events
Event detail layout
Current label
Forthcoming label
Past label
Enable pagination between records
Events Grid
Grid type
Events grid columns
Events grid image cropping
Events grid image alignment
Events grid image aspect ratio
Events featured grid overrides
Events featured grid overrides
Event Tickets
Tickets heading on event detail page