Cancelling your Artlogic database, but keeping your website?
This guide explains some important considerations before you decide to move from a database-connected website to a standalone website-only package.
---
Artwork records will only be migrated to the Artlogic website CMS if the 'Make available to website' checkbox is selected.

In addition, migrated artworks will only store a small selection of fields compared to the Artlogic Database.
Please follow the instructions below to ensure you have backed-up any artwork data you may need in future and have migrated any additional Artwork records before your Artlogic Database is disconnected.
---
Step-by-step instructions
1. Export and backup your Artwork records
Download a full export of your Artwork records by selecting Artworks > Views > All and then Create... > Documents/Reports > Exports > Custom export to Excel. This is important as not all data stored in your database is shared to your website.
Please make sure to also download your images, which you can download using the Chrome Extension: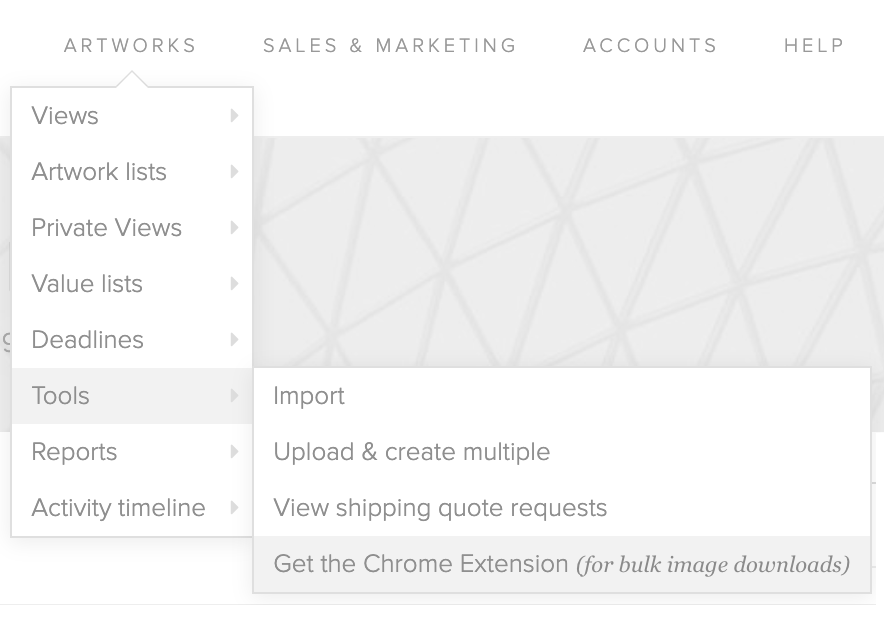 2. Migrate artworks not currently on the website
You can migrate additional Artwork records to the website CMS using the 'Preview mode' option in the 'Share' tab.
If you do not have the 'Preview mode' button within the website share screen, please contact Support to enable this feature.
Open an Artwork record and navigate to the Share tab.
Select Make available to website.
Select Preview mode.
Save and repeat for further artworks.
Please make sure to confirm with Support that the works have appeared in the CMS.
---
Important notes
You will lose any artworks which are not set to 'Make available to website' once your database has been disabled.
The website CMS only holds a small selection of the information/fields about artworks, all additional information will not be retained.
The website will not retain prints and editions information, it will only hold original works and Edition Data Records.
You must ensure you have made sufficient exports and backups from the database before it is disabled.