In this guide, you can find out if you have access to this feature and how to upgrade your website plan if necessary.
---
Version 2.0 template websites
This feature is available to the Version 2.0 template websites below.
Artist 200
Artist 500
Artist Unlimited
Gallery 1000
Gallery Unlimited
These plans are able to start using their Viewing Rooms.
Tip:
Find out what theme, version and plan your website has by hovering your cursor over
Settings
in your CMS navigation.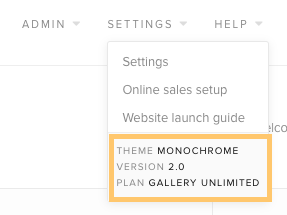 ---
Plans that require upgrades to access Viewing Rooms
All version 1.0 template websites
Gallery 500 version 2.0 template websites. This is the only version 2.0 plan that does not have access to Viewing Room records. In order to enable Viewing Rooms, you will need to upgrade to Gallery 1000 or Gallery Unlimited.
Upgrade
To access Viewing Rooms, as well as the other benefits that come with upgrading, click here to find out more: Upgrade your website.
---
Bespoke Artlogic websites
If your organisation has a bespoke Artlogic website, it will have a more complex and specialised technical structure than our standard template websites, which may already have a Viewing Rooms feature.
If you would like to start a conversation about adding a feature to your site, just let us know and we will get back to you with your best options and a quotation if required.
Please note:
all our bespoke work operates on longer timeframes, with developers booked up on projects far in advance.
As ever, we would be happy to discuss any new requirements for your website including
Viewing Rooms
but it may not be something we can do straight away. This depends on the code in your website, your new requirements and our workload.
---
Online Viewing Rooms
We also offer Viewing Rooms as a standalone service.
This gives art businesses the opportunity to create stunning online exhibitions, whether they have existing Artlogic products or not. So, if you don't need a full website or want to easily expand your current website with an Online Viewing Room, we offer standalone plans starting from £95/$130 per month.
Find out more here: Online Viewing Rooms