Use AR to view artworks on your own walls
This Augmented Reality (AR) feature is offered in addition to our standard View on a Wall feature.
Please note the following:
- Augmented reality can be set up for a maximum of 1000 artwork records
- This feature is available as a 12-month free trial
These limits are subject to change, and we will announce more information on usage availability and pricing in 2023.
---
Overview
Our AR View on a Wall feature enables visitors to your site to place artworks within the context of their own physical space, using their mobile device. They will be able to digitally hang artworks on their own walls.
The feature is also interactive; it's possible to drag the artwork onto different walls and surfaces and adjust the hanging height.
Tip: The Augmented Reality viewer does not require you to download or use a separate app.
---
Switching on this feature
There are different steps for integrated and standalone website clients. Find both sets of instructions below.
Steps for integrated clients:
Log into your website CMS (https://website-YourAccountID.artlogic.net/admin/).
Go to Settings > Settings > Artworks and scroll to 'Augmented Reality (AR) to enable AR for artworks.
Log in to your database (app.artlogic.net/YourAccountID)
Go to Artworks > Find your chosen record.
It is important to ensure its dimensions are correct and 'Calculated'.
Then go to the 'Website' tab > Augmented Reality (AR) > switch on 'Enable AR'.

You will then be shown an information pop-up (shown below). Click 'ok' > save.

Please reach out to Artlogic Support through
support@artlogic.net
if you can't see this setting in your database.
Advanced:
You can also choose to upload a custom AR model for this artwork. The feature supports .usdz and .reality filetypes.
Steps
To do so,
edit the artwork record > switch on 'enable AR' > Custom AR Model > attach documents > upload your file
.
This will override the auto-generated AR Model provided by Artlogic.
Steps for standalone clients:
Log into your website CMS (https://website-YourAccountID.artlogic.net/admin/).
Go to Settings > Settings > Artworks and scroll to 'Augmented Reality (AR) to enable AR for artworks.
Go to Records > Artworks > choose your artwork.
Make sure that your artwork has accurate dimensions entered into the record.
While in the artwork record, go to Augmented Reality > tick 'Enable Augmented Reality (AR) models to be auto-generated for this artwork'.
Save the record.

Advanced: If you already have an AR Model for an artwork that you would prefer to display, you can choose to 'upload custom AR Model'. This will override the auto-generated model provided by Artlogic. The accepted filetypes are .usdz or .reality or .gitf.
---
Launching the AR Viewer
To find the AR feature on your website, go to your artwork detail page and locate the 'View in AR' button.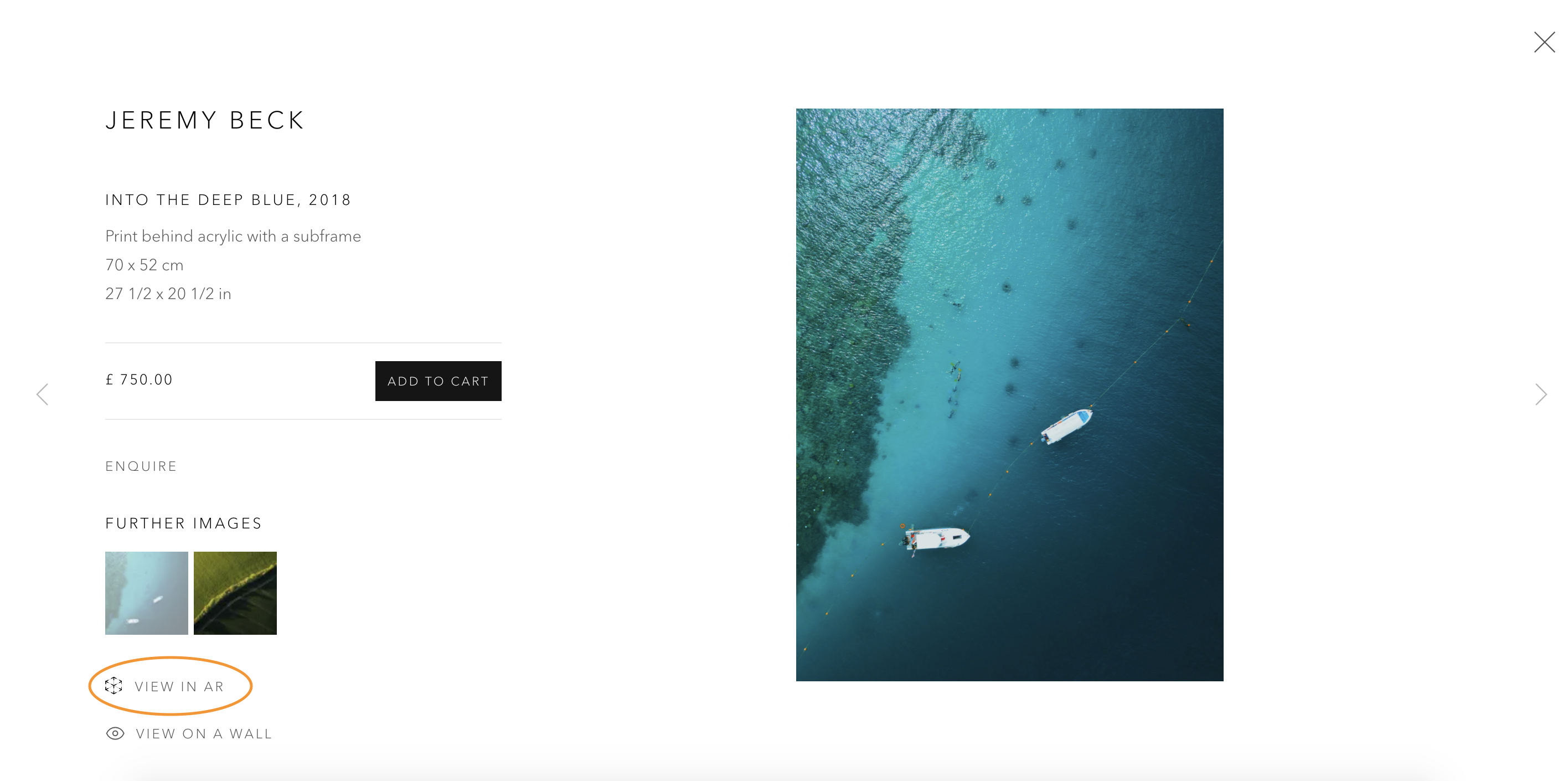 If you are using desktop or laptop computer, you will then be shown a QR code to scan with your mobile device.
For iPhones this can be done simply by using the camera.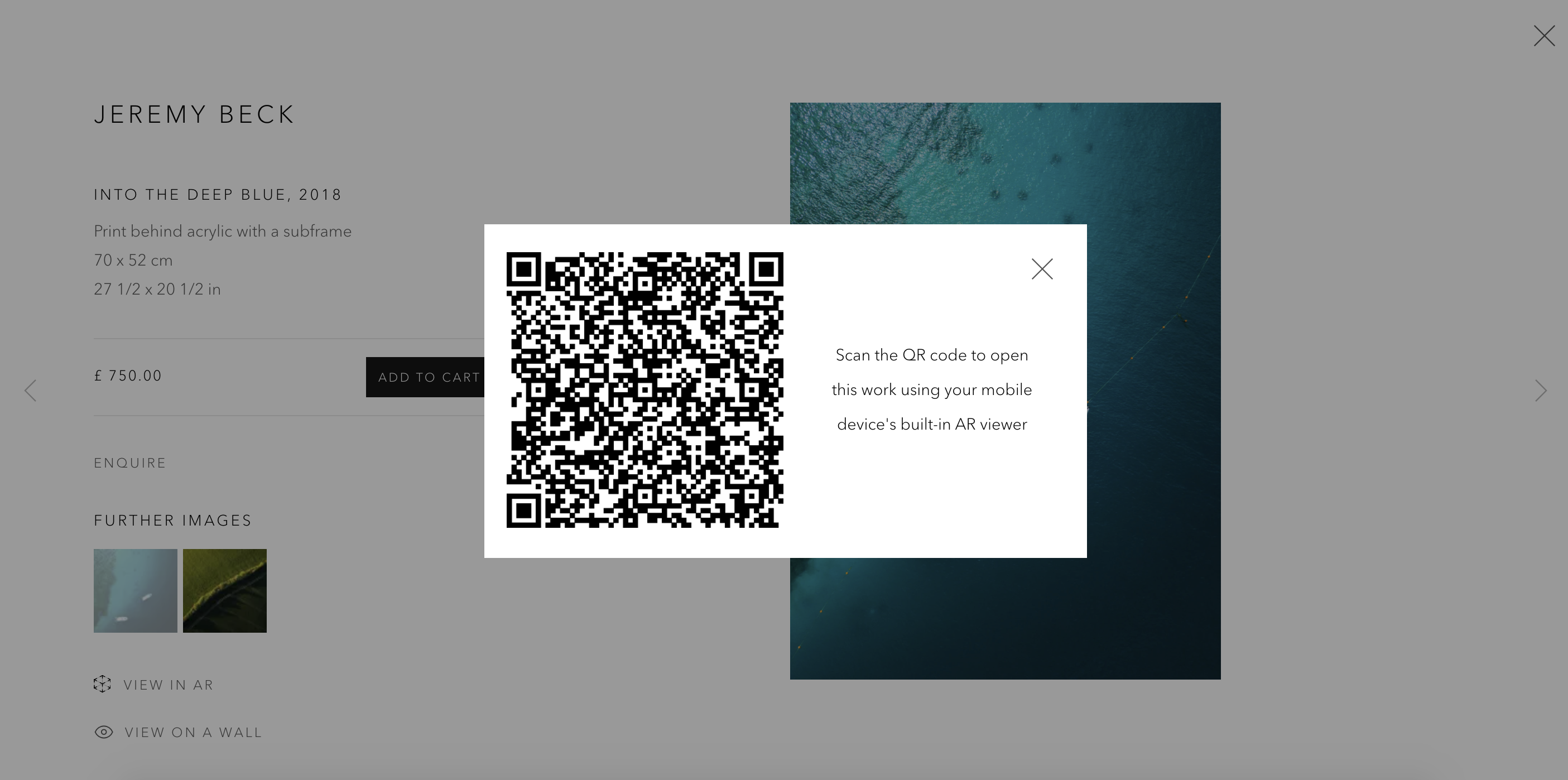 Tip: If you are already accessing this page on your mobile device, the AR feature will launch automatically.
---
Using the AR Viewer
There is a help-guide that will appear on your mobile device when the AR Viewer launches. This will provide you with tips to scan your location effectively.
You will need to move your phone around the zone you'd like to use; the camera will scan the floor and walls, and determine the dimensions of the space.
Continue to move your iPhone/device slowly around your space until the artwork appears.
You will then be able to move the artwork directly on your device's screen, using your fingers or a stylus.
Place the artwork on different walls.
The work will initially appear true to the dimensions entered into this artwork record. Pinch with two fingers to change the size of the artwork. You will see a percentage size label appear when the work is resized.
Troubleshooting
Check whether your device supports AR. This feature works best on the latest iPhones (7 or above).
Make sure you are standing a reasonable distance from the space you wish to scan and that your camera is pointed towards the space.
For the most accurate experience, make sure your artwork is displaying at its full size (100%)
---
Dimension Overrides
By default, the Augmented Reality feature uses artwork dimensions to create the models. However, if you feel the size needs to be adjusted, you can use edit the dimension overrides to generate augmented reality models for your website.
The settings to edit Augmented Reality overrides are found within the Website tab of each Artwork record in your database or CMS (for Standalone Clients).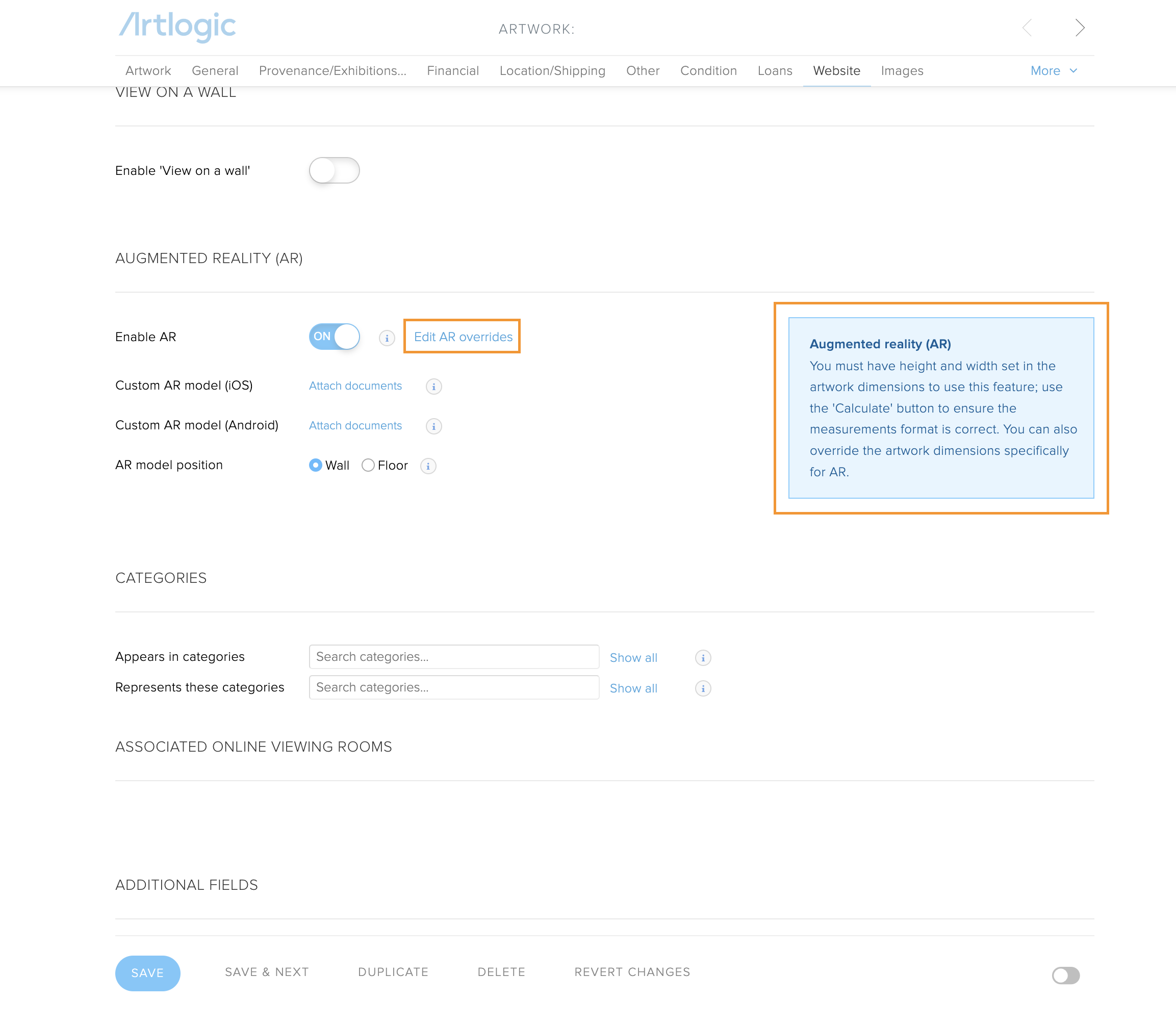 To adjust the settings, click Edit AR overrides and fill in the dimensions according to your specifications, then click Apply and Save your record.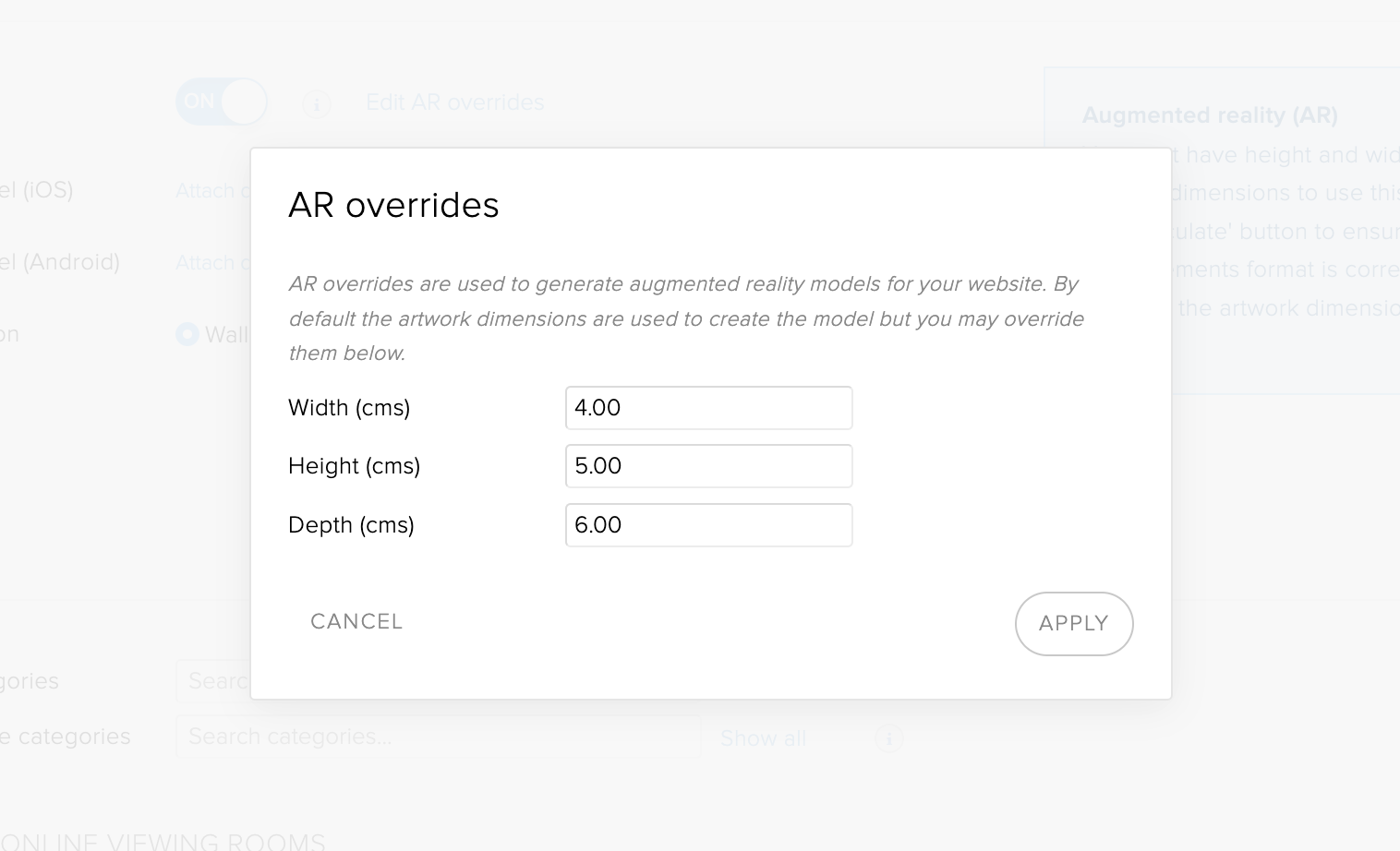 ---
Do I need to upgrade for this feature?
Tip: Find out what theme, version, and plan your website has by hovering on Settings in your CMS navigation.
For technical reasons, this feature is available to all Artlogic Version 2 template websites and bespoke websites.
How to upgrade your website
See this FAQ for more information