Add your 'sitemap' to Google Search Console
If your website does not appear on Google yet, or pages from your old website are still appearing in searches, submitting a sitemap to Google can speed things up. To do this you will need to register an account with Google Search Console.
---
What is Google Search Console
Google Search Console is a free service offered by Google that helps you monitor, maintain, and troubleshoot your site's presence in Google Search results. You don't have to sign up for Search Console to be included in Google Search results, but Search Console helps you understand and improve how Google sees your site.
See Google's support page for more information: https://support.google.com/webmasters/answer/9128668?hl=en
---
Important: You must connnect your domain and make your website visible to the public before you can complete the steps below. Otherwise Google will not be able to crawl your website.
First, generate a 'sitemap'
What is a sitemap?
A sitemap is a way of organising a website, identifying the URLs and the data under each section (URL). Google's XML format was designed for search engines, allowing them to find the data faster and more efficiently.
Steps
Go to your live website (this should have a security certificate and have the prefix 'https', eg https://artlogic.net/) and copy the URL.
Go to you Artlogic CMS > SEO Tools > Generate site index

Click 'Update SEO data now'.

This stage can take a couple of minutes or even hours, depending on how many links your website has. Feel free to Refresh the page from time to time.
Once the link has been generated, copy 'sitemap.xml'.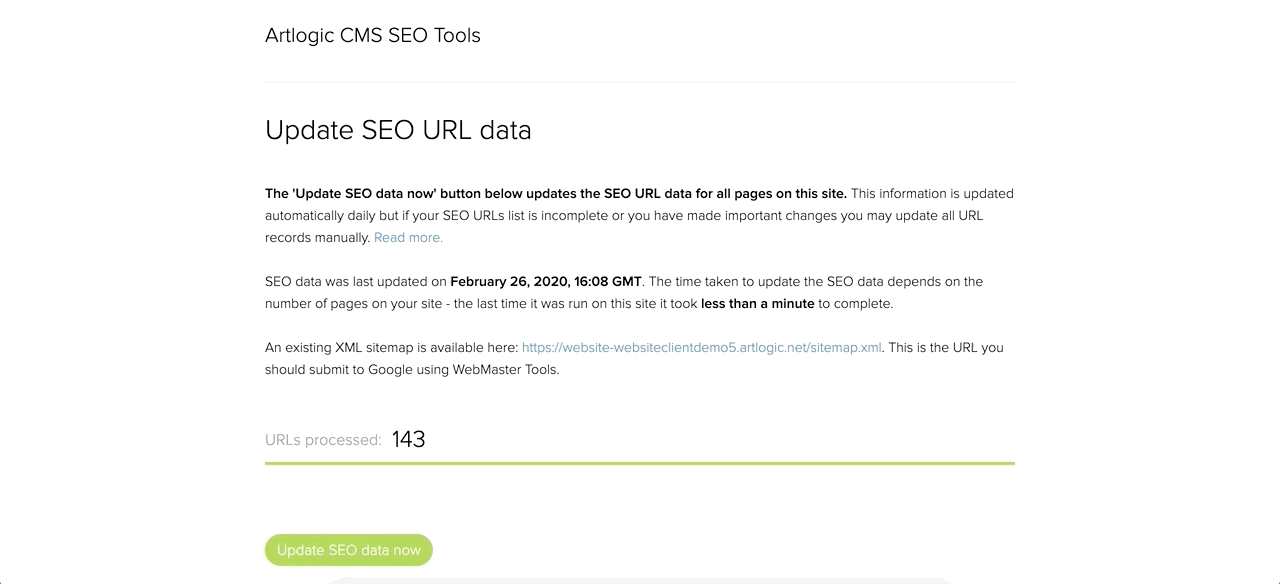 ---
Next, add 'sitemap' to Google Search Console
Steps
Login to your Google account. This needs to be the same account that has access to your Google Analytics, otherwise you may have trouble verifying the site.
Add the site live URL to URL prefix.

Click continue to get the website verification (this step should be smooth if the analytics ID number was assigned during the CMS setup, if the website cannot be verified then you need to check with support@artlogic.net).
Click Go to Property.
Go to Sitemaps on the left-hand side.
In the window 'Add new sitemap' the website's URL will appear.
Type 'sitemap.xml' at the end of the URL.
Click Submit.