Categorise artworks and change their display settings
In your website CMS settings, you can enable a setting to display the categories you have created in your Artlogic database. Doing this will present the visitor with images of your categories through which they can view all the artworks assigned.
---
Steps
Log in to your website CMS (https://website-youraccountID.artlogic.net/admin/).
Go to Settings > Settings > Artworks > scroll to Artworks

categories.

Activate the 'Enable artwork categories' toggle.

- You can also enable an artwork category landing page and sub-categories to further segment your groups. Your website CMS will also pull this information from the categories created in your database.
- The settings 'Grid type', 'Categories grid columns' and more, will allow you to customise the layout of the categories on your an Artworks "landing page".
Sort artwork order in each category
It's possible to reorder how your artworks appear within their categories.
To do this, you'll need to log into to your Website CMS.
Records > Custom record sort > Artwork categories.
Then choose filter by category > choose your category and change the order by dragging and dropping the categories, Saving after you have edited each filter.

Sort artworks in the 'Works' tab in Artist records/pages
Warning: If you're using Artwork categories, this screen will only allow you to sort the artworks as they appear within the 'All' tab. This will not allow you to sort the artworks within each category.
Please note, there can be a 15-30 minute delay between re-sorting your Artwork records in the database and seeing this change displayed on your website.
Steps
Log in to your Artlogic database.
Go to Other > Website > Sort artworks for website.
Select your artist from the dropdown menu.
Select the checkbox for the Artwork record/s you wish to rearrange.
Select Move to top or Move to bottom.
Alternatively, select the Move above or Move below.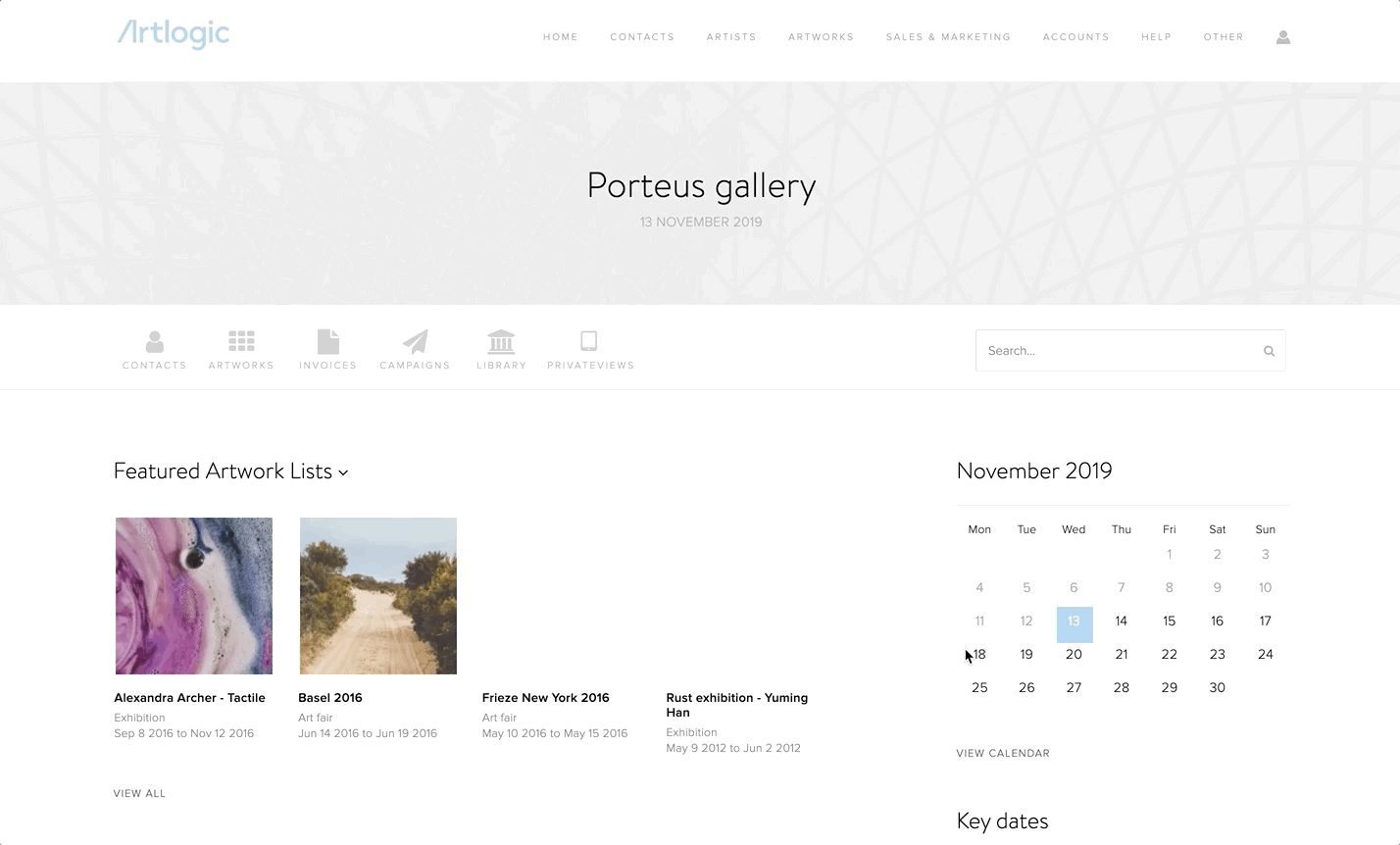 ---
Related information
Creating artwork categories (integrated) and grouping artworks together on your website