Group artworks together on your website
This guide will show you how to use your database to set up categories so that your artworks are segmented by medium, period, region or however else you wish to group them on your website.
---
Info
: The following steps are for clients with an integrated database and website. If you do not have a database,
click here
to learn how to use your CMS to add categories.
Steps
Log in to your Artlogic database (https//:app.artlogic.net/youraccountID/).
Go to Artworks > Value lists > Artwork Categories (for website).


Select New record.
Select Public and fill out the category details to allow this category to display on your website. The category will only display once you've allocated some Artwork records to display within it.

Exclude from Store section' will mean it will only display in your Artists and/or Artworks pages.





Add an image.
You can also upload an image to represent the category too.

Share your Artwork record:
Go to Artworks > search for your artwork record(s) > select the 'pencil' (edit) button and > go to the 'Website' tab. You are also able to do this in bulk; see below for more details.
Scroll to 'categories' and select which categories the artwork 'appears in'.
Update multiple
You can also use Update Multiple to allocate records to this category in bulk.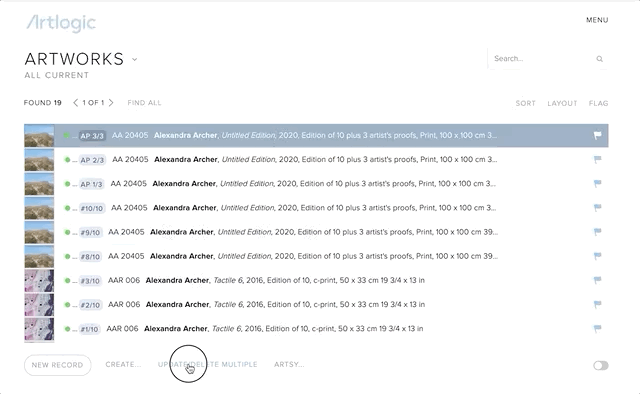 Info:
As with all syncs between your database and website, it usually takes between
15 - 30 minutes
for this to update.
---
Parent categories and sub-categories
Parent categories with sub-categories can be created so your visitor can select to view all 'Paintings' (parent category), for example, and then select to see all 'Oil on canvas' (sub-category).
Steps
Create a category by following the above steps 1 - 4.
When making/editing your sub-category, click the 'Parent category' drop down menu to find another category that you wish to be its 'Parent category'

.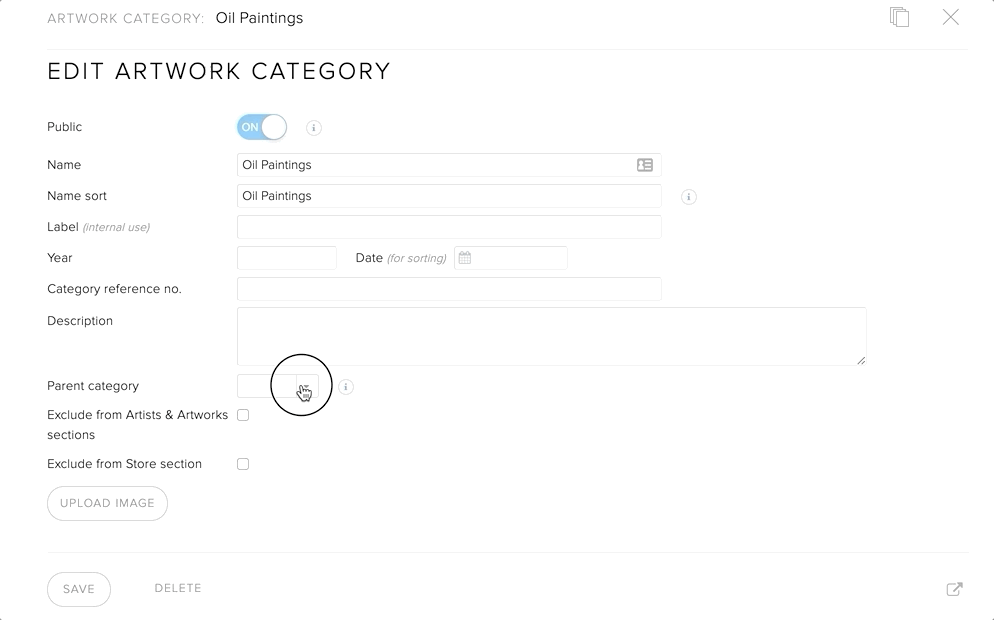 ---
Sort the order of your categories
By default your categories will sort by date of creation.
It is also possible to custom sort the order of your artwork Categories. To do this you will need to log in to you database and navigate to Artworks > Value lists > Artwork categories (for website).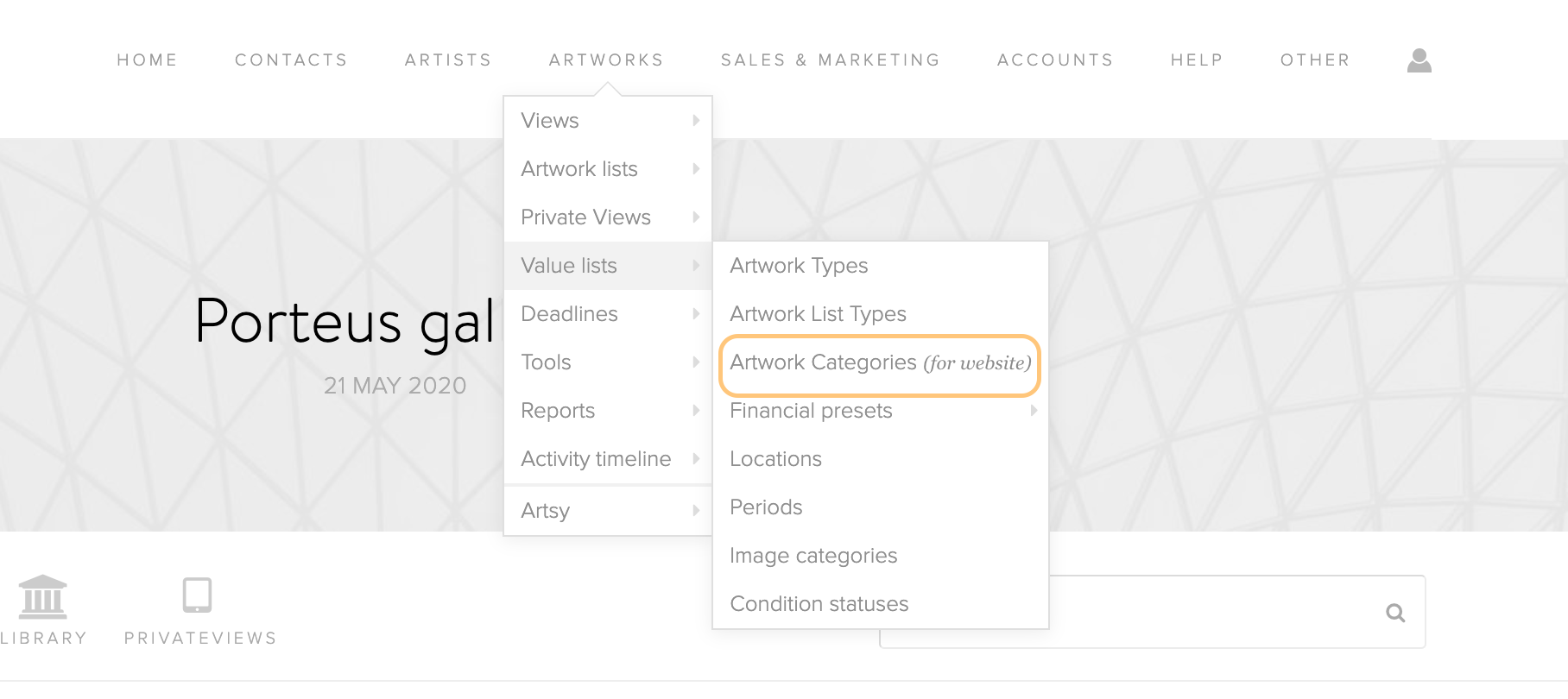 To adjust the sort order, edit the 'name sort' as required. For example, you may wish to insert a number before the text to denote the order as shown below: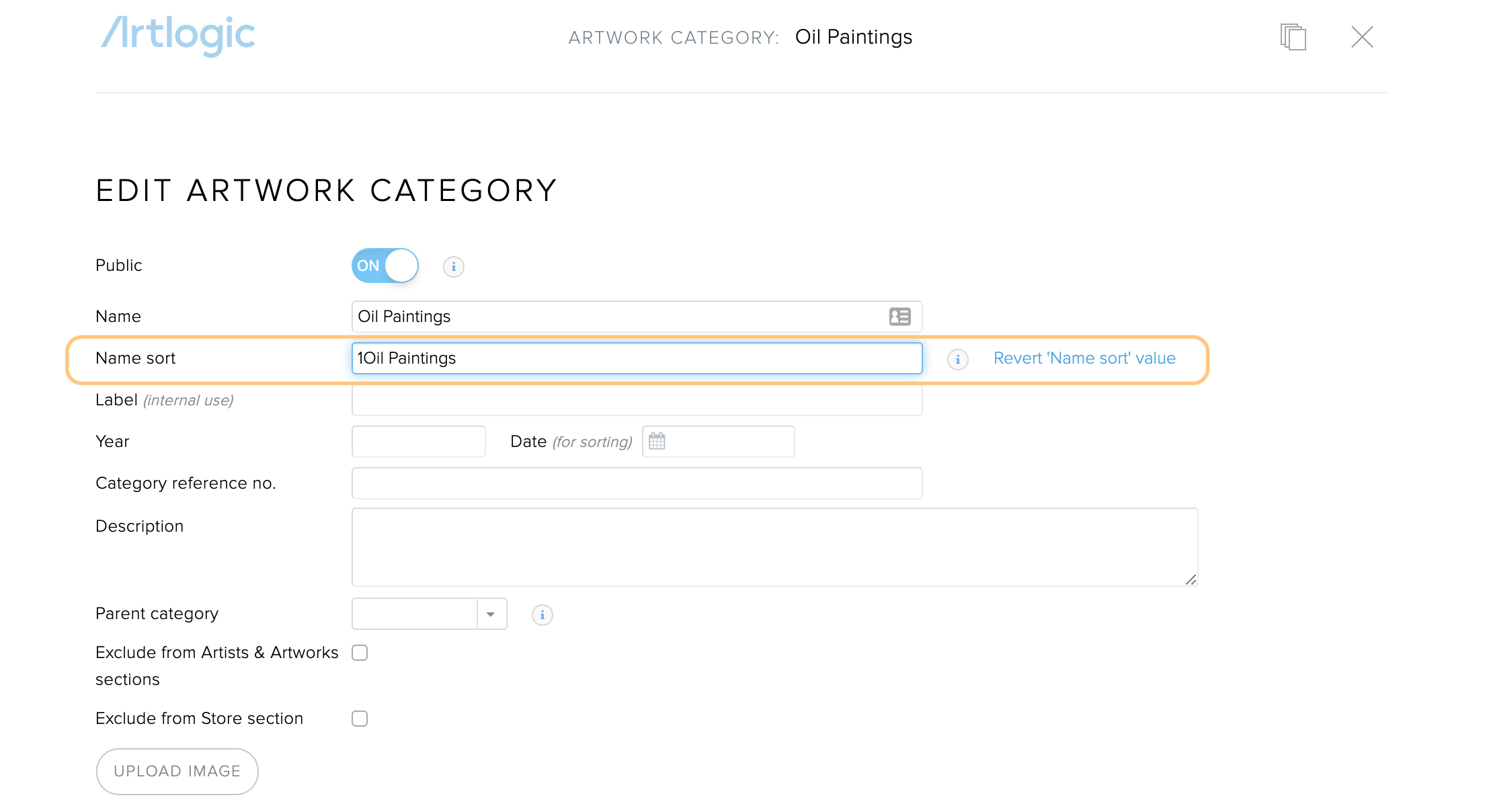 ---
Add your new categories to your website's Artworks page
See this guide to learn how to adjust the layout settings and to change the order of appearance of your categories: