Improve your marketing campaigns
Keeping your sender reputation high is important. It ensures your emails will be received as you intend. Please use the points below to help you and the team better manage your emailing list and improve your email delivery rates.
---
Email Bounce Management
We would strongly recommend you to use the Email bounce management tool to clean up your mailing list.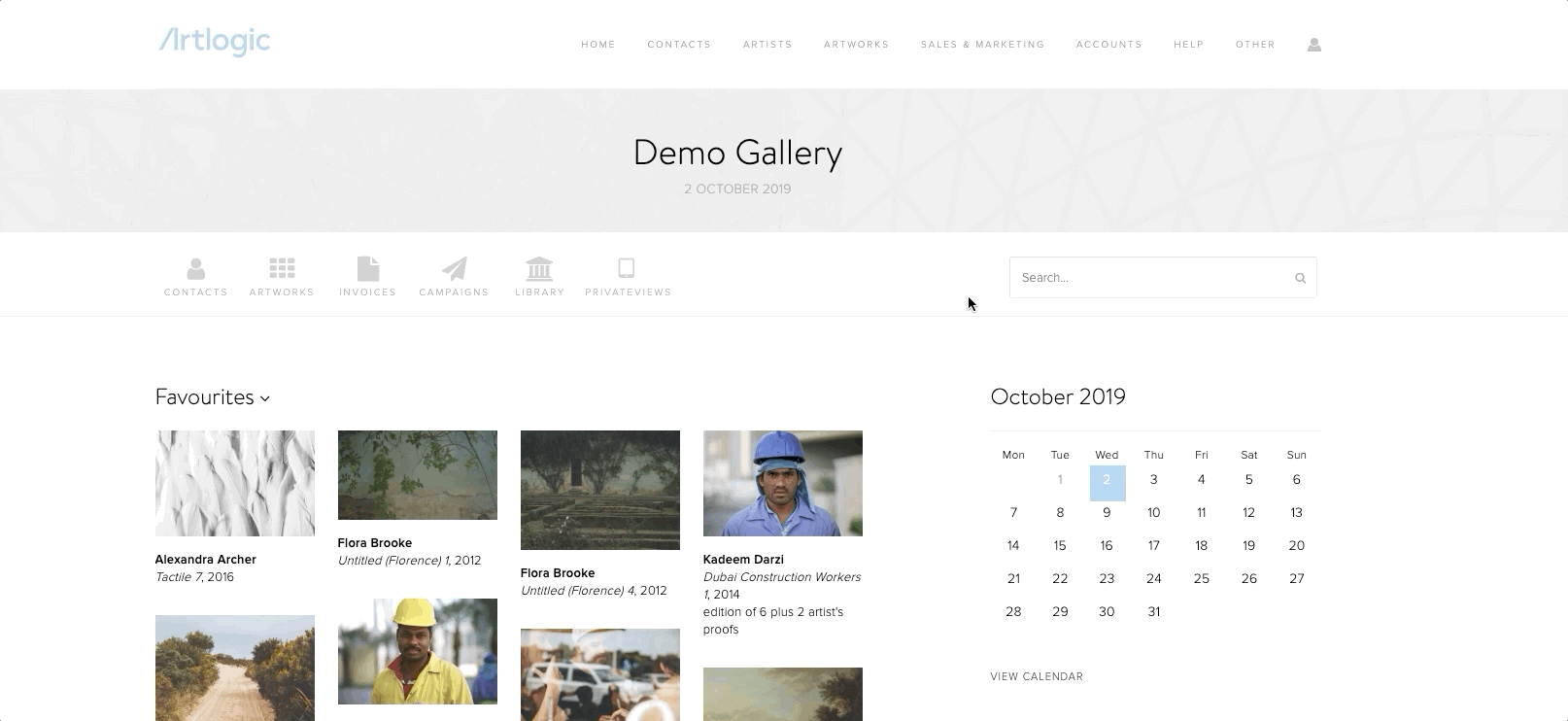 How to locate this
You will find this in your database by going to Sales & Marketing > Email Marketing Campaigns > Email logs & analytics > Email bounce management.
In the bounce management page, check over the email addresses that have 'Remove from mailings' checkbox ticked.

---
Artlogic's bounce management
When using the bounce management tool, here are the main points you should keep an eye out for.
Legitimate email addresses
If there are any addresses that you think are legitimate but are being selected to be removed, please go ahead and untick them. However, in most cases, the system should know which email addresses are not working or invalid and which should really be removed from the mailing list to prevent your delivery rates from decreasing.
Misspellings
Keep an eye out for any easy misspellings or fixable problems. For example, some email addresses might look like 'bobby.smith@gmail.coom' where the ending to the email has an extra 'o' in the 'com'. In this case, just click on the Edit icon to correct the contact record. Then, make sure you untick the checkbox so that the contact will still be on your mailing list.
'Perform selected action'
After you have checked over the email addresses on this page, you can go ahead and click on 'Perform selected action' at the very bottom.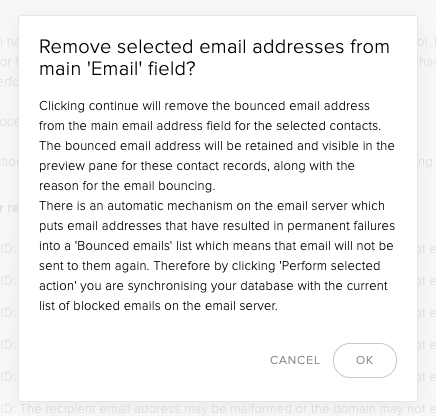 When you click 'Ok' on this popup, all the email addresses with the checkbox ticked will be effectively removed from your mailing list. You would still be able to find them under Contacts > Views > Invalid emails but you will find the contact's previous email address has been removed from the 'Email (for mailings)' field and this field is now blank.
Once you have received the contact's new or valid email address, you can go ahead and repopulate that field so the contact will receive mailings from the gallery again.

---
Email Content
Aside from using the 'Email bounce management' tool, executing good email content is very important when you want to achieve a high delivery rate. Follow these tips to decrease the likelihood of your emails going into the recipient's Junk/Spam folder.
---
Poor practice
One image, with no text
When you only have one main image and no written text, the email is likely to be viewed as spam.
Using one big image and incorporating text within the image itself offers a lot of flexibility in terms of the design but it does mean that you are at risk of sacrificing its deliverability. As there is only one image and the recipient's mailbox cannot detect any real content (such as text), the mailbox would immediately bounce the email back or put it in the recipient's spam folder.
Explicit content
When your email content or subject has explicit words such as 'sex' or other offensive content, some mailboxes' spam detector would also put the email into Spam.
---
Good practice
Have a combination of images and text in your mailings when you can. It is important to make sure your email content looks as legitimate as possible.
Include more than one image
As previously mentioned, having only image in your email can make the email look like spam. include more than one image in your mailing campaign as having one image can also make the email look like spam.
---
Whitelabeling your domain
Once you have made changes, like the ones mentioned above, your delivery rate should improve considerably. Moving forward, you might want to consider making some changes to your domain DNS settings. You will probably need to involve someone who assists you with IT for this.
More information
For more details on how to change your DNS settings and white labelling, please visit: