Personalise our 'View on a Wall' functionality with photos of your own gallery or space.
This new feature is an extension of the standard View on a Wall feature that lets you further customise your virtual space.
Please note:
This feature is in beta testing. Interested in trying it? Please
be in touch
with us to register your interest.
---
View on a Wall
View on a Wall allows your clients to preview artworks in a virtual physical space and at the correct dimensions. This allows your clients to get a better sense of an artwork's scale, so they can envision it in their own gallery or home.
For more information: View on a Wall overview
---
View on a Wall options
'Photo Mode'
View on a Wall 'Photo Mode' allows you to upload your own custom photographs as the backdrop to your View on a Wall environment by creating View on a Wall records. For example, you could upload an image of your own gallery space and apply this as the default backdrop to all artworks or even to a specific artwork or group of artworks.
'Preset scenes'
This new feature also allows viewers to see the artwork to scale against multiple preset scenes, not just one. As a result, your clients will be able to get an even better feel for the work by seeing it positioned in different viewpoints within a particular environment.
---
Photo Mode
View on a Wall records
Create custom View on a Wall records to upload your own high quality photographs of a specific scene, such as the inside of your gallery as the background image for your artworks.
Please note: we recommend having your own custom photographs ready before using this feature.
Steps
Login to your website CMS.
Go to Records > View on a wall > New Record.
Label the record, for example 'Gallery 1', and Save the record.

Upload the image of your space.
Start drawing your image into the scene using the tool.





Tip: Its best practice to give as much wall space as you can for the work to be hung in, avoiding any obstructions, and use the hanging height toggle for more control. Although it's very dependant on the scene, you might want to exclude part of the wall to force the artwork to be hung to the left or right of the scene, for example.
Enter the actual width of the wall space depicted in your photo into the dimensions field to ensure it's true to scale




Adjust the hanging height up or down using the toggle. This sets the height for where the midpoint of the artwork will be placed on the wall (the horizontal toggle lines up to the middle of the work).



Warning: If the artwork is too big and would go outside of the selected hanging area then it will be adjusted and not line up with the hanging height. This can be used to stop large artworks going through the floor or off the screen.
8. Once you are satisfied with your dimensions, you can Save the record and Enable it as 'Live' on website.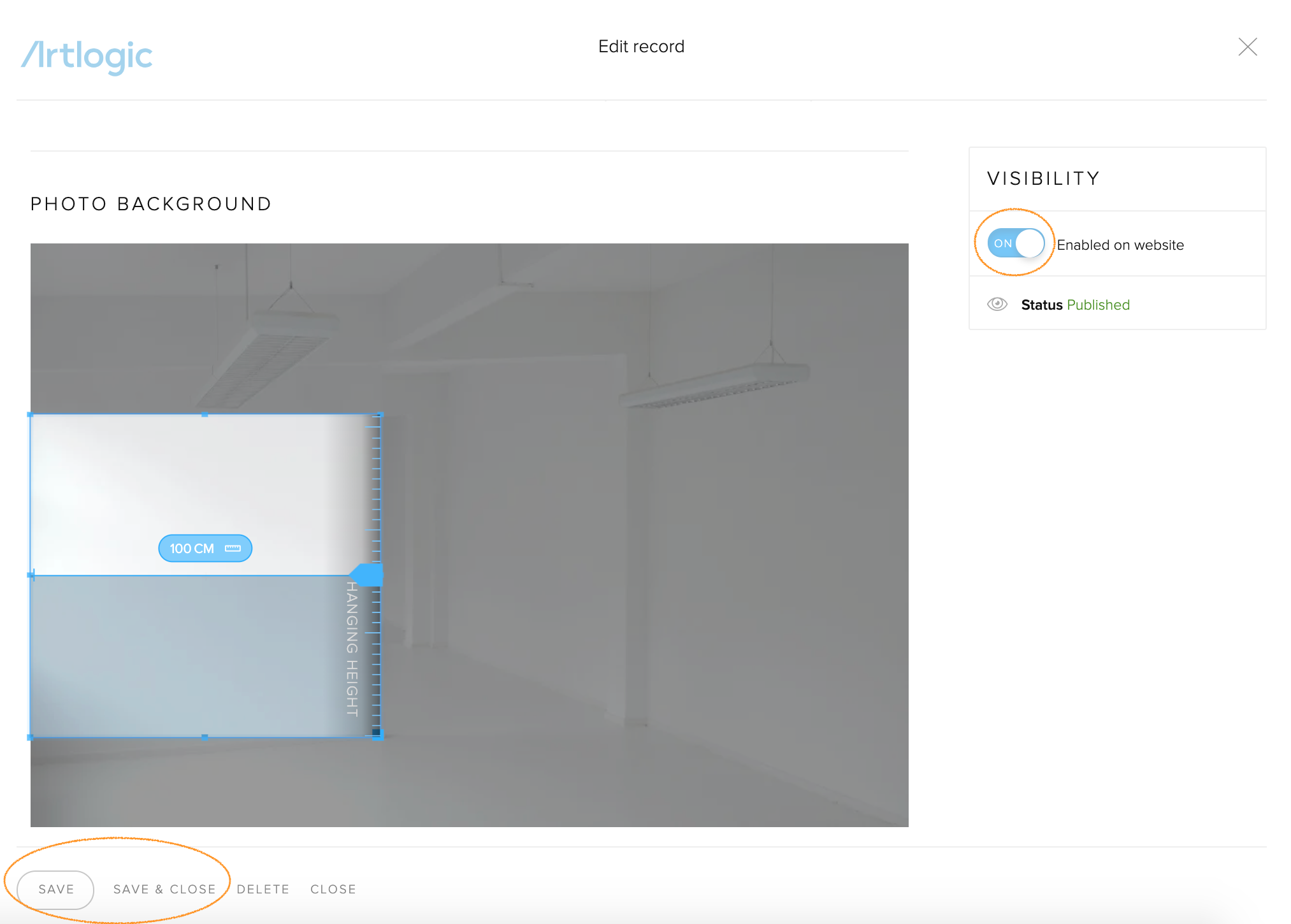 Watch the below gif to see the steps of how you can do this in action (using a different example)


Preferences
You can choose to set this View on a Wall scene

as the main/default scene on all applicable artwork detail pages that fit within the width and height of this scene.

Alternatively, you can choose to leave this blank if you want to add multiple different View on a Wall scenes with varying dimensions for specific artworks or ranges of artwork dimensions.

When creating a new room record you can disable having it zoom into the scene on load. The settings to enable this will be in the same space as the current View On A Wall (Settings > Artworks > View On A Wall).

Examples



The Royal Academy Online Viewing Room: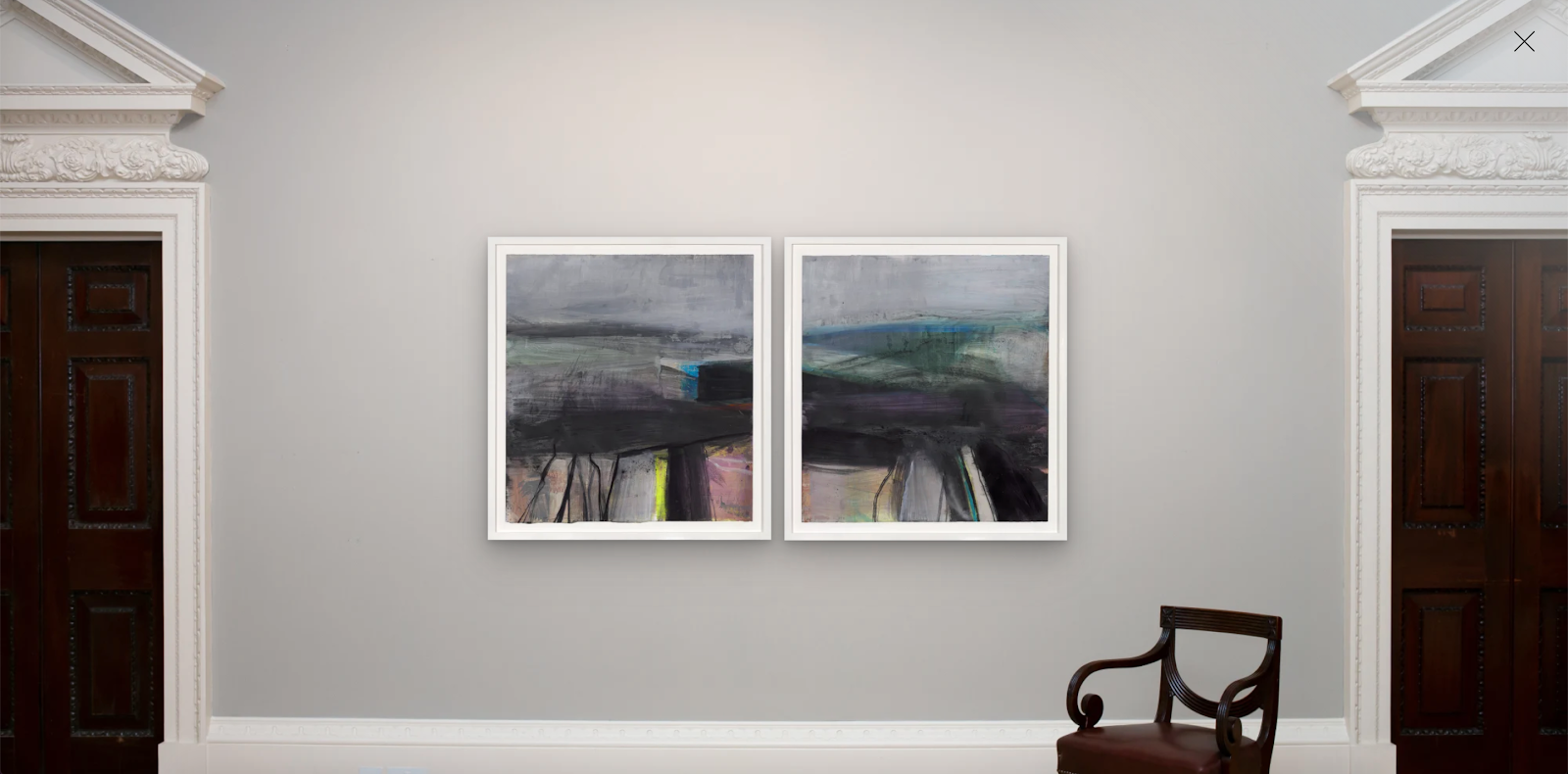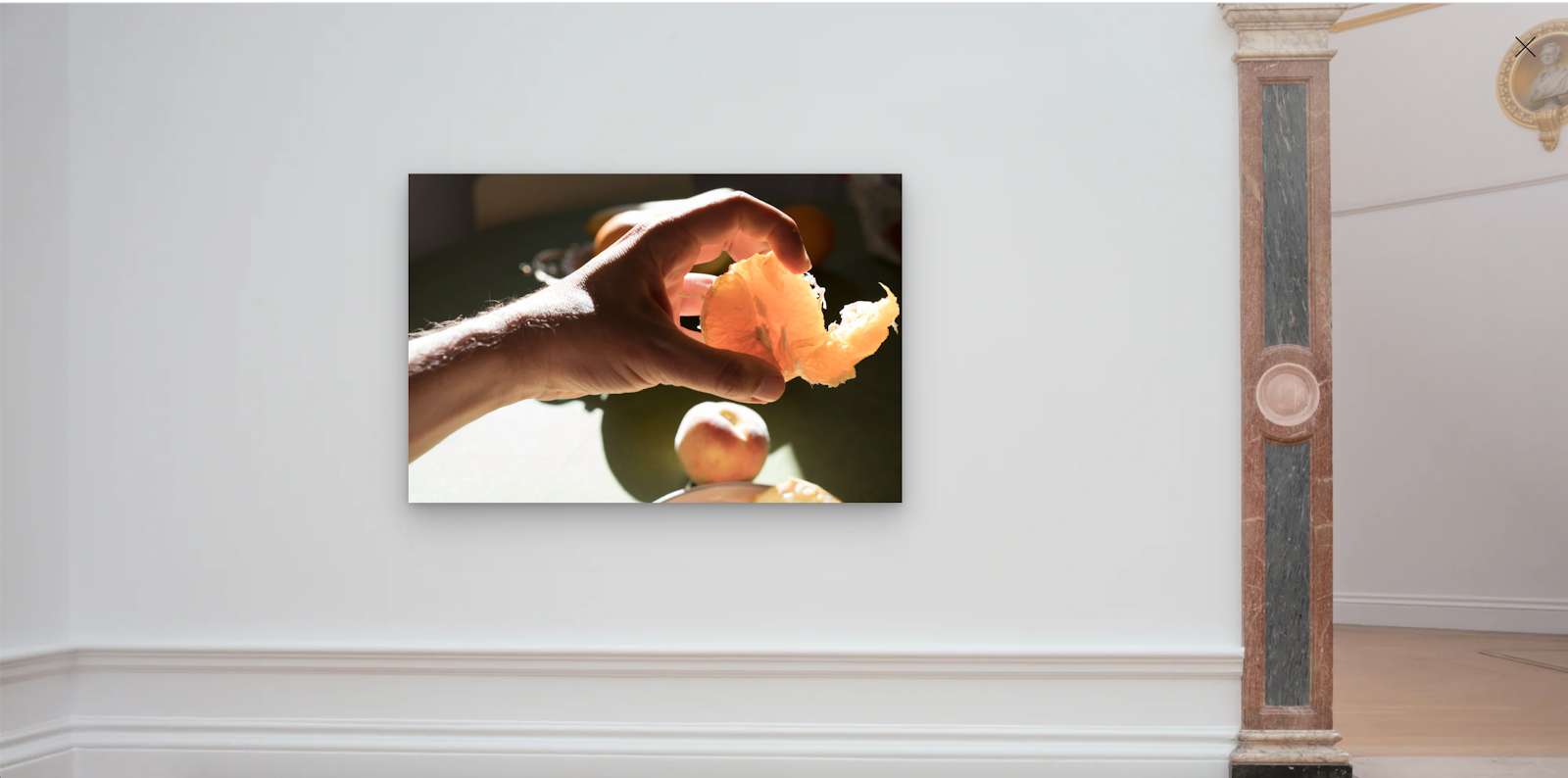 ---
View on a wall 'preset scenes'
This option enables a different View on a Wall display in the artwork detail page.
Once turned on, it will show a series of 4 'preset scenes' of a generic home environment where the artwork is superimposed to scale against the wall in each scene.
The scenes included are:
Sofa, Sofa 2, Sofa 3 and Desk.
How it works
The scenes vary from being full depictions of a room to detailed views of the chosen space. You will have the ability to click through all of the scenes without exiting/re-opening.
The scene with the most wall space will therefore accommodate the larger artworks.
Those with less wall space will accommodate the smaller artworks.
There is a plus/minus bar where you can toggle left or right to zoom in or out on the artwork.
Examples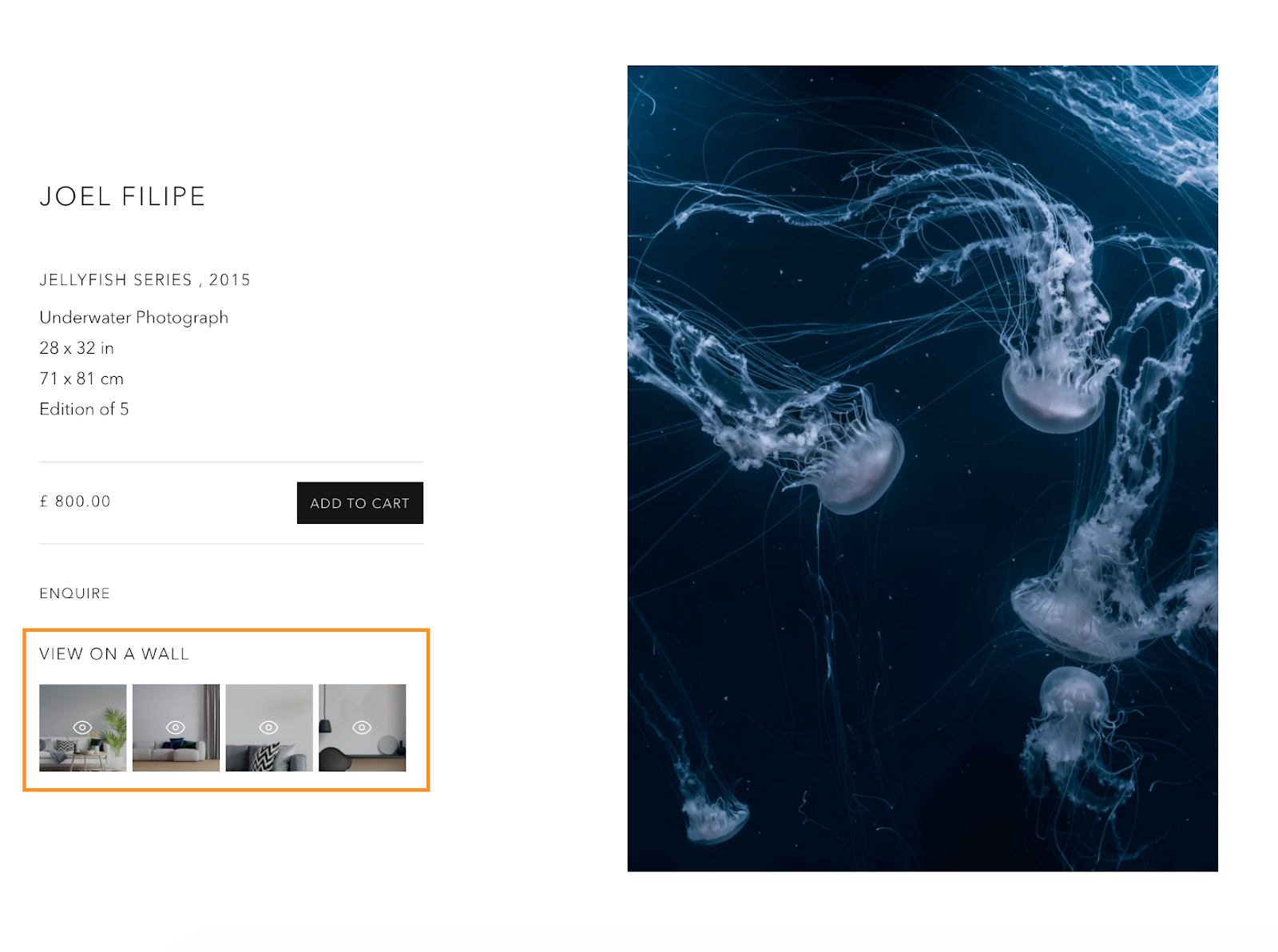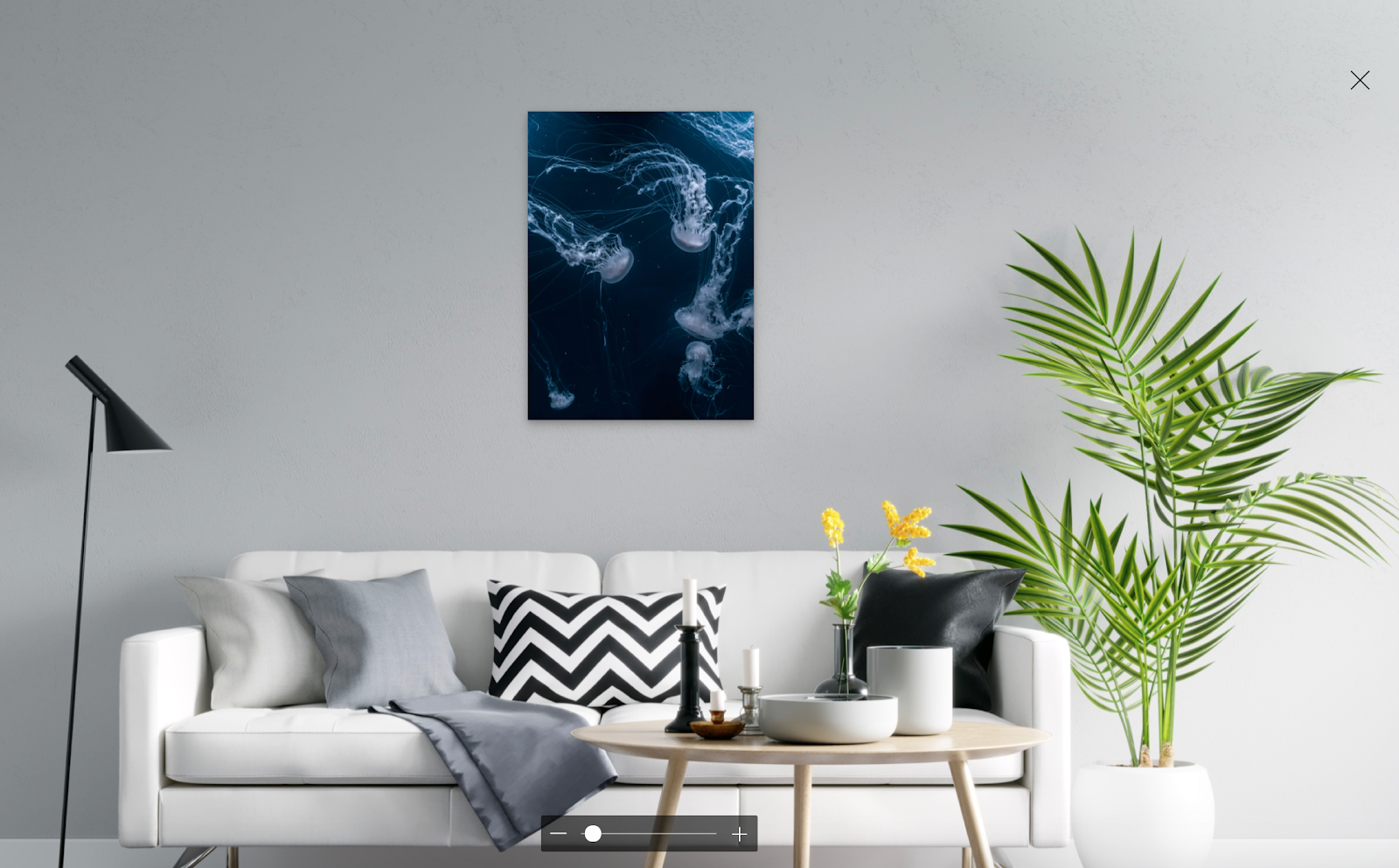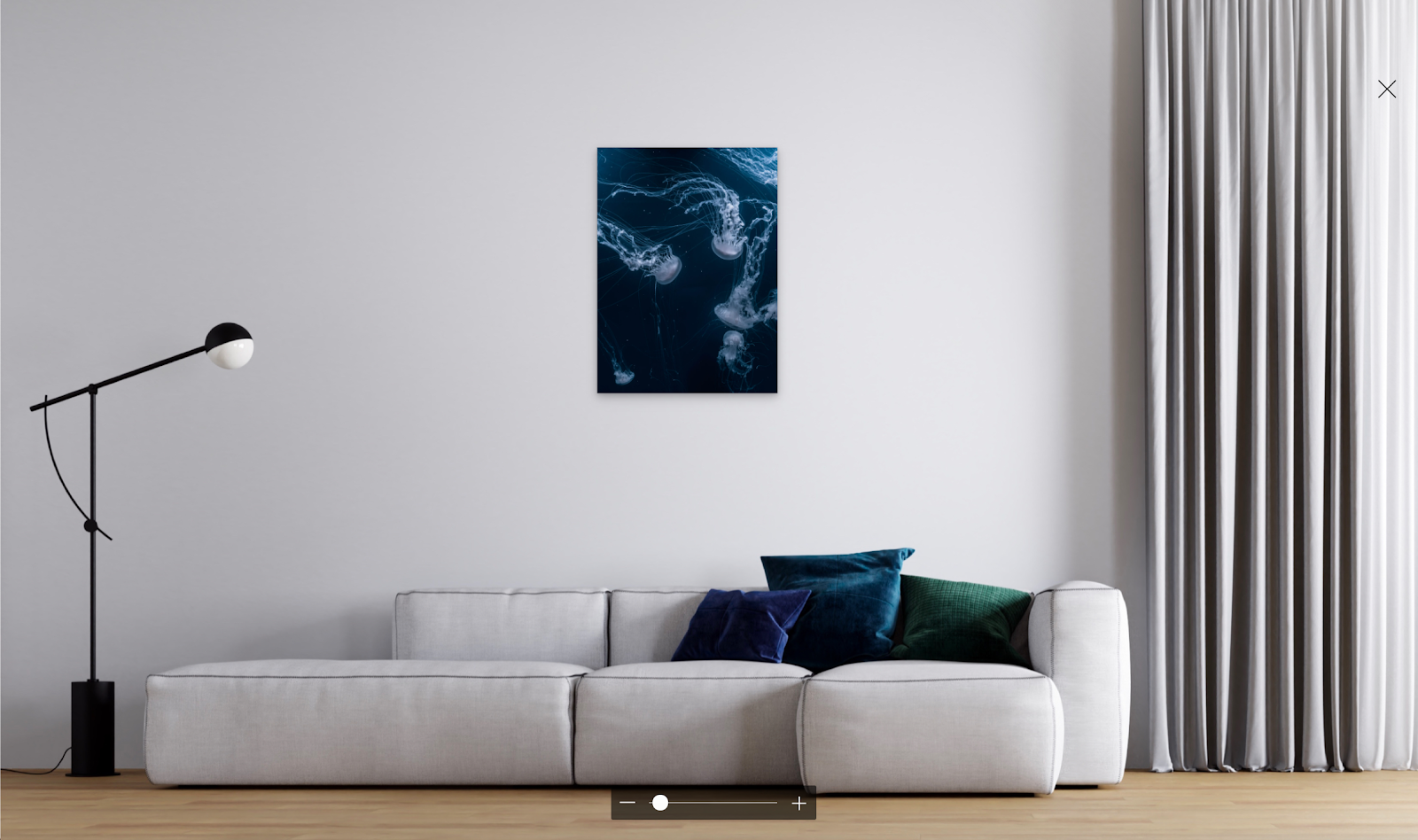 A menu in the admin toolbar for debugging will list all scenes and whether they work with the current artwork
or not
. If a scene is not working, it will say why.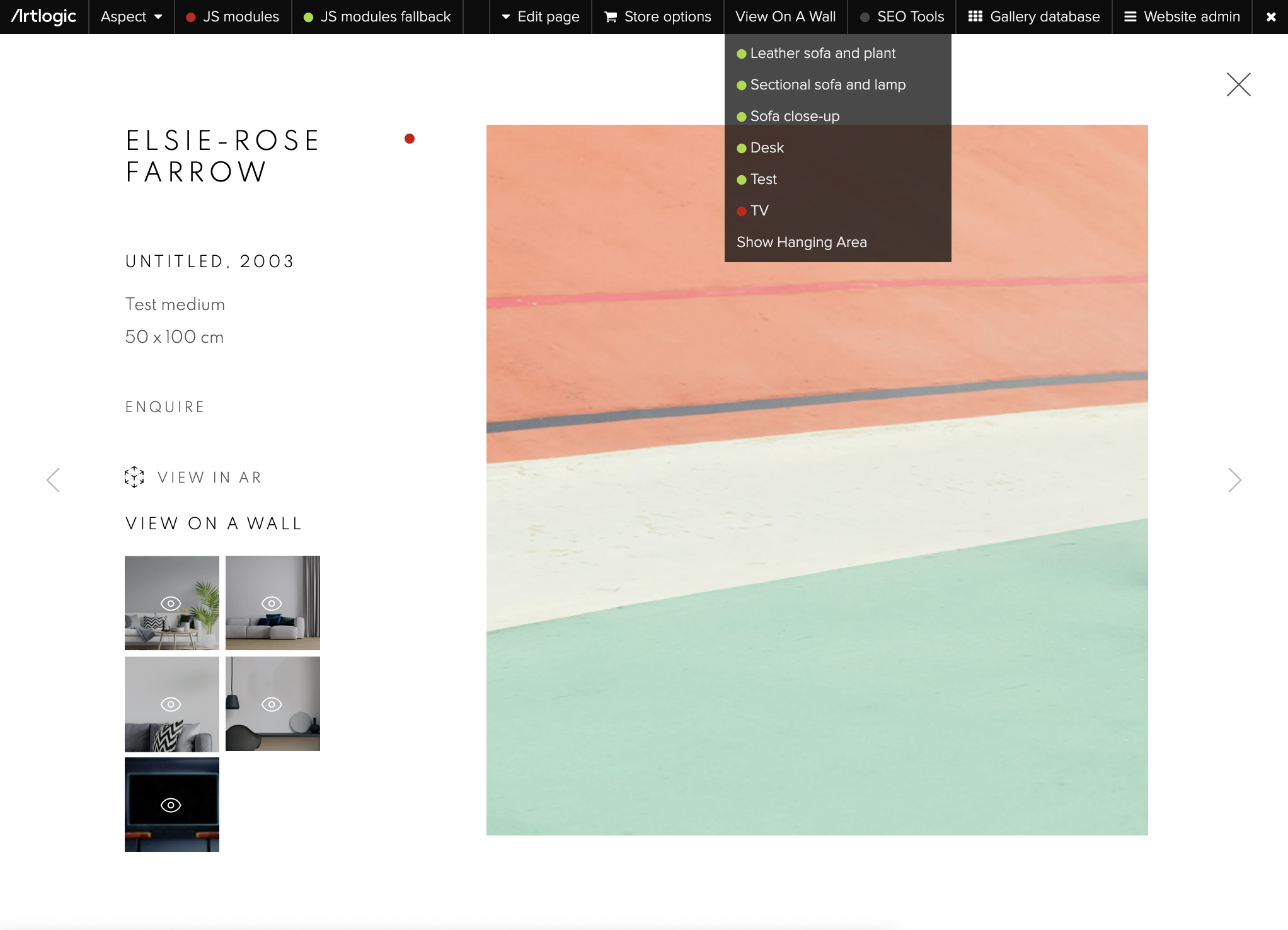 You will also have the ability to display the hanging area whilst viewing on a wall.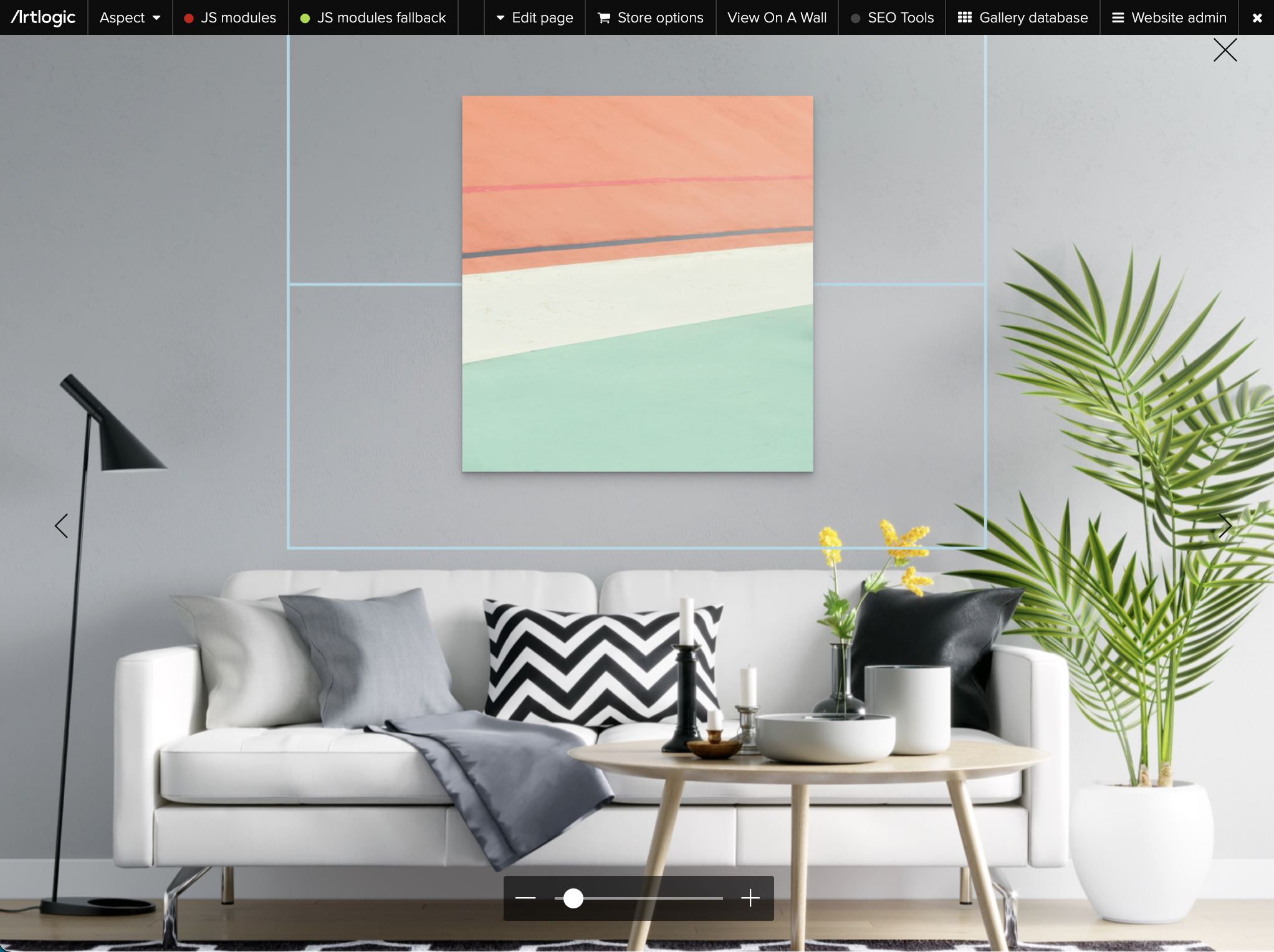 ---
How do I set my artwork dimensions?
Warning: You must have height and width set in the artwork dimensions to use the View on a Wall feature. If you've already entered dimensions, please make sure you click the blue Calculate button to calculate the dimensions and then press apply to ensure the measurements format is correct. The 'Dimensions' and 'Calculate' fields follow the standard format of height x width or height x width x depth. See below instructions for standalone website clients and integrated clients.
If you do not have an Artlogic database, follow these steps to enter your artwork dimensions.
Login to your website CMS.
Go to: Records > Artworks > All Artworks > Edit > Artwork Information > Dimensions.
If you've already entered dimensions, please make sure you click 'edit & calculate individual dimensions' to auto-calculate your dimensions so that you get the correct dimensions result for View on a Wall.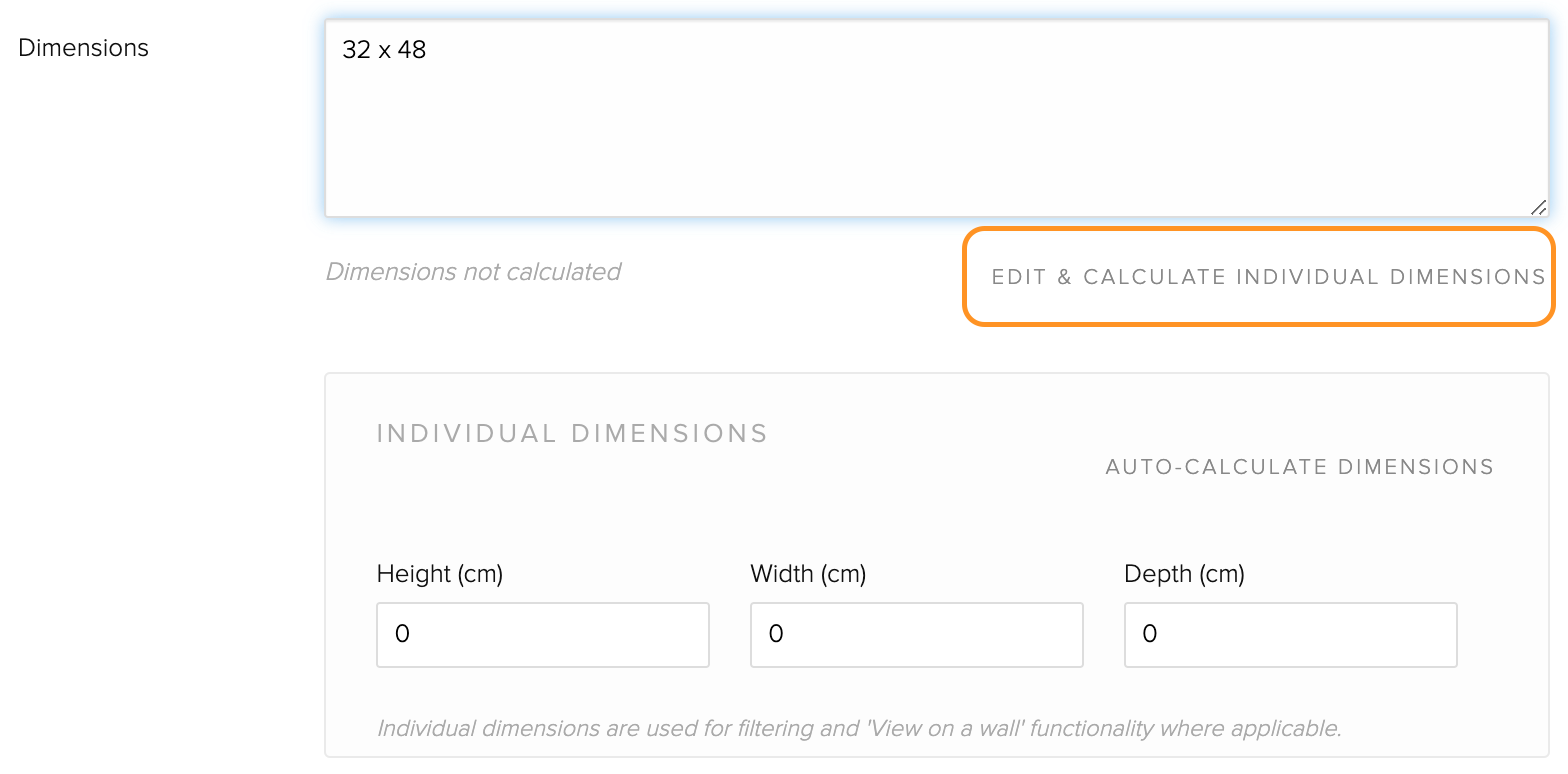 Integrated database and website
Login to your Database and go to the Artworks section.
Find the artwork/s you are using for View on a Wall and click the pencil edit button.
Go to the 'General' tab to view the Dimensions field.

If you've already entered dimensions, click the blue 'Calculate' button to calculate the dimensions and then press 'Apply' so that you get the correct dimensions for View on a Wall.

You can also override the artwork dimensions and image specifically for 'View on a wall' in the artwork record's 'Website' tab.
---
FAQs
Not all of the View on a Wall preset scenes appear for some of my artworks
If an artwork doesn't fit the dimensions of the preset scene, then the scene will not display in the artwork detail page. It's therefore important to check your artwork dimensions have been entered correctly in the artwork record.
Why is the View on a Wall record I made not showing for this artwork?
The artwork needs to fit onto the scene, otherwise the button for that particular scene won't show. So if your artwork is 2m wide, and you make some scenes that range between 1m-3m wide, only the 3m ones will show for that work in particular.
What if I don't have images of my gallery to use?
If you are looking for generic room scenes for view on a wall because you don't have your own photographs and you want to add different to the preset one's, then we'd recommend exploring the free high resolution images you can download from sites like https://unsplash.com/.