New and improved newsletter analytics
The new mailing campaign analytics insights gives you a wider scope of analytics, allowing you to more accurately measure the strength and success of your newsletter 'blasts'. Though this might be new feature, you'll also be able to use it to view insights of old mailing campaigns too! This guide will show you who can access this feature, where to find it once it has been activated and how to understand it. Click here to learn more about enabling this feature.
---
Find your mailing campaign insights
Steps
Log in to your Artlogic database.
Go to Sales & Marketing > Email Marketing Campaigns > Mailings campaigns.

Here, you'll see the new 'Actions' option on the list screen.
Selecting 'View' and then to 'View insights' from this menu will take you to the mailing analytics for that campaign.

​​
Please note: you will only be able to get mailing analytics for sent mailings. Mailing campaigns that have not yet been set will have this option disabled. Offer emails will also not receive insights.
---
Using the new mailing insights tool
Analysing multiple email 'blasts'
The Artlogic database allows you to send a mailing campaign once or multiple times. Currently it is only possible to pull mailing analytics on each mailing 'blast' you send. Therefore, if you have sent a mailing campaign out multiple times you will have an 'overview' page for the campaign, where you can see sent, open, click and bounce statistics, as well as navigating to the email logs, email recipients and (most importantly) the related email analytics for that email blast (see below).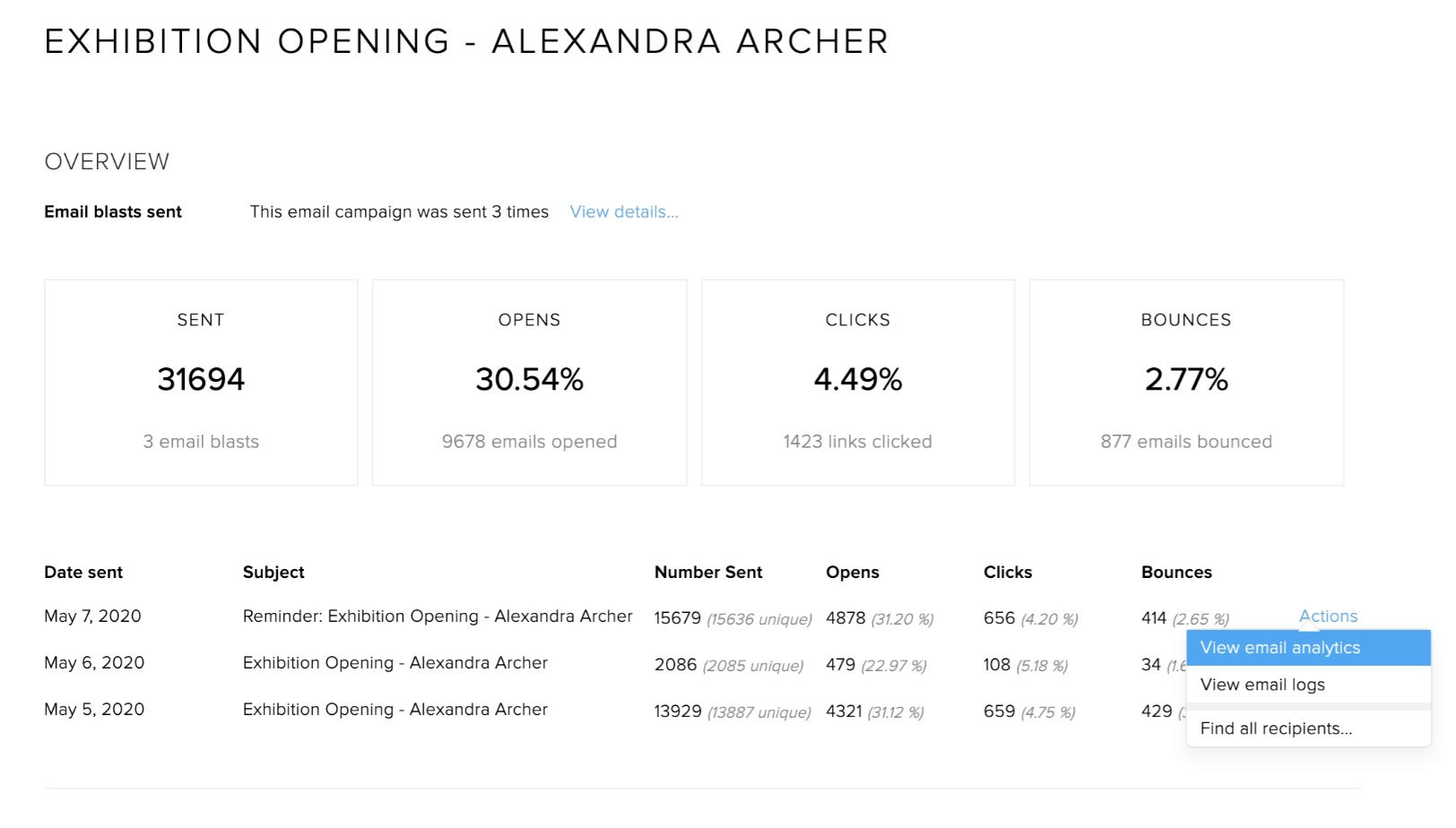 Analysing an individual campaign
If you have sent your mailing campaign out just once then you will be taken directly to the email analytics screen.
In the email analytics screen you will see details of:
The number of email unsubscribes.
The number of emails sent.
Where recipients are from
A link to easily find the recipients' in your 'Contacts' section.
The number of emails opened (both unique and cumulative)
When your emails were opened over 24 hours.
Where opened emails occurred on a world map.
The number of email clicked (both unique and cumulative).
When these clicks occurred over 24 hours
Where clicks occurred on a world map and what those links are.
The number of emails bounced and an overview of the bounce reasons.
Example analytics screen

---
Enable the new insights tool
Get in touch with us to request this new feature.
If you are are an Artlogic Pro account, we'll be able to turn this on for you free of charge.
Get in touch to enable.
Artlogic One accounts currently using Artlogic Mailings will have access to this beta feature at no additional cost; get in touch to enable.
If you have an Artlogic One account but do not use Artlogic to send emails and newsletter campaigns, see below.
---
Find out more about Artlogic Mailing campaigns and emails
If you don't use Artlogic to create and send emails but would like to find out more, click here.