This article explains how to use the QR code feature to quickly update the location of items in your inventory and to run a stock check.
This feature is currently open to interested clients for Beta testing.
Requirements:
Anyone wishing to generate and scan QR codes generated through Artlogic needs:
To have an Artlogic Pro account
To be a 'user' in your Artlogic database.
To be able to access the database at the locations they are scanning. Ensure they do not have permissions preventing them from doing so.
To have a fully updated smartphone camera (an iPhone camera will work automatically) or a QR code app.
---
Generating QR codes
The first step in this process is to generate QR codes for your locations and your artworks. The steps below will show you how. Once you have generated these, you'll then be able to scan them in order to quickly update the locations of your artworks. This is explained later, in the section titled Using the QR code.
1. Generate QR codes for locations
Login to your database and go to Artworks > Value lists > Locations.
Select Options for the location you want to work with.
Select Download QR code label.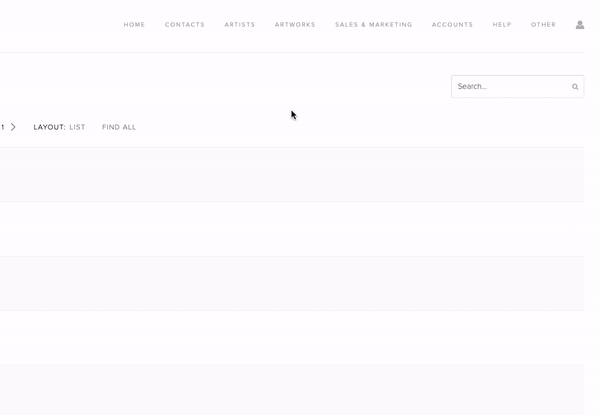 ---
2. Generate QR codes for artworks
Go to Artworks > Views > All.
Flag and find your artwork/s.
Generate a) individual records or b) multiple records simultaneously.
a) Click your artwork record once > in the preview pane click Download > QR code label.
b) click Create... > Documents/Reports > Labels > Create QR labels.
Customise your label and click Download.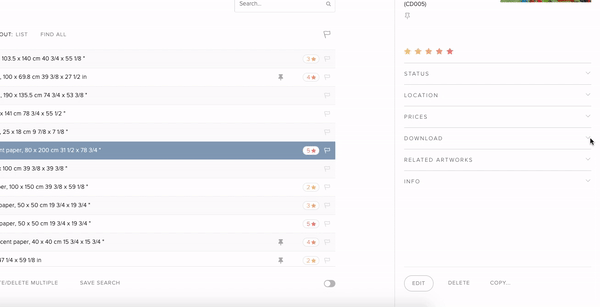 ---
Scanning QR codes
1. Set your device's location
Login to your database on your smartphone.
Scan your Location QR code with your smartphone's camera/scanner or QR code app. A link should appear automatically.

Set your device's location: The page that opens will ask you to assign the location scanned to the device/smartphone.
This page will state the current 'set' location

associated with the device (which is from the previous time the device was used to scan a Location QR code).

Review the 'Location' and 'Location detail' before clicking 'Set Location' to confirm your device's location.

In the next page, you have a few options:

'Find items at this location', which will open the artworks in your database assigned to this location.

'Start stock check' gives you the option to complete a more formal review of the works assigned to this location. You'll be able to check whether your artworks can be 'Found' at this location or if they are 'Missing'. Do click 'Save' before closing your browser.

2. Assign artwork to this location
After following the instructions above to assign work to the new location, firstly, close the browser and open your smartphone's camera or QR code app.
Scan your Artwork QR code.
A link like this should appear automatically:

The page that opens will display your artwork record, its 'Current location' and the name of the location you wish to 'Move item to'. After reviewing the information, click 'Confirm new location' to make this change.

You will then be greeted with a confirmation page that should show the new location of your artwork record.
Tip: To add more artworks to a location or change the device's location
To
add more
works to the 'set' location, scan their QR codes and follow the same process as
above
. To
change location
, start from the
beginning
of the process.
---
Review your artworks' locations
You are able to perform stock checks and to view the history of previous stock checks by going to Artworks > Value lists > Locations in your database. Here you will also be able to view the artworks in each location.