Resolving SSL certificate or DNS issues
If your website is not able to load and is instead showing an error message, such as 'your connection is not private' or 'not secure', it is likely due to a missing SSL certificate (Secure Sockets Layer) or DNS problems.

Get in touch if this is happening to your website.
---
Get in touch
If you notice any error/warning messages affecting your website, like the example below, reach out to us at support@artlogic.net and we'll be able to help you make your website visible to the public. Sometimes messages like this appear due to a lack of security certificates or DNS issues.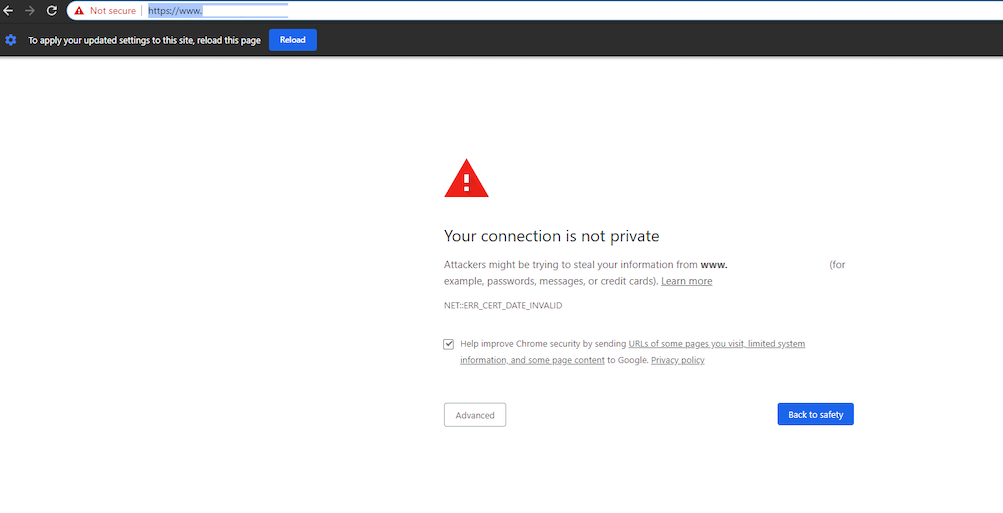 ---
SSL Certificates
Secure Sockets Layer (SSL) is a way to establish an encrypted link between a server, a website and a browser (like Google Chrome). SSL protected sites will tend to display a padlock symbol in the URL:

Websites with no SSL certificate will remain http while those with encryption will show https in people's browsers. Sites without SSL put their visitors and customers at a higher risk of having their data stolen.
Get in touch if you believe your site does not have its security certificate.
Waiting to take your website live?
If you have completed adding the content and tweaking the design of your site and you are looking to take it live, therefore making it visible to the public, once your domain has been connected, the next and final step is to add an SSL certificate to your site. Let us know when you are ready and we will set this up for you.