Your homepage is often the first page that greets your visitors. This guide introduces homepage features and settings for Version 2 Template Websites.
Tip: Find out what theme, version and plan your website has by hovering your cursor over Settings in your CMS navigation.
---
Editing your Homepage
CMS > Settings > Settings > Homepage
Here, you are able to edit general homepage settings and layouts.
These include:
Slideshow (main slideshow images).


CMS > Settings > Homepage > Slideshow type > you'll have the following options:

Selecting 'Fullscreen (images fill the entire window)' option from Slideshow Type reveals another dropdown menu called, 'Slideshow pagination type'.

'Slideshow pagination type' allows users to choose either 'Dots' or 'Locations' as a way for their visitors to scroll between their homepage slideshow images.


When selecting 'Locations', users are able to allocate a label to each slide by either creating a label in the 'Header Slideshow' or by allocating a location record to an exhibition, which has been selected as 'Show on home page'

Layout (header and footer).
Enable button backgrounds. This setting will add background colour to buttons on your slideshow.
Splash screen. This can be a great way to introduce your website, when visitors first arrive at your site.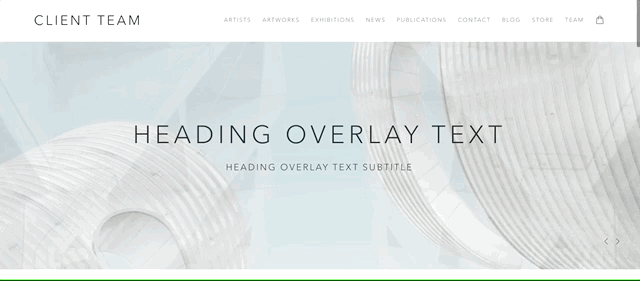 ---
Pages > Home > Pencil edit icon
Here, you can edit items that appear on your homepage, including:
Visibility, such as access control (password or username protection) and whether to 'Show on navigation'.
Slideshow images and Heading overlay text.
Page layout type (either Standard or Select artwork grid to display grids of chosen artworks).
Page content.
Feature Panels, which will appear underneath any of the above items if they have been enabled.
Page settings like 'Navigation label'.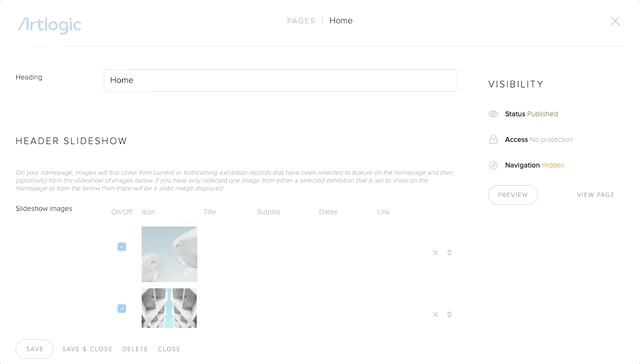 ---
Homepage images
See this guide for more information on adjusting images on your homepage.
Showing a video on your homepage
If you'd like to show a video on your homepage instead of images, see this article on adding videos to your website.